by Anna Jones
Anna Jones shares her recipe for these easy truffles: no tempering chocolate; no rolling or filling; just simple melting, mixing and pouring – your own little chocolate factory.
Fair trade to me is the idea that your food has come from a place where people are treated fairly and with respect. The love and energy that they put into their produce shines through to your plate.
Paying a reasonable price for ingredients – from bananas to earl grey – which we often take for granted, can make a huge difference to the lives of many producers, who depend on their crops for their livelihoods. From seeded banana bread to Turkish cardamom coffee, I hope my recipes celebrate Fairtrade ingredients and do them justice.
This batch makes a lot and will keep you in truffles for a couple of weeks – or you can wrap them up and give them as gifts. If you are giving them as a present, do remember to tell whoever you are giving them to that they need to be kept in the fridge (they will be fine out of the fridge for a few hours, though). These truffles are made with coconut oil, nut butter and coconut sugar, so they don't give me the crazy sugar high of other chocolates.
I have given you a choice of flavourings and coatings so you can take the basic mixture and make it as flavourful or as colourful as you like.
Ingredients
Makes about 48
Additional flavours
the zest of 1 unwaxed orange
the zest of 1 unwaxed lemon
the zest of 1 unwaxed lime
swap the salt for smoked sea salt
1 red chilli, finely chopped
2 cardamom pods, seeds removed and crushed
1/2 teaspoon Fairtrade ground cinnamon
To coat – use one or more
60g raw cacao or Fairtrade cocoa powder
finely chopped pistachio, almonds, hazelnuts
finely chopped candied orange peel
finely chopped candied ginger
grated Fairtrade chocolate (dark, milk or white)
crushed dried rose petals
Method
Grease a 20 x 20cm square brownie tin with coconut oil. Heat the coconut oil and sugar in a saucepan on a low heat. Once the oil has melted and the sugar has dissolved into the oil, take the pan off the heat and add the nut butter, chocolate, vanilla and salt. Stir off the heat until everything has melted. If you're adding another flavour, stir it in now.
Pour the mixture into the tin. Chill for about 2 hours until set solid. While the truffle mix is cooling, get your chosen coating or coatings ready and put each in a little bowl.
Once set, turn the truffle slab out on to a cool work surface and cut into squares (mine are 1-1 1/2 cm), then gently dip each truffle in its coating to cover.
The truffles will keep in the fridge for up to 2 weeks in a sealed container.
Recipe from THE MODERN COOK'S YEAR by ANNA JONES (4th Estate)
You might also like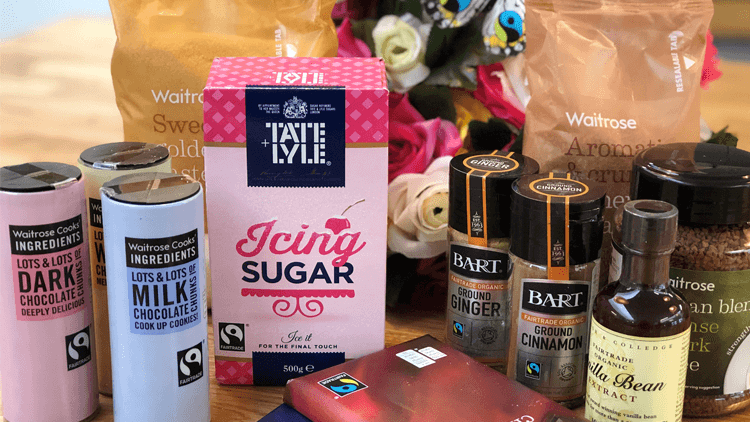 Bake a Difference with these 20 Fairtrade Baking Ingredients
23 February, 2019
It's easy to forget when we're baking, that the ingredients we use have been grown in countries around the world – planted, tended, picked and cared-for by someone as part of their job. To think that they might not have been paid fairly for this work is almost unimaginable.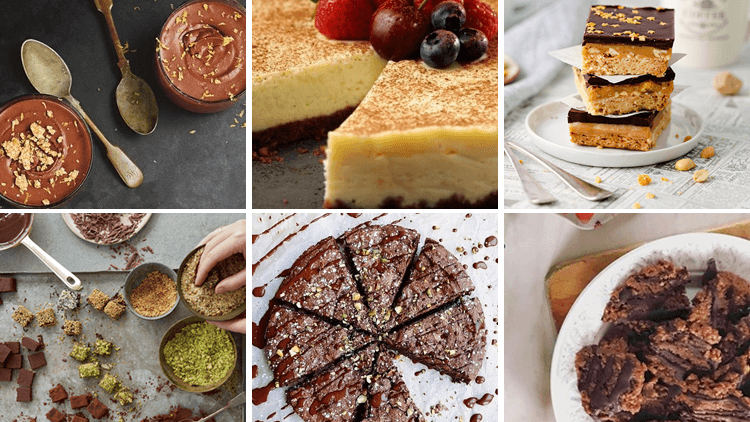 Baking without the basics: 8 tasty egg and flour free recipes
10 May, 2020
Here are our favourite tried and tested 'free-from' recipes. You're welcome!