Celebrate Fairtrade chocolate with this delicious, nutritious, easy to make mousse.
Chocolate is an especially important ingredient in my house – whether it's a few dark squares as an afternoon pick me up, or a bar of white chocolate for a tray of killer blondies.
Fair trade to me is the idea that your food has come from a place where people are treated fairly and with respect. The love and energy that they put into their produce shines through to your plate.
SERVES 4
Ingredients
For the mousse
200g Fairtrade dark chocolate (at least 70% cocoa solids, there's loads of Fairtrade chocolate to choose from!)
A good pinch of flaky sea salt
The zest of 2 unwaxed lemon

For the quick brittle
60g sesame seeds, plus extra to finish
2 tablespoons maple syrup
Method
This is a pretty maverick way of making a chocolate mousse, which was brought to my attention by a great chef friend. It's based on a technique by the French chemist Hervé This. Don't worry, it's really quite easy, though you do have to follow the recipe to the tee. It uses water, not cream, and the mousse is whipped over a bowl of ice, which chills the chocolate. The result is a cleaner, less cloying mousse that is unadulterated chocolate, backed up by a little lemon, salt and vanilla.
Lemon is rarely paired with chocolate but I think it works incredibly well. If you'd prefer, orange or even lime could be added too.
Half-fill a large mixing bowl (or saucepan) with water and ice, then sit another mixing bowl inside it.
Put the chocolate, salt, honey, vanilla and lemon zest into a saucepan with 175ml of cold water. Place on a low heat and stir until it all comes together and the chocolate has just melted.
Use a spatula to scrape the mixture into the mixing bowl set over the ice bath and whisk with a balloon whisk (an electric one will be too powerful). Keep whisking until it looks shiny but isn't yet set (like a thick chocolate sauce)- the whisk will make little ribbons of chocolate on the mousse when lifted. You will be whisking for about 3 minutes, but keep an eye on it, as the mousse will thicken really quickly, and will set in the fridge as it cools. Have a taste and check you're happy with the flavour. If the mousse tastes a little grainy, it is probably because it has been over-whisked. Don't panic, just scrape the mixture back into the original saucepan, melt and start again.
Once ready, spoon into ramekins and place in the fridge. Chill for at least 3 hours before serving.
To make the brittle, have a plate lined with greaseproof paper ready. Toast the sesame seeds in a pan on a medium heat until well browned, then add the maple syrup and take off the heat. Scoop the seed mixture onto the greaseproof paper and leave to cool completely.
Serve the mousse topped with sesame seeds and the brittle.
Recipe from The Modern Cook's Year by Anna Jones.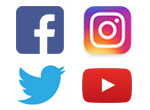 Support Fairtrade when you follow, share or like our social posts.