Try popular cook and writer, Anna Jones's special cakes made for her mum with Fairtrade ingredients!
Since becoming a mother the love and respect I have for my own mum has grown and grown. Not only was my mum the most incredible mother to me, my brother and sister, but now she and my dad are helping me raise my son. Sometimes things in life are so huge and far-reaching that it's hard even to know where to start to say thank you. I started with these cakes: two of Mum's favourite flavours – raspberry and coconut, perfectly light and not too sweet.
These are topped with a whipped coconut frosting that I use a lot. You can use four tablespoons of golden icing sugar in place of the honey if you want a more traditional-style vegan buttercream finish.
It's good to look out for Fairtrade ingredients in your cooking too.
Fair trade to me is the idea that your food has come from a place where people are treated fairly, with respect and the love and energy that they put into their produce shines through to your plate. The food has been enriched by a respect for culture and fair wages.
Makes 12 small cakes
1x 400g 1in of coconut milk (Fairtrade coconut milk available)
200g softened unsalted butter, plus extra for greasing
150g coconut sugar or light brown sugar (it's easy to pick up Fairtrade sugar in most supermarkets)
4 medium organic eggs 1teaspoon vanilla extract a pinch of flaky sea salt
The zest of 1 unwaxed lemon 
150g white spelt flour
176g ground almonds (Zaytoun do delicious Fairtrade almonds)
2 teaspoons baking powder 160g raspberries
2 tablespoons set honey (buy Fairtrade and organic honey from Equal Exchange)
A handful of coconut flakes, toasted
—
First put your tin of coconut milk into the freezer for 20 minutes to cool. Once cool, open it carefully, without disturbing the contents. Scoop out the set cream on the top and put it back in the fridge. Keep the more watery coconut milk for later in the recipe.
Preheat the oven to 200°C/180°C fan/gas 6. Butter a 12-hole muffin tin.
Beat the butter and sugar until light and fluffy, then add the eggs one by one, beating as you add each one. Add the vanilla, salt, lemon zest, flour, almonds, baking powder and 4 tablespoons of the watery coconut milk from the bottom of the tin and mix until you have a thick batter.
Fold in the raspberries, then divide the mixture between the holes of the buttered muffin tin. Bake for 25 minutes, until risen and golden brown.
To make the icing, use an electric whisk to beat the set coconut cream with the honey in a metal bowl at full pelt. Put it straight back into the fridge to cool.
Allow your cakes to cool completely before generously icing them with the coconut cream and scattering them with the coconut flakes.
From The Modern Cook's Year by Anna Jones, published by 4th Estate.
You might also like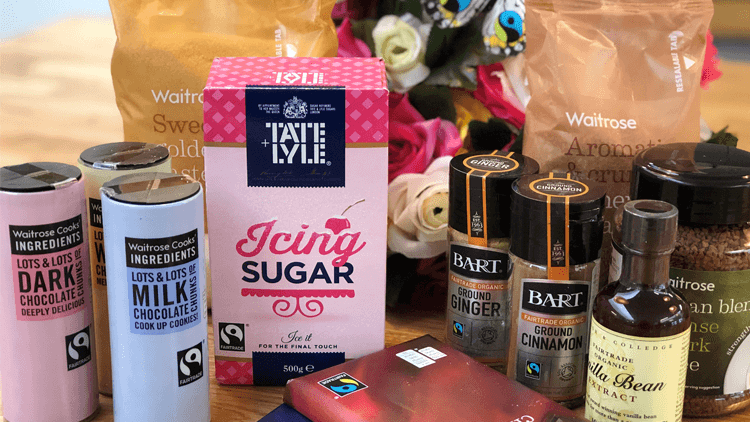 Bake a Difference with these 20 Fairtrade Baking Ingredients
23 February, 2019
It's easy to forget when we're baking, that the ingredients we use have been grown in countries around the world – planted, tended, picked and cared-for by someone as part of their job. To think that they might not have been paid fairly for this work is almost unimaginable.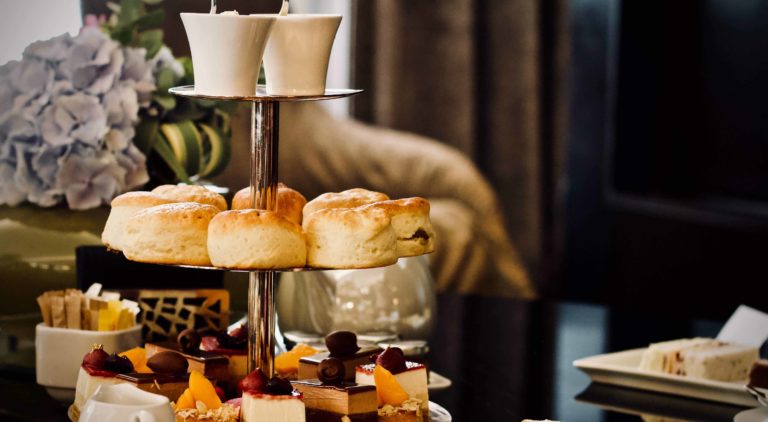 7 ideas for afternoon tea at home
12 August, 2020
From scones and cakes to finger sandwiches and, of course, tea. Why not dust off the good china or pick up a vintage set from your local charity shop and throw yourself an afternoon tea party, Fairtrade-style. Pinkies up!