Prep time: 5 mins
Cooking time: 5 mins
Serves: 2
Ingredients
500ml thick cashew or oat milk
100g Fairtrade dark chocolate (70% cocoa solids), chopped
1 heaped tablespoon Fairtrade cocoa powder
1 tbsp Fairtrade caster sugar
1/2 tsp salt (or to taste)
Method
Step 1: Heat the milk you are using.
Step 2: Pour a couple tablespoons into the cocoa powder and mix to create a paste. Then place the cashew milk and chopped chocolate in a saucepan with the sugar and salt, and heat over low heat until the chocolate has melted, whisking all the time.
Step 3: Add the cocoa paste to the mixture and whisk to combine until smooth.
Step 4: Taste to see whether you need to add a little more salt for an extra salty kick. Remove from the heat, pass it through a sieve, then pour into two cups, serve immediately with whipped cream and enjoy.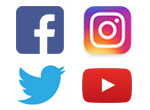 Support Fairtrade when you follow, share or like our social posts.

Sign up to email updates from Fairtrade to hear about products, petitions, competitions and more.