Whether you buy them for your bake-offs, sprinkle them over your breakfast or eat them whole, there's much to celebrate about Fairtrade nuts.
Small but mighty, nuts are some of the hidden heroes of a healthy diet, packed with nutritious fats, fibre, protein, vitamins and minerals. They make a popular addition to our menus, from salads and stir-fries to breakfasts and baked goods – not to mention all manner of sweet and savoury dishes.
It's not surprising, then, that demand for edible nuts is projected to grow both in the UK and worldwide in the coming years, with the value of global market estimated to rise to $101.5bn by 2026. The drive for healthier snacking options and plant-based protein sources are among the factors fuelling this growth.
Buying Fairtrade nuts
Despite the lucrative value of their crops, nut farmers often struggle to make a decent living. Many face difficult working conditions and low pay: the average cashew farmer, for instance, earns just $3 a day.
As ethical awareness grows, shoppers and businesses are progressively looking to more sustainable nut options that protect the rural communities who grow these labour-intensive crops.
Look no further: buying Fairtrade-certified nuts in the UK is as easy as ABC (almonds, Brazils and cashews, naturally). As well as that alphabet-friendly trio, Fairtrade peanuts, macadamia, walnuts and shea are also available.
Fairtrade nuts are grown in countries such as Vietnam, Chile, Brazil, India, Tanzania and Sri Lanka, and they're the ideal solution for people and planet.
Fairtrade nuts are available in all sorts of forms, including baked goods, snacks, confectionery, cereals, cosmetics, oils, and hair and beauty products. And the good news is that you can find them stocked by major retailers and brands, such as Tesco, Waitrose, Traidcraft, Ben & Jerry's, Liberation Nuts, Pakka and Zaytoun.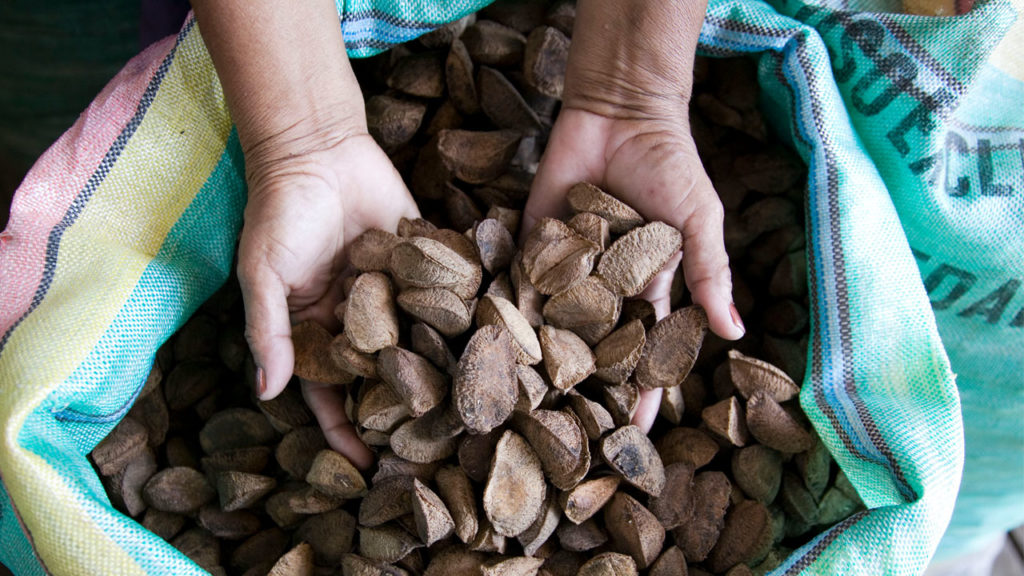 why choose Fairtrade
Selling on Fairtrade terms means that nut farmers have more voice and agency in supply chains, and a fairer income for their crops.
They are guaranteed at least the Fairtrade Minimum Price for their produce, a vital safety net, as well as the Fairtrade Premium – an extra sum of money to spend on business, farming, community or environmental projects that matter most to them.
At the same time, Fairtrade's producer networks, based in Africa, Asia, Latin America and the Caribbean, train nut co-operatives on sustainable farming practices and water use. (Fairtrade Standards forbid cutting down protected forests in order to plant more crops, and all Fairtrade farmers must meet certain environmental standards designed to reduce pesticides, inefficient use of water, and deforestation.)
It's not hard, then, to see why we're convinced the best kind of nut is a Fairtrade nut.
And it seems shoppers agree:
our figures show a growth in consumer demand for Fairtrade nuts, with volumes sold rising by as much as 60% year on year
consumer data shows that some 69% of shoppers are more likely to buy Fairtrade nuts over a non-certified alternative (8%) (Globescan, 2021).
All this is good news for nut producers.
Liberation Foods: nuts about Fairtrade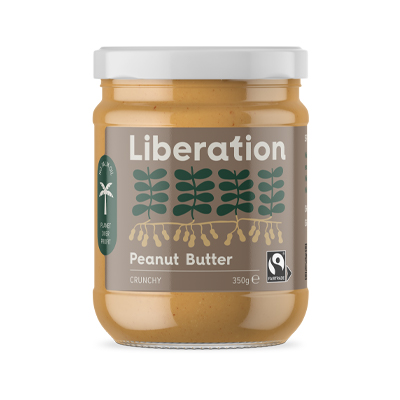 Liberation Foods is the first UK-based Fairtrade nut and community interest company majority owned by the smallholder farmers who plant, nurture and pick the nuts that go into their delicious range.
In 2021 an impressive 526,127 kg of Liberation Fairtrade nuts were sold, used in popular products such as Liberation Peanut Butter (palm-oil free), and Liberation Chilli and Lime Cashews, Peanuts and Corn. The sale of these products goes a long way towards supporting the people who grow them.
Liberation provides Fairtrade Brazil nuts to several of the biggest supermarkets in the UK. Brazil nuts grow naturally in sections of the Amazon rainforest in countries such as Bolivia, the world's largest Brazil nut producer and exporter. Liberation works closely with two co-operatives from Bolivia's Beni region, where two thirds of the forest-dependent population struggle to meet their basic needs.
Collecting Brazil nuts is a challenging task in the Amazon region. Gatherers must first collect the fruits as they fall from trees, then extract the seed nuts from the fruit, dry and sort them, and finally transport them in small boats or by foot out of the forest to ports. Brazil nut growers also struggle with limited access to retail markets, the ongoing threat of the rainforest's destruction, and the violence embedded in illegal logging. All this leads to insecurity and economic instability.
By offering stable prices, access to international markets and fair incomes (through the Minimum Price and Premium), Fairtrade and Liberation help forest-dependent communities – including the Beni cooperatives – to build safe, sustainable livelihoods and build long-term trading relationships, so they can receive the benefits of their hard work. Fairtrade also supports the two co-ops to monitor and preserve over 100,000 hectares of Amazon rainforest, to protect their areas from logging and deforestation, and conserve their local biodiversity.
Over the past few years, the Beni cooperatives have used their Fairtrade Premium to invest in vital infrastructure, buy transportation, and invest in food crops that smallholder farmers can grow to feed their families, helping them to become more self-sufficient. In recent times, the cooperatives have used their Premium funds to support the most vulnerable families during the COVID-19 pandemic, which hit indigenous communities hard. Though these funds, emergency relief packages were distributed, expensive medical bills were covered, and equipment was hired for local hospitals.
Examples like this remind us of the long-lasting change that happens when consumers, businesses and farmers unite to fight for a fairer deal with Fairtrade. When you choose Fairtrade nuts, you choose to support the people who grow them to get a fairer income, safer working conditions and the resources to invest in their livelihoods, families, communities and our shared environment.
What are you waiting for? Time to get cracking.

Join in the conversation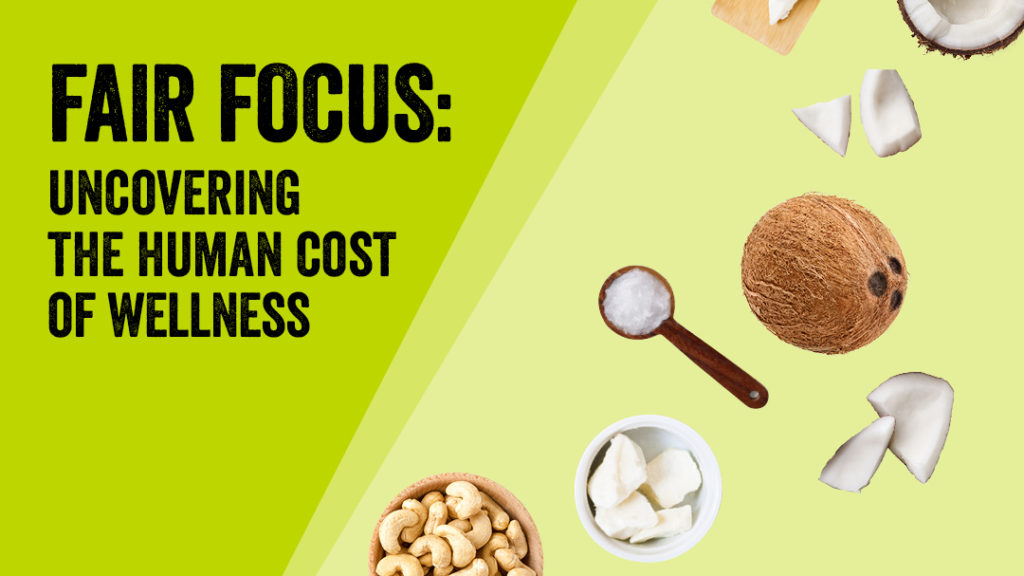 Join our free webinar, Uncovering the Human Cost of Wellness, to hear more about the business benefits of sourcing Fairtrade nuts and other cosmetic ingredients.
Together let's make trade fairer.
Date: Thursday 16 June 2022
Time: 11 – 11:45 BST

To find out more about sourcing Fairtrade, email commercial@fairtrade.org.uk
YOU MIGHT ALSO LIKE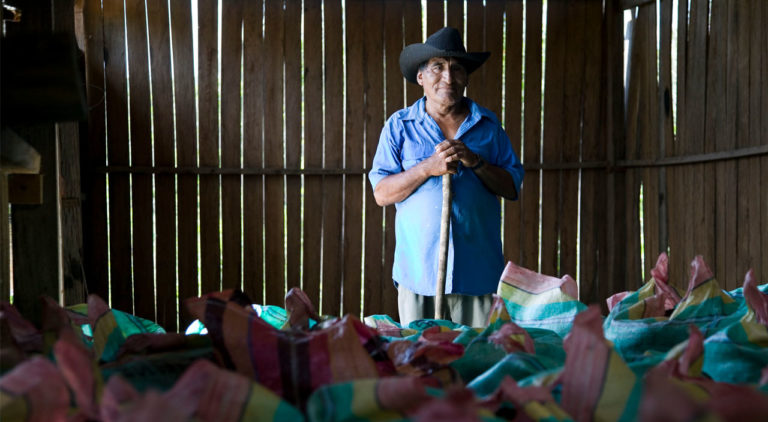 Brazil nut co-operatives in Bolivia build a safer, fairer industry
21 May, 2021
by Bernadette Coote, Liberation Foods An article published a couple of weeks ago in the Guardian, 'The forgotten people picking your Brazil nuts at a fraction of the price', outlined the immense challenges faced by communities that rely on gathering Brazil nuts from the Amazon floor. From the violence embedded in illegal logging and the…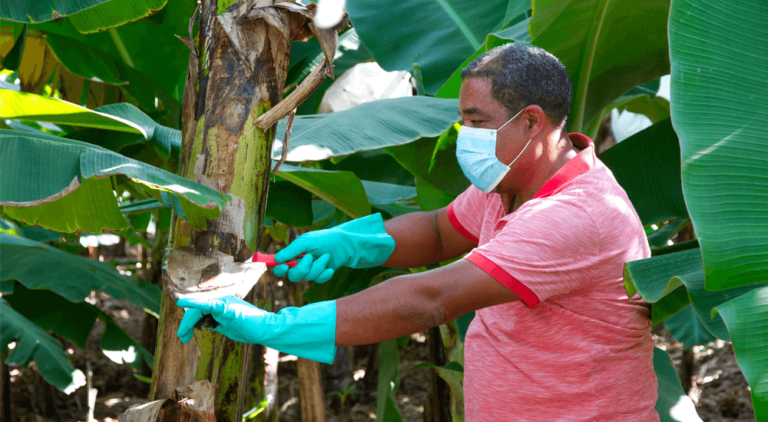 Five reasons why choosing Fairtrade supports farmers to adapt to a changing climate
30 April, 2021
Five inspiring ways farmers and Fairtrade are tackling the effects of climate change.