By Peter Ehrenberger
A dry heat hangs heavily over the Ivorian cocoa forest located near the city of Divo. It is January, which is the low season for cocoa farming – the main harvest is now over. But there is no letup in the workload, even now.
The withered leaves in the forest are five centimetres deep and rustle loudly with every movement. Rodents and – far more dangerous – snakes frolic in the undergrowth. That is why every farmer we meet wears knee-high gumboots. A purchase made with the Fairtrade Premium. Not exactly pleasant in this heat, but absolutely necessary to prevent snake bites. Serum against snake bites is a rare and precious commodity in Côte d'Ivoire, and we are at least two hours drive from the capital Abidjan, and that's providing there's not too much traffic on route.
It's here, in this West African country and also in Ghana, that farming families grow and harvest more than half the world's cocoa. Bicycles and machetes are the two most important possessions needed in order to carry out the daily work. That's because the distances farmers have to cover are regularly vast and the trees they care for require intensive maintenance all year round. 'Do you see this green stalk?' Asks Traore Ousmane, one of the farmers who accompany us and also the chairman of the Fairtrade co-operative ECAKOG. 'This is a cocoa cutting. If I don't remove it, it will take a lot of groundwater from my tree and weaken it. This makes it more sensitive to all kinds of pests and means my tree has less yield,' explains Ousmane.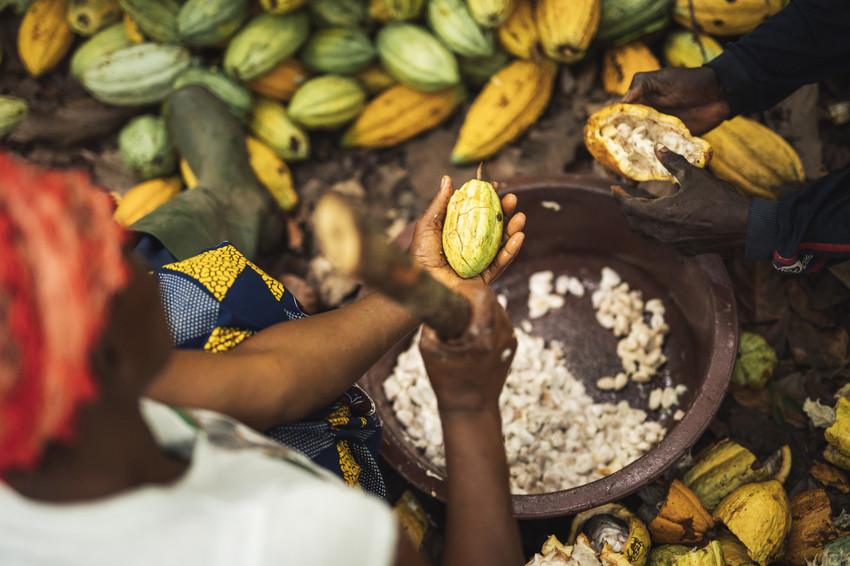 Small cocoa pods that are rotten or infested with pests must be cut off regularly too to keep the tree healthy. In addition, there is regular fertilisation, which is done here with largely organic ingredients such as cocoa shell residues and the like. At some point, the co-op would like to switch completely to organic cocoa cultivation, which is currently still rare in West Africa.
In order to be able to do this work efficiently and quickly, in addition to being very fit, you need a trained eye and an almost perfect sense of direction, because you can quickly lose your bearings in the forest. This is usually not a problem for cocoa farming families in these parts. They have been perfecting their craft for generations and know the land they work on like the back of their hand.
The Fairtrade Standards, the binding set of rules for Fairtrade, do not prohibit children from supporting their parents, but draw strict boundaries between learning and helping out on the farm and exploitative child labour. The children of these cocoa farming families attend school, and heavy physical work or dangerous activities are strictly prohibited. This is checked by FLOCERT, the audit and certification body for Fairtrade Standards, that will sometimes visit farms unannounced.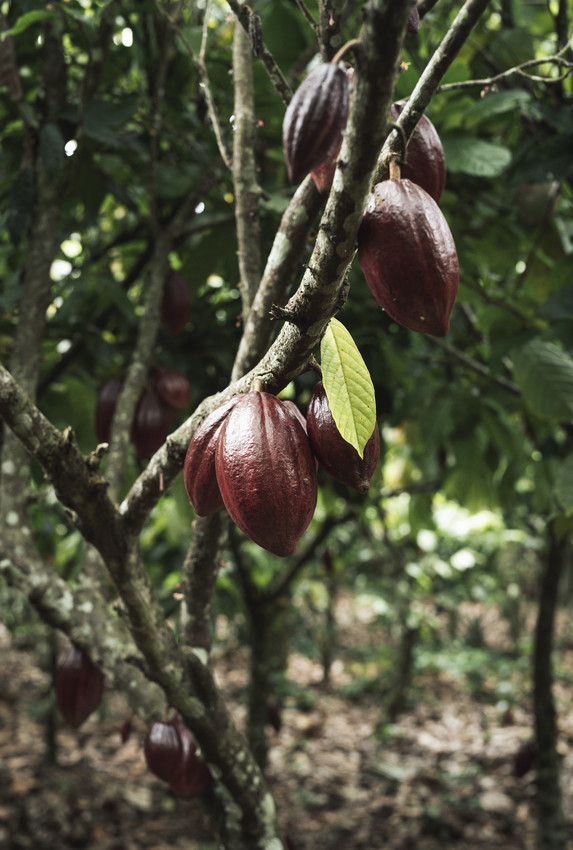 We leave the Divo cocoa lands to visit a nearby school that was recently built using the Fairtrade Premium. There are three classrooms for primary school children aged between six and ten. Many children already know exactly what they want to become in future. Doctor, we hear a lot, and even a police officer. Hardly anyone wants to take up cocoa farming like their parents. The children know how hard the work is and how little income they earn. That's why they dream of being able to go on to high school after elementary school, maybe even to study in further education. They sow the seeds for these dreams here. Big things sometimes come from small beginnings. Just like the more than 20 centimetres long ripe cocoa pods that grow from a tiny flower, not even the size of a daisy.
For Bertine Kouassi Adjoua's children, the dream of an ambitious career is already palpable. She works with her husband to cultivate six hectares of land. The majority of this is made up of cocoa trees. She is also a member of the ECAKOG co-op and, in recent years, thanks to training from Fairtrade, she has been able to increase productivity so effectively, that there is enough money to send her five children to secondary school and build a larger house for her family.
Recently a power grid has been installed in her village, which is by no means a matter of course in the area. Next she wants a well with an automatic pump for the community. At the moment you have to use a winch to get the water from a bucket twelve meters deep – a laborious process that takes time and effort.
Bertine Kouassi Adjoua's story shows how much has already been made possible in her area through being part of Fairtrade, but also gives deep insights into what her community still need. Bertine though, is optimistic that things will continue to improve little by little.
Since we became Fairtrade certified in 2014, a lot has changed for the better. I hope that in the future we will be able to sell even larger volumes of our cocoa harvest on Fairtrade terms and thus achieve further improvements for the people here.

Bertine Kouassi Adjoua
Bertine also appeals to consumers and businesses to make conscious decisions to choose Fairtrade chocolate.
Find out where to buy delicious Fairtrade chocolate!
Read more