by Alice Lucas, Policy and Advocacy Manager
Measures to tackle COVID-19 have exacerbated gender inequality across the globe. That's the damning verdict of a recent report from the UN Foundation, which shows how women and girls everywhere have been affected by the pandemic.
UN report: The shadow pandemic: how the COVID-19 crisis is exacerbating gender inequality
As we mark this year's 16 Days of Activism Against Gender Based Violence, it is an opportune time to remember that while we have all been deeply affected by the coronavirus pandemic, women in the Global South are currently facing heightened risks of abuse and discrimination, as pre-existing structures calcify and job losses accumulate in the face of widespread economic downturns in developing countries across the world.
Find out more about the 16 days of activism
Research has shown that women in the Global South are particularly likely to face an increased risk of human rights violations during the pandemic. What's more, school closures mean they are more likely to be expected to take on extra childcare responsibilities and unpaid labour, affecting their ability to earn a decent livelihood. Many women in the agricultural sector already earn well below men and thus are likely to feel the impacts of job losses more severely. The pandemic is simply exacerbating this inequality.
For example, in Ghana and Côte d'Ivoire, the average cocoa farmer earns just 75p a day – but women farmers are far worse off, working longer hours and working for less pay. It is estimated that in Côte d'Ivoire, women carry out over two thirds of the labour involved in cocoa farming, but earn just 21% of the income generated. Just a quarter of women cocoa farmers own their own land. As the pandemic continues to take an economic toll on communities, women are therefore less likely to have the resources or resilience to withstand any potential loss of livelihood.
The flower sector is another area where the gendered impacts of COVID-19 can be seen. East African flower sales have been hit hard since the onset of the pandemic, with the Kenya Flower Council estimating that it will take a year for the sector to recover. In Kenya, women make up the majority of Fairtrade flower producers: as Fairtrade Foundation has previously reported, the closure of childcare facilities due to COVID has made life very difficult for many women, who are overwhelmingly responsible for caregiving. Finding a workable solution while holding on to a job is challenging in any context, and we have heard how some women have been forced to take their sick leave to care for children at home. Many can ill-afford it, with no social safety net to fall back on.
The resilience many Fairtrade supply chains have shown throughout the pandemic reveals some important lessons for building back fairer from the crisis, which may enable us not only to mitigate the impacts of the virus on women, but also to lay the foundations for greater gender equality for the future.
Throughout the pandemic, we are seeing evidence that sustainable supply chains are more robust in the face of the crisis. For example, Fairtrade farmers and workers were able to call on reserves from Fairtrade Premium funds to set in place health and social protection measures to buffer, to an extent, the immediate impact of COVID-19, and to implement worker protection and furlough measures through the use of the Premium and the Fairtrade Producer Relief Fund.
Find out more about the Fairtrade Producer Relief Fund
This adds evidence to the business case (as well as the moral case) for measures such as the payment of living incomes and living wages to farmers and workers, for investment in environmental sustainability measures and human rights standards. In particular, women who earn a living income are more likely to be financially independent, better able to pay for childcare (as it often falls to them to pay it), and thus are empowered to pursue leadership positions within their communities.
Business has an important role to play here. Alongside working towards living wages, fair purchasing practices are vital to ensuring that women workers are paid a decent wage for their work. Also vital is the push for Human Rights and Environmental Due Diligence (HREDD) legislation, which would require businesses to identify, assess and mitigate human rights violations in their supply chains, including the violation of women's rights. Fairtrade has recently set out its support for HREDD legislation.
The Fairtrade system works on empowering women farmers and workers through our standards and programmes work, and we are committed to continuing to work with women farmers towards true gender equality as we rebuild from the pandemic, so they can rise up, become leaders in their sectors, and fulfil their potential. Alongside governments, businesses can play a critical role during this period by committing to pay living incomes – a vital step towards achieving gender equality in our international food supply chains.
In building back fairer from the COVID-19 crisis, one thing is clear: businesses, civil society and governments must put the rights of women squarely at the centre. Gender justice has to be at the heart of our post-pandemic world, if we are truly committed to leaving no woman behind.
This blog first appeared on Business Fights Poverty
Banner image: Workers in the grading hall of the Fairtrade-certified Harvest Limited Athi River flower farm, in Kenya. © Nathalie Bertrams
Read more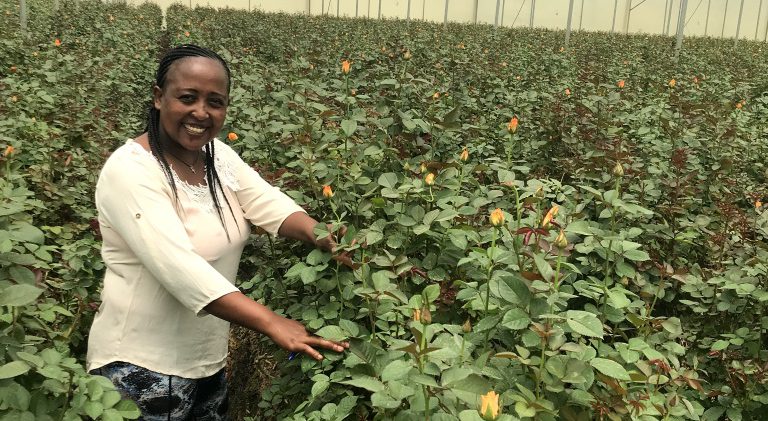 Fairtrade flowers help empower women in Ethiopia
20 May, 2019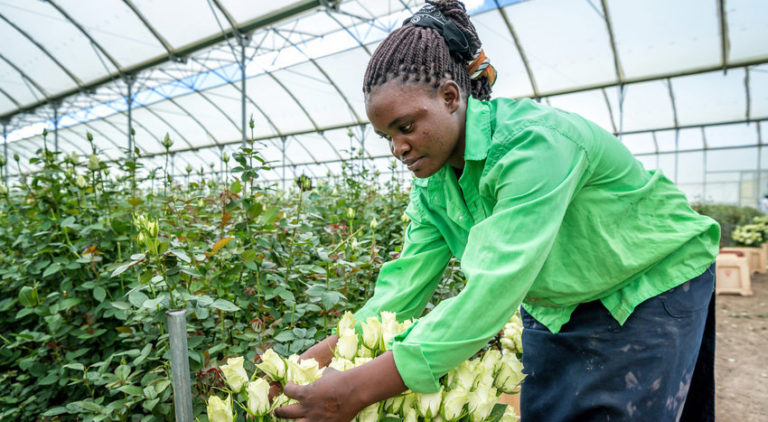 It's a small world when it comes to gender inequality
31 July, 2020