Whip up a batch of delicious espresso chocolate brownies made with top quality Waitrose Fairtrade ingredients.
Scroll down to watch the video of award-winning patisserie chef and chocolatier Will Torrent demonstrate how to cook these delicious Fairtrade espresso mocha brownies step-by-step.
Many of the farmers who grow cocoa are still far from the living income they deserve. On average, cocoa farmers earn under $1 per day, not enough to cover their basic needs. Fairtrade chocolate is a choice for change. Improved incomes for cocoa farmers through the Fairtrade Minimum Price, and the extra Fairtrade Premium, protect cocoa farming communities in times of uncertainty and support them to take more control over their futures.
Cyr Leocadie Voho, a cocoa farmer from Côte d'Ivoire, says, 'Now with Fairtrade, the cocoa is sold at a good price. And on top of that, we get the Fairtrade Premium money. When the Premium arrives at the co-operative, all the producers come together to meet at the co-operative (…) We decide to build schools, cantines, hydraulic pumps. Then we don't have to walk so far to get water. There were schoolchildren who used to go so far to go to school. They don't have to do that anymore.'
You can find the Fairtrade ingredients for the brownies from your nearest Waitrose store.
Happy Baking!
Ingredients
Espresso Mocha brownie
185g Essential Unsalted Dairy Butter
185g No.1 Peru Dark Chocolate 80%
3 large Waitrose Eggs British Blacktail Free Range
140g Waitrose Light Brown Soft Sugar
140g Waitrose Golden Caster Sugar
85g Essential Plain White Flour
40g Green & Black's Fairtrade Cocoa
1 tbsp No.1 Peru Ground Coffee
50g Waitrose Walnut Pieces, roasted
50g Cooks' Ingredients Milk Chocolate Chips
Coffee Cream ingredients
400ml Essential Whipping Cream
150g Waitrose Belgian White Chocolate
10g liquid glucose
1 tsp ground coffee
Method
Prepare a 30cm x 18cm cake tin by lining the bottom with a square of greaseproof paper. You could also use a square tin.
Melt the butter and chocolate together in a microwaveable bowl or over a bain-marie. Leave to cool slightly.
Using an electric whisk or stand mixer, whisk together the eggs and two types of sugar in a mixer for approx. 5 minutes until light and fluffy.
Fold in the cooled chocolate and butter mixture. Don't over mix it!
Sieve the plain flour, cocoa powder and ground coffee into the mixture and carefully begin mixing together.
Fold in the roasted walnuts and milk chocolate chips until completely incorporated.
Pour into prepared tin and bake at 160°C for 25 mins.
Ideally leave overnight for best results!
Coffee Cream Method
Measure out 100ml of whipping cream and place in a small saucepan with the ground coffee and liquid glucose.
Bring to the boil before pouring the hot mixture through a fine sieve over half melted white chocolate until it's well incorporated – you can use a stick blender to make sure it's totally emulsified.
Add the cold whipping cream and let it chill in the fridge overnight.
When you serve the brownies, spoon the cooled cream into a bowl or stand mixer and whisk to a soft peak.
Finishing Touches
To finish, you can spoon your whisked coffee cream onto the top of the brownie before slicing or slice your brownie first and then dollop on some of the cream or if you're feeling fancy, pipe some on using a piping bag.
Dust a little cocoa powder on the top and enjoy
Bake along with Pastry Chef Will Torrent
You might also like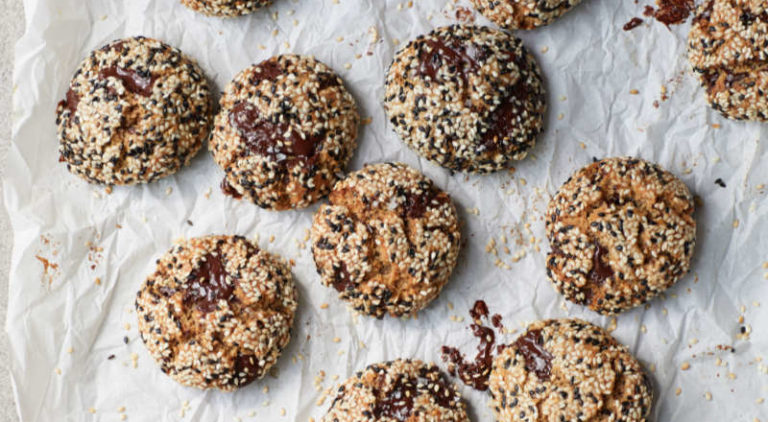 Melissa Hemsley's Fairtrade tahini choc chip cookies
1 March, 2021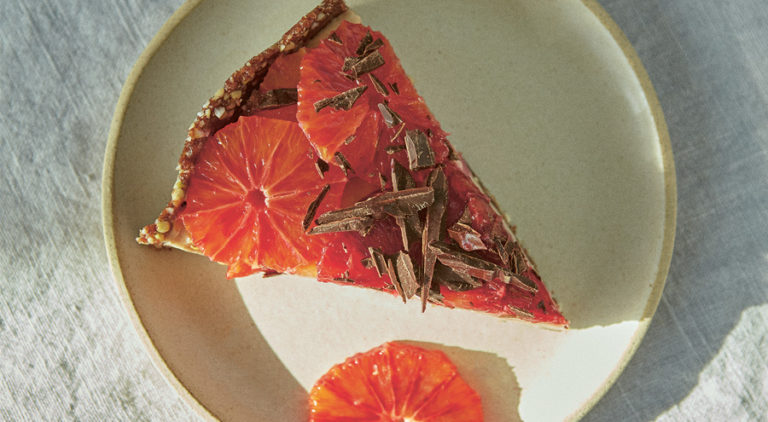 Anna Jones' chocolate and blood orange freezer cake recipe
22 February, 2021