The campaign was launched in parliament during Fairtrade Fortnight at an event hosted by the Fairtrade All-Party Parliamentary Group (APPG) and opened by APPG co-Chair, Will Quince MP*. Parliamentarians were able to pick up a copy of the new report: Craving a Change in Chocolate, and a shorter briefing paper, which we prepared to summarise key campaign messages. We also had some fantastic speeches from DFID Minister Lord Bates (with whom we are in dialogue regarding the campaign), Labour Shadow Secretary of State, Dan Carden MP, Sarah Wakefield from the Co-op, as well as a remarkable presentation from pupils at Admiral Nelson Secondary School in Portsmouth, a school with Fair Achiever status.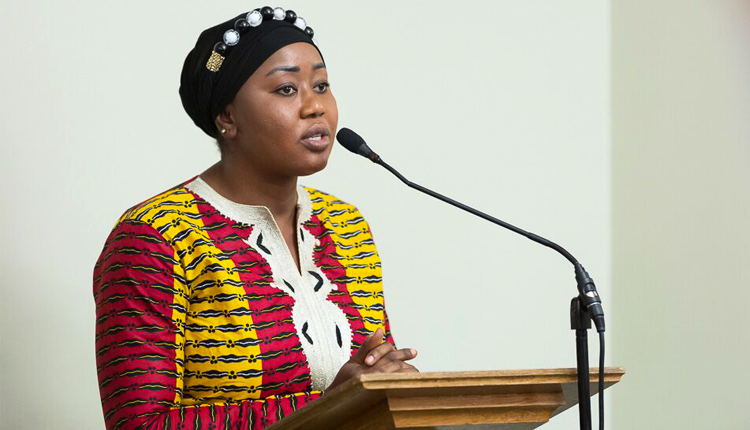 One of the highlights of the parliamentary reception is the opportunity for MPs to hear directly from producers, mirroring what we aim to do with the Fairtrade Fortnight producer tour up and down the country. This year, we had hoped to be joined by Ivorian cocoa producers, Rosine and Leocadie, but as many Fairtrade supporters will know, their visa applications were refused – an issue that we are now following up with the Home Office. However, we were absolutely delighted that we were able to have Awa Traoré with us, Director of CAYAT Co-operative, who some may have met last October at the commercial and supporter conferences. Awa spoke from the heart about what it means to be a cocoa farmer, particularly as a female producer with all the added expectations of unpaid care work. At the end of the event guests were treated to some Fairtrade chocolate cake and given a chocolate coin (courtesy of Divine Chocolate), a symbolic reminder of how much a living income is estimated to be for a cocoa producer in Côte D'Ivoire. Only £1.86 a day – such a small sum and such a scandal that this seems so far out of reach.
Find out more about our living income campaign >>
We had a brilliant turnout at the event – which is testament to the hard work of campaigners up and down the country engaging with MPs at the local level. This year we had 75 MPs attend in person, a number of Lords, and a larger number represented by their office staff. We think that we also had every political party represented – including from the new Independent Group! We also know that an even more MPs have been involved in constituency events – bake sales, coffee mornings, school visits – and we've been hugely encouraged by all the support that has been shown for Fairtrade and the new campaign on social media and in local papers, from Totnes to Ilkley.
The challenge for us now, is to sustain the campaign, and to build on this initial enthusiasm and energy to see the change delivered that is so desperately needed in the chocolate industry. In our report we call for the UK Government to take a lead in bringing the industry and other government's from major chocolate consuming countries together to commit to enabling living incomes for cocoa farmers. We'd also like to see more UK aid being spent on programmes to help cocoa farmers and see changes to regulation to ensure change across the whole industry.
The intention, after Easter, is to hold a further event for MPs when they can learn in more depth about these campaign asks, and we also hope to follow that up with a parliamentary debate on living incomes in cocoa. In the meantime, MPs are also taking the campaign forward in other ways – it was fantastic to hear Stuart McDonald asking the Trade Secretary about his support for the campaign in oral questions, and to hear Kirstene Hair also raise Fairtrade Fortnight with Leader of the House, Andrea Leadsom. A number of MPs have also submitted written questions to the government on the campaign, so a big thank you to Stephen Doughty, Jim Shannon, Stephen Morgan, Alex Sobel and Frank Field. If you think that your local MP might also be keen to ask further questions about the campaign, then do let us know!
Another way that MPs are showing their support for the campaign is via 'Early Day Motions' (EDM), which is a kind of parliamentary petition. They aren't the perfect tool as not all MPs are keen on signing them, but they are a way to build momentum and demonstrate the level of interest in a campaign to the government. There are currently two EDMs that have been tabled on the campaign, EDM 2229 tabled by Christine Jardine and more recently EDM 2280 tabled by John Grogan, and other MPs can support by adding their names to one or both of these motions.
This is just the start of the campaign, but thank you to everyone who has already signed the petition and raised the issue of exploitation in the cocoa industry with their local MP. Do continue to share that petition and to engage on the campaign. It may seem like Brexit is dominating everything at the moment (it is!), but it is still possible to cut through on other issues, and we are looking forward to all the future conversations with government on living incomes in cocoa, backed up by all this amazing support.
Sign to take exploitation out of our chocolate >>
* Will has subsequently had to step back from the APPG role due to his Ministerial promotion. A big thanks to Will for all that he has contributed to Fairtrade's work in parliament!
You might also like