Across the world we drink 2 billion cups of coffee daily, supported by a lucrative global coffee industry worth over $100 billion. Yet the average non-Fairtrade coffee farmer lives on as little as £1.37 a day.
What makes Fairtrade coffee different?
Fairtrade is the only global sustainability label that guarantees farmers and workers the Fairtrade Minimum Price protection: companies pay an agreed-upon Minimum Price for the coffee, plus an additional Fairtrade Premium for farmers to invest in their communities and businesses.
It takes a lot of expertise to produce the high-quality beans that end up as your favourite cup of coffee. But the life of the smallholder coffee farmer behind your morning brew is far from easy.
We focus our efforts on small producer organisations because 25 million smallholders produce up to 75 per cent of the world's coffee. They struggle with low incomes due to perpetual price volatility and the ongoing challenges of the climate crisis.
Come and meet Angelica, Gerardo and María – three Fairtrade coffee farmers from Colombia and find out how Fairtrade has impacted their lives and communities.
Angelica María Escobar Valencia – a farmer who has hope for the future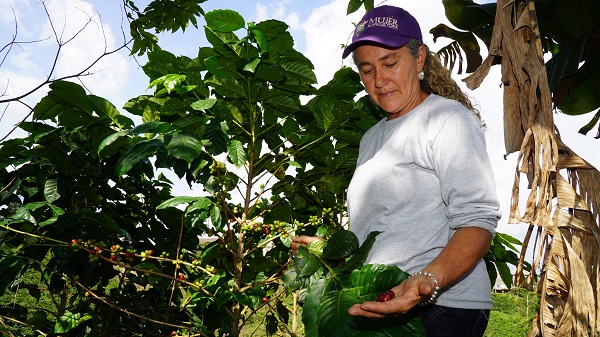 We have grown coffee for a long time, and we are certain that market changes and all the differences can be overcome.
Angelica María Escobar Valencia, a dedicated coffee farmer from Palestina, Colombia, has spent her life cultivating coffee, following in the footsteps of her parents and grandparents.
She says that Fairtrade certification – which guarantees fair pricing and an additional Premium based on compliance with stringent criteria – is the way forward.
Not only does Fairtrade benefit individual livelihoods but it also supports collective efforts aimed at improving coffee quality and sustainability.
Angelica has witnessed the harmful impact of climate change on coffee production.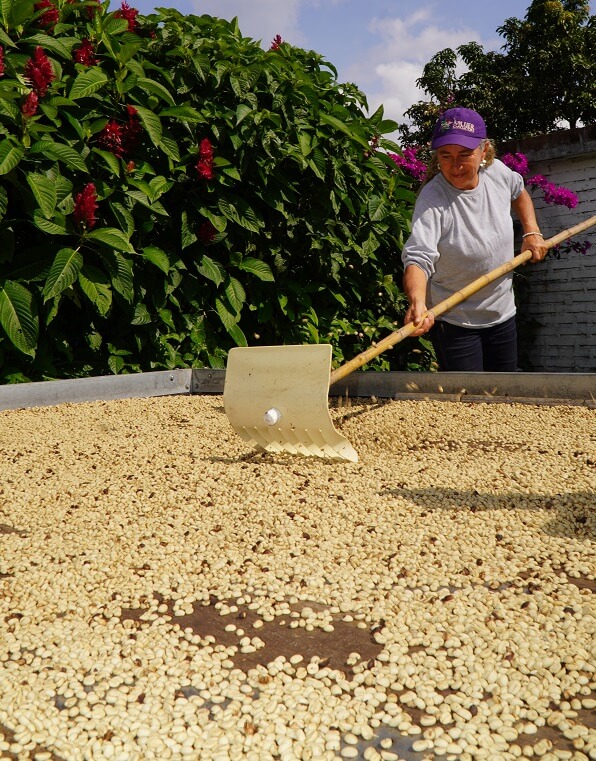 Coffee thrives in sunny conditions but struggles with too much rain or prolonged droughts. Recent years have seen erratic harvests due to phenomena like El Niño and La Niña, posing a challenge for coffee growers like Angelica, who says that they "are at the mercy of climate change".
Fairtrade advocates for climate justice, requiring farmers to adopt sustainable practices and supports them to address climate change head-on.
Angelica and her fellow coffee farmers are encouraged to take proactive steps, strengthening their resilience against extreme weather events, and promoting a sustainable future for coffee production.
Improving coffee production
Being part of Cooperativa Manizales, a Fairtrade-certified organisation, has given her access to various programmes to improve coffee quality, economic stability, and environmental responsibility.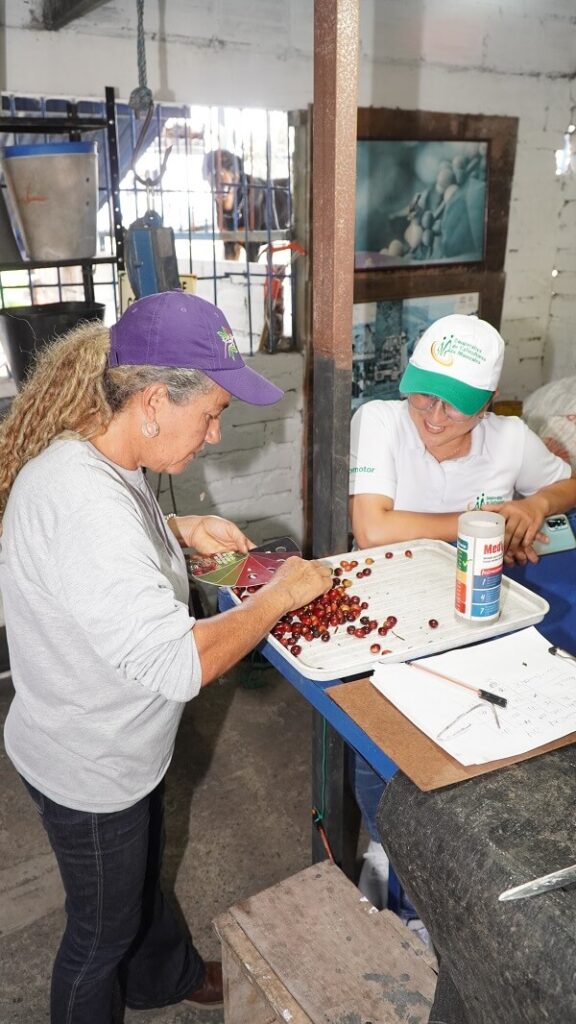 Angelica says that "Fairtrade has been really beneficial for this cooperative", and she herself has benefited from Fairtrade-funded coffee drying projects, including the installation of solar dryers, which significantly improve coffee quality by maintaining ideal humidity levels.
Additionally, the Fairtrade Premium supported the installation of a secure chemical storage, reinforcing responsible farming practices.
Fair pricing
Fair prices are another priority for Fairtrade. By enabling farmers to calculate production costs per arroba [a Colombian unit of weight equivalent to 12.5kg] of coffee, Fairtrade ensures that even when the market price drops, farmers receive additional incentives per arroba, safeguarding their economic well-being. She says that "even if prices are low at the moment, being certified helps us".
Despite challenges like market fluctuations and currency exchange rates, which are beyond their control, Angelica and her fellow coffee growers remain resilient and optimistic about the future of Colombian coffee.
They firmly believe that with Fairtrade's continued support, ongoing improvements, and their expertise in coffee cultivation, Colombian coffee production will enjoy a prosperous and sustainable future. Angelica believes that "the future of Colombian coffee is good".
María del Carmen Bedoya de Tamayo – nurturing coffee tradition and community through Fairtrade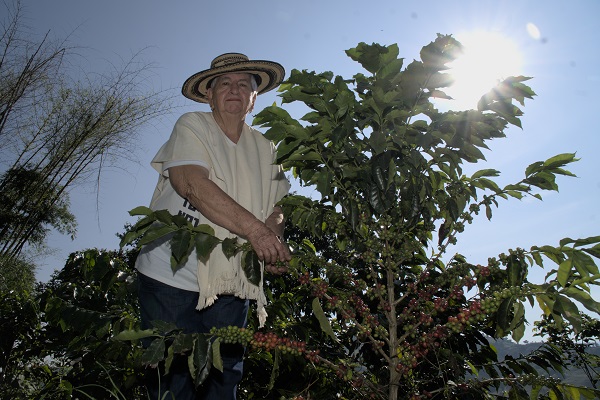 Without the Fairtrade seal, without fair prices, we wouldn't have so many benefits.
María del Carmen Bedoya de Tamayo, a seasoned coffee farmer from Chinchiná, Colombia, cherishes her family's coffee tradition, handed down through generations.
She passionately advocates for Fairtrade certification, which has not only improved her family's economic well-being but also brought transformative changes to her entire community, touching on social and cultural aspects.
María highlights the broader impacts of Fairtrade, such as the cleaner environment fostered by their cooperative's clean field days and encouraged by Fairtrade's environmental standards.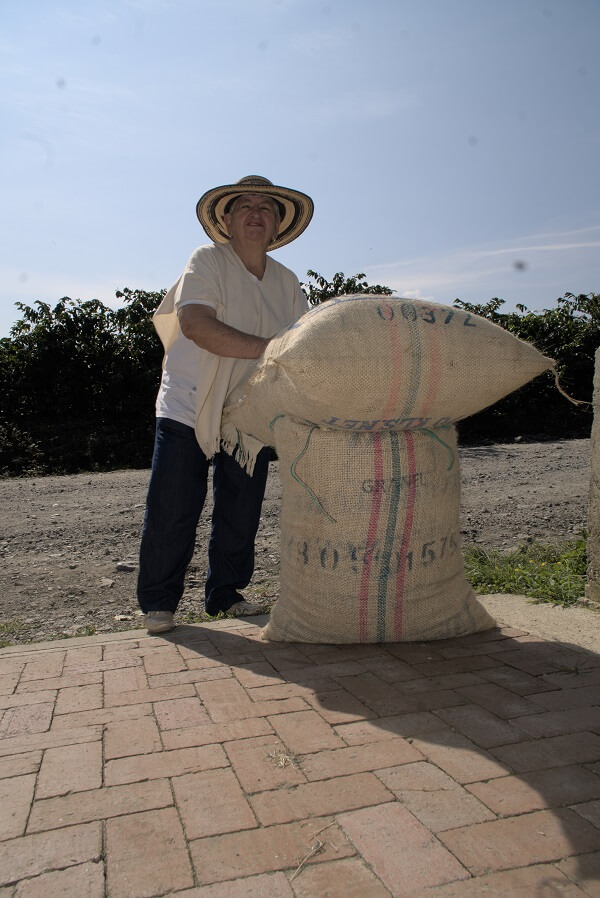 Nevertheless, she is faced with the harsh reality of climate change, with unpredictable weather patterns affecting both coffee yield and quality. She says that "there's less coffee and the quality has gone down. In winter, there is a lot of illness [and] in summer, disease spreads much, much more".
Benefits of Fairtrade
Despite these challenges, Fairtrade sales have bought satellite dishes and coffee processing equipment like driers and pulpers. Also initiatives such as health screening, funeral care and veterinary care. These programmes improve the community's welfare and support the continuity of coffee cultivation.
María speaks about the economic fragility caused by international stock exchange fluctuations and says that "now coffee prices have gone down, things are really difficult": yet she remains determined to constantly strive to improve the quality of her coffee.
She firmly believes that Fairtrade is the cornerstone of their cooperative's prosperity, extending its reach not only to her community but also to small-scale coffee growers.
María's story shows the impact of Fairtrade on individual lives and communities. It underscores the resilience of coffee growers in the face of adversity, united in their dedication to preserving tradition and building a sustainable coffee-growing future.
However, as she says: "The future is uncertain, and we don't know what will happen. But we keep on going … ploughing, growing, doing our very best to improve the quality of the coffee".
Gerardo Carbajal – Nurturing organic coffee and sustainability through Fairtrade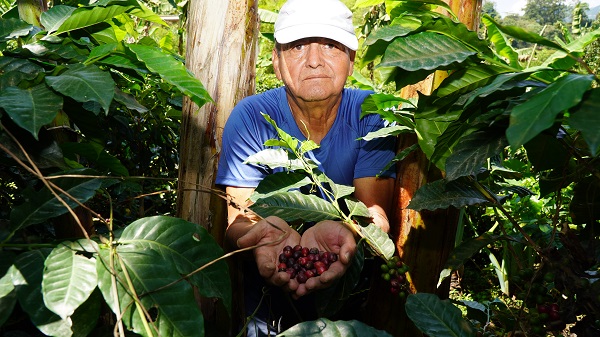 On this farm, we produce organic coffee…and we care for the environment.
Gerardo Carbajal, an organic coffee producer in Villa Maria, Colombia, is living proof of how Fairtrade certification can have a far-reaching impact on the coffee industry, the environment, and local communities.
Gerardo's dedication to organic coffee farming, which avoids the use of harmful chemicals (in line with Fairtrade Standards), has not only enhanced coffee quality but also played a crucial role in preserving the environment. His farm stands as a testament to sustainable, eco-friendly practices.
Gerardo highlights the central role of Fairtrade in securing fair prices that adequately cover production costs.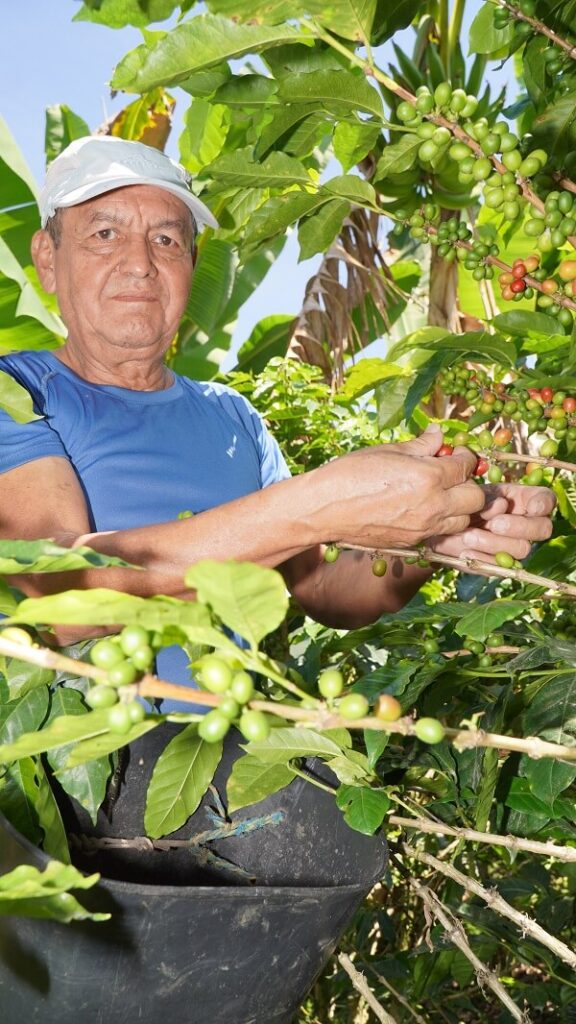 Benefits of fair pricing
Fairtrade's fair pricing system not only brings stability to coffee growers but also helps to grow their economic power. He says it means that the market values their product and what they make on their farms more.
This support becomes especially critical in the face challenges caused by climate change. Gerardo describes how three years of excessive rainfall and the recent El Niño phenomenon caused crop losses. In such times, Fairtrade offers financial aid, access to drying facilities, and vital technical guidance.
Gerardo also emphasises the wider community benefits facilitated by Fairtrade. Initiatives such as clean field practices and responsible waste management are integral components of this approach.
He pinpoints the direct link between fluctuating coffee prices and economic hardship, often made worse by middlemen.
He says that the change in price of coffee directly affects their pockets, but cooperatives like the one Gerardo belongs to serve as a buffer against these uncertainties.
As for the future, Gerardo advocates diversifying agricultural production beyond coffee. He believes that growing food crops and fruit trees alongside coffee is essential for long-term self-sufficiency, but this is only possible with fair prices.
Without fairer prices they "can't afford to improve the coffee fields, renew them and sow trees".
Whilst telling his story, Gerardo expresses his gratitude to Fairtrade and the supporting companies for their contributions to the lives of coffee-growing families. Their assistance extends far beyond fair prices, encompassing vital technical support, financial aid, and environmental stewardship.
Gerardo's story captures the intricate interplay between sustainable farming, Fairtrade values, and the well-being of local communities.
How you can support coffee farmers