Social and economic inequality is widespread among indigenous people in Guatemala and the majority work on small-scale coffee farms. The country's main exports are coffee beans, sugar and bananas. Historically, Guatemala's coffee exports have been dominated by large foreign-owned plantations rather than small coffee farms, which has meant that the exporter or the intermediary can take advantage of the farmers, pushing down prices for their crops, often leaving them in poverty and with few other options but to sell up and migrate.
That's why many co-operatives and small coffee producers team up, like the 20,000 small coffee producers who market their coffee through the Federación de Pequeños Productores de Café de Guatemala (also known as FEDECOCAGUA R.L.). This organisation consists of 148 different co-operatives and it gives farmers better access to global and direct trade. As a result, around 50% of all coffee produced in the country is now from small family-owned coffee farms.
These farmers are now paid fairly for their work and, by creating a community based on fair trade and social inclusion, they are able to work collaboratively whilst maintaining independence.
Fairtrade supports indigenous women in Guatemala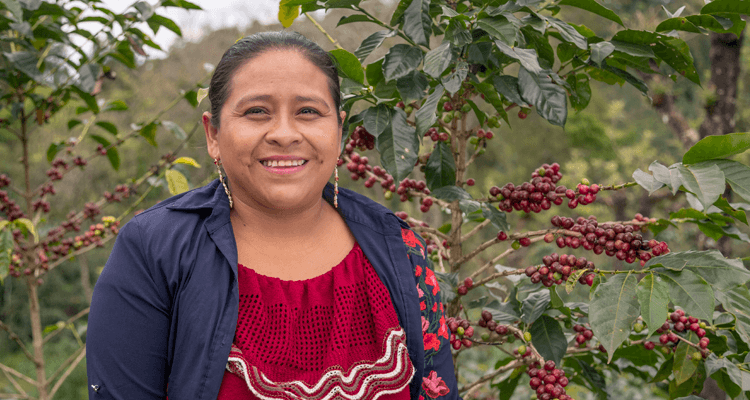 Virgilia de Jesus Mendoza is a coffee farmer working for La Asociación de Cooperación al Desarollo Integral de Huehuetenango (ACODIHUE).
She explains how Fairtrade has made a difference to those farming coffee: 'We lived with discrimination and 'machismo' but now there have been great changes.' Women now participate on the board of directors and they are part of the decision-making process for the whole co-op. They focus on improving gender equality as well as community building and development.
Virgilia has worked on coffee farms for many years and can see the difference that these improvements have made. She says that the one thing that makes it possible for consumers to enjoy their cup of coffee is the 'love, effort and dedication of these women on the plantations.'
Similarly, Rosa Mendoza, a worker from the Asociación Chajulense says: 'We are very grateful for the companies buying our coffee, they are providing opportunities for all women.'
Young people in Fairtrade communities
Using benefits from the Fairtrade Premium, Maria Juan Tomas from the Asobagri co-operative was able to learn more about coffee farming, increasing the quality of her crop whilst also improving her working conditions. She says: 'There is an advantage for young people so they participate.'
Libny Vargas is the director of a programme set up to protect children in the Asociación Guaya'b. She explains that traditionally children would drop out of school to help with the coffee harvest, but helping children to 'learn and enjoy the stage of life they're in' means they will go to school and learn things that will in turn benefit the organisation.
Libny says: 'This also gives parents the opportunity to work while their children are at school learning and developing.'
Climate change is one of Guatemala's biggest challenges
Indigenous people living in rural areas of the country are more vulnerable to climate change than those based in the cities due to their reliance on farming.
75% of Guatemala's coffee crops were wiped out in 2016 due to a disease known as 'La Roya' or leaf rust. The disease is becoming more prevalent with more serious effects and farmers have little to protect themselves against it destroying their whole livelihoods.
'La Roya Recovery' project was set up by the Coffee Trust and the Fairtrade Foundation to support farmers in Guatemala.
'I had never received training in the field before, so since this project began I have improved the management techniques of my coffee plantation. I have practiced pruning and use shade management. Although I have 30 years of experience with coffee, I am learning and improving thanks to The Coffee Trust. Despite the coffee rust, the plantation's leaves have improved and the plantation has flourished, especially the sprouts I am pruning,' says Francisco Ramírez who participated in the programme.
You might also like