by Anna Pierides, Senior Supply Chain and Programme Manager at Fairtrade Foundation
'We are women who have a lot of dreams and a desire to succeed. The co-operatives have empowered us,' says Ibeth, member of a women's group, which runs a business that takes no waste seriously.
This is the ASOCOOMAG women's group. Set up using the Fairtrade Premium, with support from trading partner Fyffes, the women are all connected to the five Fairtrade certified banana co-operatives in the Magdalena region of northern Colombia. They started out in May 2019 with a blank canvas.
Since then, the group have found creative ways to transform not just the fruit, peel and leaves, but also the gloves and plastic bags, used to harvest bananas, into all kinds of products. In their hands, plastic bags become toys and furniture, and banana leaves become earrings and lampshades. 'Our handicraft products are made from banana leaves,' explains Ibeth. 'Once the banana bunch has been harvested, the waste is processed, put out to dry and turned into all products.'
Before the group started, some of the women spent all their time on housework and taking care of their children. Now, the women have opportunities to make money for themselves and their families. 'The Zona Bananera we live and work in has faced many difficulties. This group has motivated us to take control and create projects for our future generations,' says Ibeth who is proud to belong to the group. 'The handicrafts group represents colour, diversity, and innovation for forward-thinking producers. It has made us feel useful. We give thanks to Fairtrade, because through them we are achieving sustainability.'
Making custard from banana peel
The ASOCOOMAG women's group have cooked up a bunch of creative banana recipes. 'Our gastronomy group manufactures completely organic products with bananas and banana flour,' explains Feris who belongs to the group. 'We all love to cook. We know the banana is a delicious fruit from which you can make a variety of things without wasting anything. Even the peel can be made into custard.'
As well as tasting delicious, bananas pack a punch when it comes to healthy eating. 'The banana also contains plenty of vitamins and nutrients. It's good for people who exercise, for pregnancy, for poor circulation and for children as well as adults.' says Feris.
From a young age, Feris learnt that bananas were special, 'My mother taught me that the banana was a treasure. We can make so many things from it. We did not think that the banana could become so big in all senses of the word. For this we would like to give our thanks and we would like to continue learning.'
Feris and her group have ambitious plans. They hope to develop tourism in the Zona Bananera. They want to build a recycling plant, which will transform waste from banana farming into useful products such as benches and materials to build homes. Maria who focuses on the recycling project says, 'This business proposal is very important because it is being led by women. We want to succeed, and have a lot of hopes for the future.'
How you can support banana farmers
Climate change and Covid-19 have increased the cost of growing bananas, however the retail price of bananas remains very low. More hurricanes and frequent floods make earning a living from bananas unpredictable and unsustainable. With prices for bananas so low, it's hard for farmers to build up enough savings for emergencies.
That's why Fairtrade can be a lifeline to farmers. On top of the price farmers receive for their produce, they earn an extra sum of money, called the Fairtrade Premium, to invest in improving the quality of their lives. Las Mercedes Fairtrade co-operative in the Dominican Republic have used the Premium to develop a disaster recovery fund. When severe weather hits their farms, the co-operative's members use the fund to rebuild.
Between 2000 and 2020, Fairtrade banana sales in the UK generated over £114 million in Fairtrade Premium for farmers and workers. Support farmers by always looking for the FAIRTRADE Mark when you're buying bananas.
There are five UK retailers who exclusively sell Fairtrade bananas: Sainsbury's, Co-op, Waitrose & Partners, Ocado and Booths.
Find out where to buy Fairtrade bananas
You might also like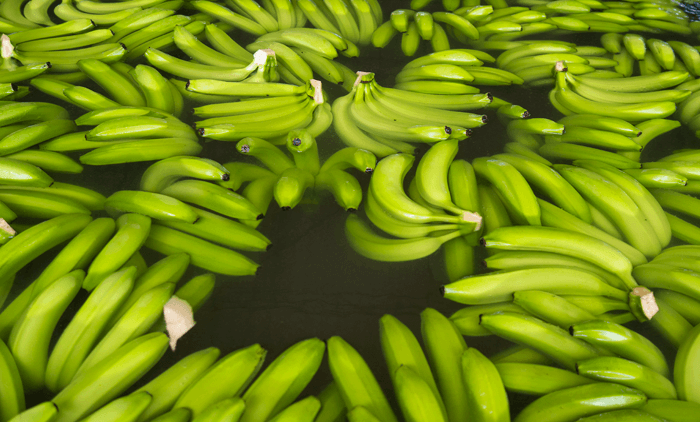 Top 12 Facts about Fairtrade Bananas
22 August, 2020