by Katy Jackson
Try this amazing Meringue Girls' pavlova letters recipe, packed with delicious Fairtrade ingredients.
From banana bread to brownies, sourdough to scones, the UK has gone baking mad! More than half the population is spending lockdown improving their baking skills and trying out new recipes.
Earlier this year, during Fairtrade Fortnight, we collaborated with Waitrose & Partners and the Meringue Girls to celebrate Fairtrade farmers and run a meringue decorating masterclass. Cyr Leocadie Voho, a Fairtrade cocoa farmer from CAPEDIG co-operative in Côte d'Ivoire, joined us to try her hand at pavlova letter decoration and speak about the difficult situation facing women cocoa farmers and about the difference that Fairtrade makes to her community.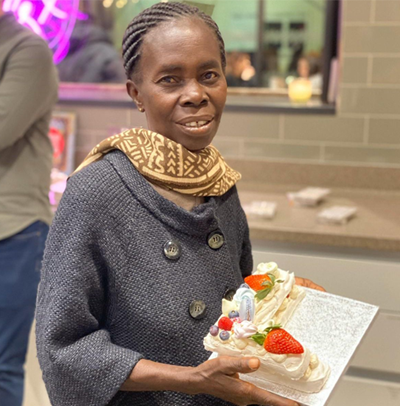 Cyr Leocadie Voho with her hand-decorated pavlova letter
By choosing Fairtrade ingredients, you're helping to support farmers and workers across the globe get a fair deal. Through Fairtrade, farmers receive at least the Fairtrade Minimum Price and the Fairtrade Premium, an additional sum of money which they can spend, as they see fit, on social, economic and environmental projects, and is now more important than ever as producers face this time of unprecedented uncertainty.
This World Baking Day, choose from a wide range of Fairtrade baking ingredients to make sure your next bake is as ethical as it is delicious.
For the largest range of Fairtrade baking products, try Waitrose & Partners
Tag us in your pavlova letter creations, @FairtradeUK on Twitter and Instagram. Here's to feel-good baking!
Preparation time: 20 minutes
Cooking time: 2 hours
Total time: 2 hours and 20 minutes
Serves: 12
Equipment
Stand mixer with whisk attachment
Roasting tray
Baking parchment
Star nozzle
3 piping bags
3 baking trays
Palette knife
Templates (drawings or printouts of desired shapes) – 2 identical templates per letter/shape
Scissors
Meringue ingredients
600g Waitrose & Partners Fairtrade golden caster sugar
300g free-range egg whites (the whites of about 10 eggs)
Pink food colouring
Filling ingredients
Ideas for decoration
Waitrose & Partners Cooks' Ingredients Fairtrade chocolate chips
Waitrose & Partners Cooks' Ingredients Fairtrade cocoa nibs
Waitrose & Partners No.1 dark Fairtrade chocolate
Pink macarons
Raspberries
Strawberries
Blueberries
Hundreds and thousands
Fruity Shimmer Sugar
Edible flowers
Edible gold leaf
Method
Preheat the oven to 180C. Lay your templates onto two of your baking trays and place parchment on top so can see the shape underneath. Line the third tray with parchment and set all three to one side.
Turn a piping bag inside out and use a paintbrush to colour the piping bag. Set aside.
Line your roasting tin with baking parchment, pour in the Fairtrade sugar and give it a shake so that the sugar is level and will heat evenly. Place in the oven and heat for about 7 minutes.
While the sugar is in the oven, add the egg whites to the bowl of your stand mixer and whisk on low speed, gradually increasing speed until the egg whites form stiff peaks.
Take the sugar out of the oven and turn the oven down to 100C (you can leave the oven door open to speed up this process).
With your mixer on full speed, very slowly spoon the hot sugar into the stiff egg whites, making sure sugar is fully incorporated before adding the next spoonful. Once you have added all of the sugar, continue to whisk on full speed until you have a smooth, stiff, and glossy mixture.
Add a star nozzle to the painted pink piping bag and then add a big spoonful of meringue to the bag. Fill another piping bag with the rest of your meringue mixture.
Take the pink coloured piping bag, cut off the tip and then pipe 8-10 rosettes. Squeeze the nozzle out of the bag and then pipe small meringue kisses with the rest of the pink meringue. Place this tray in the oven and bake for 30-40 minutes, until the bases come off the tray cleanly.
Cut the tip off the other piping bag (about a 5p size hole) and then, following the outline of your shape, pipe the meringue on to your baking tray to make an outline in meringue. Do this twice for each letter/shape. Then cut a bigger hole (about 10p size) and fill in your shape. Neaten up the edges of your shape with an offset palette knife.
Bake your meringue shapes for about 2 hours, or until the meringue bases come off the parchment paper clean.
To assemble and decorate your pavlova letters
Cut the vanilla pod in half and scrape out the seeds. Whisk the cream, mascarpone and vanilla seeds together to soft peaks and then transfer to your third piping bag.
Once the letters are baked, carefully transfer the first layer to a cake board or platter. Pipe dollops of vanilla cream over the top of the shape, add some fresh berries if desired and then carefully place the second meringue shape on top.
Repeat the piping with the rest of the vanilla cream and then begin adding your toppings.
Start with the larger items, macarons, strawberries and raspberries, and then add the smaller items around them until the top of your cake is covered with gorgeous decorations.
Finish by adding 100s and 1000s and a drizzle of melted Fairtrade chocolate if desired.
Can't get your hands on flour or eggs? Check out our baking without the basics blog with a range of delicious recipes including Waitrose & Partners' Flourless chocolate 'cloud' cake.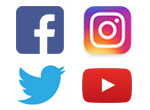 Support Fairtrade when you follow, share or like our social posts.

Sign up to email updates from Fairtrade to hear about products, petitions, competitions and more.