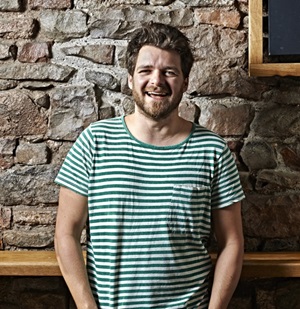 The addition of vanilla here gives the frangipane an extra layer of flavour. But did you know that the premium price for this popular spice doesn't always translate to decent working conditions for vanilla farmers?
Baked apricots are deliciously fragrant. I love eating them for breakfast with yoghurt or serving them as a light dessert after a rich meal.
This recipe uses Fairtrade sugar, Fairtrade almonds and Fairtrade vanilla. In Madagascar, Fairtrade vanilla farmers are fighting child labour and doing their best to provide decent work to support families in the country. Roughly 80% of the world's vanilla is produced in Madagascar but this industry has been identified by the US Department of Labour as high risk for goods produced with child labour.
To support change for the better, choose Fairtrade vanilla for your summer baking.
Baked apricots
500g apricots, 150g natural Fairtrade cane sugar
Cut the apricots around the middle down to the seed. Twist each half and pull apart. Remove the stone. Lay on a baking tray, sprinkle with sugar and place a tiny piece of butter on each. Bake in the oven for 15 minutes until the sugar is melted and the apricots are soft.
Apricot frangipane
Frangipane is just about my favourite dessert/cake. The rich almond sponge has all the flavour and moistness that a flour based sponge lacks. Frangipane is a good carrier for tart seasonal fruits. At my restaurant we put a different frangipane on the menu each season from quinces to rhubarb.
Ingredients – Makes about 12 portions
500g BAKED apricots
100g Fairtrade ground almonds
100g Fairtrade caster sugar
100g Unsalted butter, slightly softened
2 tsp Fairtrade vanilla
1 large egg
For the ruff puff
250g plain flour
190g cold butter, cut into 1cm cubes
125ml cold water
Method – Preheat oven 180C
1) Put the flour in a bowl, add the butter and stir. Mix in the water. Form the pastry into a lump and roll out into a large rectangle. Fold the dough in by one third on one side then fold the other third over the top. Roll out the sheet again then repeat by folding a third and third. Place in cling film then put into the fridge for 30 minutes.
2) Mix the frangipane ingredients, ground almonds, sugar, egg, butter and vanilla and beat until smooth.
3) Roll out the puff pastry 3-5mm thick onto a large baking tray. Using a knife, score a border into the pastry about 1 inch from the edge.
4) Spread the frangipane mixture evenly over the pastry about 1 cm thick up to the border. Place the BAKED apricots on top of the frangipane .
5) Bake in the oven for 25-30 minutes until the pastry and frangipane have risen and are golden.
Storage: The baked apricots will keep for a week in the fridge in a sealed container. The frangipane will be good for 3 days. If you have any spare rough puff it keeps well in the freezer.
Find more inspiration from Tom Hunt on his Instagram @tomsfeast