1. A third of bananas sold in the UK is Fairtrade
That comes to around 231,000 metric tonnes. All bananas sold at Sainsbury's, Waitrose, Co-op, Booths and Ocado are Fairtrade. Other shops sell Fairtrade bananas too so make sure to look out for the FAIRTRADE Mark.
Find out where to buy Fairtrade bananas
2. Fairtrade Premium totalled £114 million
Over the last twenty years (2000 – 2020), Banana farmers and workers received over £114 million in Fairtrade Premium. Fairtrade Premium is an additional sum of money which goes into a communal fund for workers and farmers to use to improve their social, economic and environmental conditions. See how Coobana co-operative in Colombia used their Premium to improve their housing situation and support education for their members and their families.
Watch a video about Coobana co-operative in Colombia
3. Use banana skins to calm itchy mosquito bites
Next time you peel a banana, pause before you chuck out the skin. Do you have any bites? Banana peel contains an anti-inflammatory agent.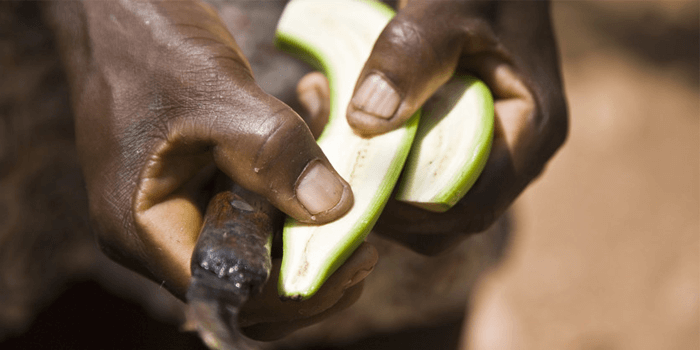 4. Bananas are the backbone of many countries' economies
Trading bananas is the cornerstone of many lower-income countries' economies, with an estimated global export value of $7 billion. It is believed that for more than 450 million people in lower-income countries, bananas (and plantains) are essential staple crops.
5. Where do bananas come from?
Originally, bananas came from Asia but today they come from all over the world. Most of the bananas sold in the UK come from Latin America, whereas India produces the most bananas overall. 90% of all Fairtrade bananas come from Latin America and the Caribbean. There are currently 258 Fairtrade certified banana organisations (co-operatives and commercial farms), representing over 36,480 farmers and workers in 16 countries.
6. Is a banana a fruit, herb or tree?
It's a herb and a fruit! Distantly related to ginger, bananas are classed as an herbaceous plant rather than a tree because what appears to be a trunk isn't actually a trunk. Instead the leaves are tightly wrapped around a single stem, which leads up to a fruit-bearing flower stalk.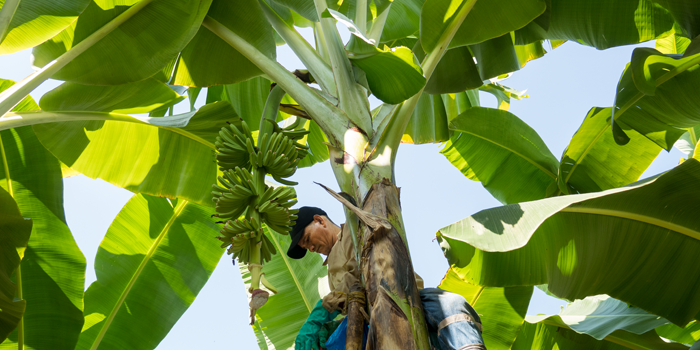 Photo by Ian Berry
7. Bananas have tons of health benefits
Bananas are loaded with potassium, which helps regulate heart function and blood pressure. Potassium-rich foods help to lower blood pressure and protect against heart disease and strokes. Nutritional and tasty!
8. How many calories are there in a banana?
It's a popular question so here's your answer – approximately 105 calories. Banana cake, however, may contain a few more… see our delicious banana cake recipe.

9. You can use banana skins to shine your shoes
The potassium found in bananas is a key ingredient in shoe polish. Simply peel your banana and use the inner lining of the skin to rub all over your shoes. Buff up afterwards with a soft cloth.
10. 47% of bananas grown worldwide are Cavendish
There are more than 1,000 banana varieties across the world, but the Cavendish makes up almost all of the entire export market. Before the 1950s, the Cavendish was not so popular. The Gros Michel variety dominated the export market, but was wiped out due to its susceptibility to Tropical Race 1 (TR1), also known as Panama disease. At this time, farmers turned to the more reliable Cavendish, though deemed less tasty. The Cavendish, however, no longer remains immune to Tropical Race…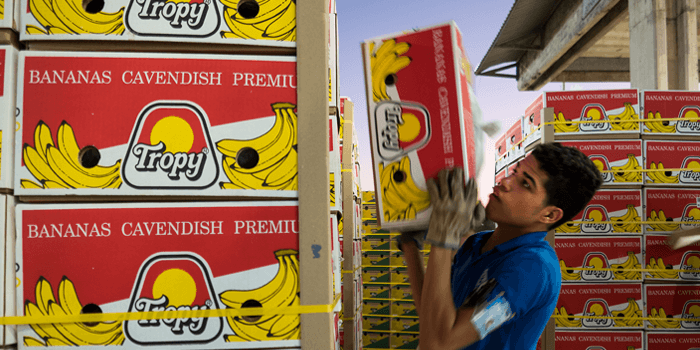 Photo by Ian Berry
11. Panama disease is a major threat to the banana trade
The current strain of the Panama disease – Tropical Fusarium 4 (TR4) – attacks Cavendish bananas and some 10,000 hectares of Cavendish have already been destroyed. TR4 originated in Asia and is now found in many parts of the world, including Latin America; Colombia had their first confirmed case in 2019 and Peru confirmed the presence of the disease in 2021. This is of great concern to Fairtrade banana growers, as 90% of all Fairtrade bananas come from Latin America and the Caribbean. Scientists are attempting to create a robust variety that could replace the current crop.
12. Fairtrade has improved the lives of banana farmers
In 2020, Fairtrade banana farmers and workers earned £31.8 million in Fairtrade Premiums. 96% of banana small-scale farmers surveyed in Colombia said that their economic situation had improved since joining Fairtrade. These farmers reported an average 34% increase in income because of Fairtrade.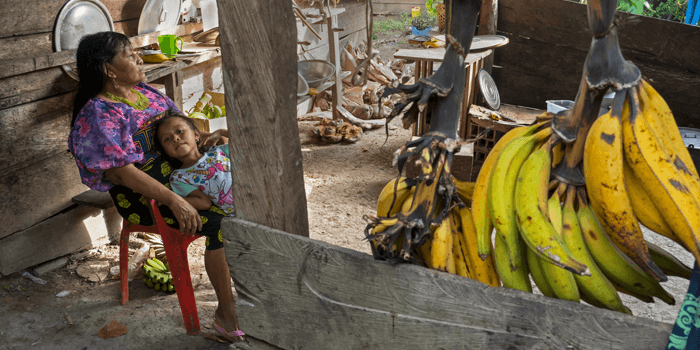 Photo by Ian Berry
Find out where you can buy Fairtrade Bananas.
If you're hungry to know more, visit our About Bananas page.
Blog last updated November 2021
Next steps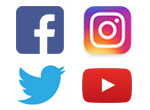 Support Fairtrade when you follow, share or like our social posts.