by Mike Gidney
'The fight for democracy and justice and the fight against environmental breakdown are one and the same.' – George Monbiot
2019 has felt like a pivotal year in which the world's climate at last became recognised as the key issue of our time, not least through the remarkable activism of 16-year-old Greta Thunberg, along with the globe-spanning climate strikes of Fridays for Future and through movements such as Extinction Rebellion. At this critical moment for the world's future, Fairtrade calls on governments to take decisive action and on consumers to consider how the fight for fairer trade is crucial to fighting climate change.
The climate emergency strikes at the heart of Fairtrade's mission to support and empower smallholder farmers. Our aim is to end unjust trade and realise secure, sustainable livelihoods for farmers, producers and workers in the global South. Sadly, climate change has been impacting such communities for many years, as populations dependent on agriculture are disproportionately vulnerable to the consequences of global warming. Smallholder farmers live at the frontline of the crisis, facing increasing struggles caused by droughts, floods and unpredictable, changing weather. And as well as erratic weather patterns, climate change is leading to the emergence of new pests and the rapid spread of diseases.
Many poor farmers and workers in developing countries (who have done least to cause the crisis) have already been forced to abandon their fields and migrate. Today over 12 million people have experienced poverty as a result of climate change, with many more likely to follow – the climate crisis is predicted to push more than 100m people in the global South below the poverty line by 2030.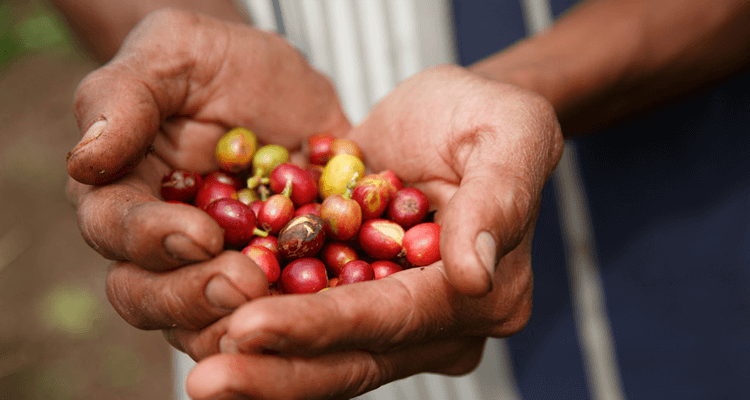 'There is a chain on earth that starts where the producers are. They are the ones who suffer the consequences of climate change, the ones who get the least help, and carry all of the burden. It's not fair.' Bayardo Betanco, Prodecoop coffee co-operative, Nicaragua.
In coffee production, the changing climate is causing worrying and significant damage. Ethiopia's average annual temperature, for example, rose by 1.3°C between 1960 and 2006. In Mexico, Guatemala, and Honduras rainfall has declined by up to 15 per cent since the 1980s. It is estimated that roughly 50% of the surface area currently being used for coffee farming may no longer be suitable by the year 2050 as a result of climate change, with production being forced away from the equator and into higher altitudes. This presents a clear risk of deforestation, as well as to biodiversity and indigenous communities, meanwhile most coffee farmers have little option to relocate their farms. The Coffee Berry Borer, a pest originating in the Congo, is now seen around the 'Bean Belt', causing $500m in damages each year. The borer was once limited to crops grown below 1500m above sea level, but is now seen much higher due to hotter and wetter conditions. Further warming of just 1-2°C will see the borer's numbers explode further still. Meanwhile coffee farms in Latin America are seeing worsening cases of the fungal disease leaf rust, which devastated 70% of the coffee harvest in El Salvador in 2014.
These issues are not limited to coffee. In bananas, producers have been hit by severe outbreaks of the 'red rust thrips' pest, believed to be triggered by the climate crisis. In 2013, this affected 40 percent of organic farms in Piura, Peru and reduced exports by 30 percent. Meanwhile sugar farmers in Malawi, who earlier this year had hoped for a bumper harvest after two years of dry weather, were tragically hit by Cyclone Idai which caused catastrophic damage to their homes and crops. Malawi is the fourth poorest country in the world according to the IMF, and climate change is adding severe pressure to already precarious livelihoods. Rising temperatures are also affecting cocoa harvests in west Africa, where warmer conditions and irregular rains are resulting in food insecurity and lower yields which can often increase deforestation. It is all too clear that climate change is exacerbating the poverty already faced by farmers, and that women often seem to be disproportionately affected when things go wrong.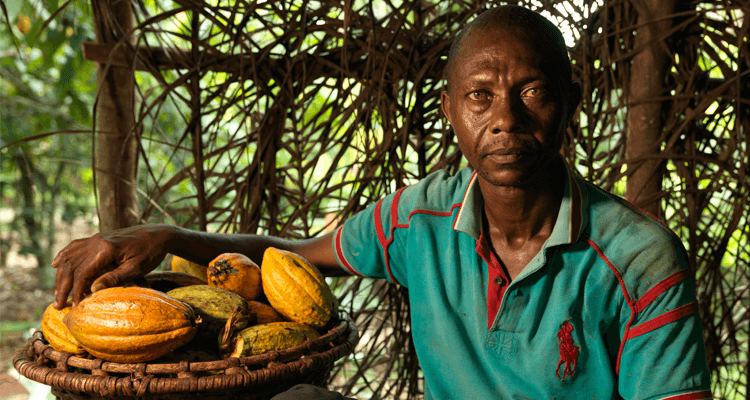 'Climate change is a global issue. We, the farmers, have to deal with its consequences every day.' Ebrottié Tanoh Florentin, a cocoa farmer and General Secretary of his co-operative CEAA in Côte d'Ivoire.
Whilst the climate crisis can often feel overwhelming, there are things we can all to do help. Environmental protection, for example, is deeply ingrained in Fairtrade. All products bearing the FAIRTRADE Mark comply with a robust and demanding set of environmental standards – in fact 27% of the criteria in the Small Producer Standard are environmental. To sell Fairtrade products, farmers have to improve soil and water quality, manage pests, avoid using harmful chemicals, manage waste, reduce their greenhouse gas emissions and protect biodiversity. FLOCERT, the independent certifier for the Fairtrade system, checks whether farms are based in protected forests, and co-operatives with members in these areas cannot become Fairtrade-certified. Fairtrade's rigorous environmental standards promote sustainable development through best practice, not only guiding producers to adapt to climate change, but also providing training to help them mitigate their impact.
Beyond our standards, many Fairtrade co-operatives choose to invest their Fairtrade Premium in reforestation projects. Planting trees on cleared, degraded land prevents soil erosion and binds and stores carbon dioxide. The trees also improve biodiversity, protect soils, and provide a habitat for indigenous wildlife. Sireet OEP is a tea producing co-operative involved in reforestation in Kenya where members have used their Premium to establish tree nurseries and provide training in reducing deforestation. Over 150,000 trees have already been planted. At COOCAFE in Costa Rica, the Premium has also been invested in a reforestation programme. So far, 5,000 hectares have been reforested and farmers are planting shade trees on their coffee farms, which not only helps to capture carbon but also increases the quality of their coffee. And in central Nicaragua, COOMPROCOM began its reforestation projects in 2010 with support from Fairtrade partners. It now has 16 new areas of reforested land and 60 per cent of its members are planting new coffee and shade trees.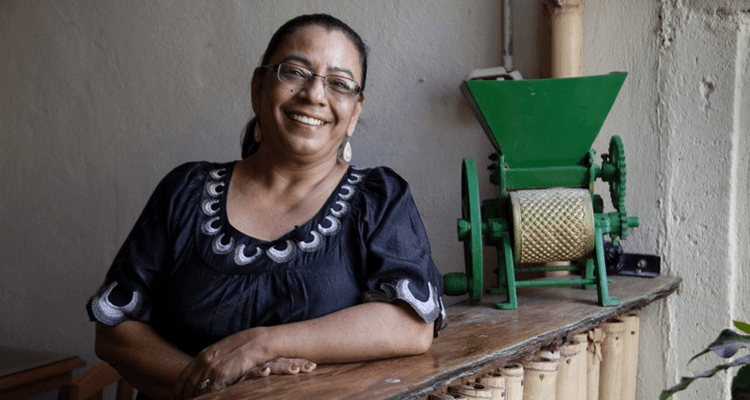 'We don't see it as just a product in a cup – because behind every cup lies a forest that is being protected.' Fatima Ismael, General Manager of SOPPEXCCA coffee co-operative, Nicaragua.
Fairtrade's partners also support our environmental efforts by sponsoring programmes to provide expertise, greener energy and to encourage carbon reduction. These include the Climate Academy in Kenya (2017-2020), a training and technical support programme formed to increase the climate resilience of coffee farmers. And in West Africa, we are looking to pilot the production of drought-resistant yams on cocoa farms to promote food security and diversification. Meanwhile Oromia Co-operative in Ethiopia has taken part in the carbon credit initiative to purchase biogas stoves, equipping 10,000 coffee farmers with 20,000 efficient cookstoves which reduce carbon emissions by up to 70 percent.
Fairtrade has been battling against climate change for some time, but we want to go further. This is why Fairtrade will be renewing its focus on climate during our next five-year strategy (2021-25), and will work on further reducing our own emissions as a movement in line with the recommendations of climate scientists. This includes looking honestly at the carbon footprint of trade, as well as acknowledging and addressing very hard questions, such as the sustainability of the range of products currently exported from the global South to the global North. As well as fairness, Fairtrade is committed to evidence-based, low carbon production across its categories, and Fairtrade will often be by far the most climate friendly choice, as well as one which helps vulnerable farmers adapt to the climate emergency.
With the next COP taking place in Glasgow in 2020, we will continue our efforts to make sure producers' voices are heard in the UK and beyond. That is why the Fairtrade Foundation is part of the Climate Coalition, a group of over 130 organisations across the UK, working towards a world powered by clean and secure energy. We will continue to advocate for the end of unfair trading practices, power imbalances across supply chains and unsustainable production and consumption. It is clear that injustice and climate change are intrinsically linked and so are their solutions. To farmers, every year matters, each decision counts and every 0.1°C is crucial. Our movement's call to action to the Parties of the UNFCCC at COP25 is clear. We want smallholder farmers, those at the forefront of the climate crisis, to be part of the solution. And for consumers, we hope you will choose Fairtrade to support producers in the fight for climate justice. Because if we value our planet, it is clear we must also value our famers.
Useful links
A Brewing Storm: The climate change risks to coffee (pdf)
Climate change Fairtrade coffee (pdf)
8 ways Fairtrade farmers protect the environment
Climate Academy helps coffee farmers in the fight against climate change
Oromia coffee farmers cooperative union (OCFCU)
No climate resilience without trade justice (pdf)
You might also like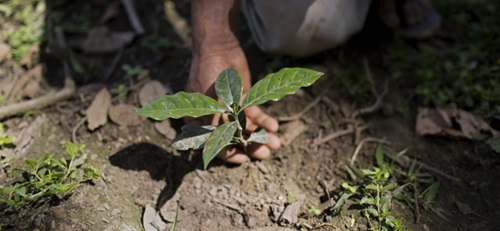 Climate crisis: Fairtrade farmers speak out
23 June, 2019
The climate crisis is already badly affecting global food production. Fairtrade farmers like Ebrottié in Côte d'Ivoire, Zeddy in Kenya and Theresa in Nicaragua, suffer the effects, leaving them working longer, for less, and damaging their community.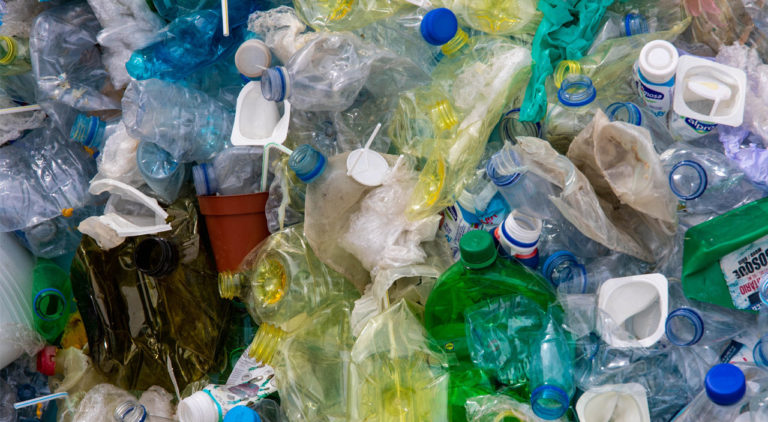 7 Fairtrade Switches to cut your plastic use
18 September, 2021
Take the standard supermarket product. We buy it, consume it, discard it. But we all know that a product's life is longer than that. Fairtrade works to shed light on what happens before you buy a product but what happens after you discard it matters too.