The Fairtrade Foundation has won two out of eight grants launched today by the UK Government to support agricultural producers and garment workers in developing countries during the coronavirus pandemic, and to build longer-term resilience in their core supply chains.
The grants have come from a new £6.85m Vulnerable Supply Chains Facility (VSCF), established by the Department of International Development (DFID) in partnership with the Department of International Trade.
A total of £2m of the match funding included in the VSCF was contributed by UK and international businesses. Of this £2m, Fairtrade Foundation helped to raise over a third: its partner Mondelēz International contributed £640,000 for cocoa producers, while Co-op, M&S and Tesco offered £25,000 each (£75,000 in total) for flower producers.
The VSCF aims to help nearly a million people by ensuring vulnerable workers and suppliers overseas – and their families – are prepared for the economic and social shocks of COVID-19, and to help keep popular products like chocolate and flowers on high street shelves in the UK. Using this funding, the Fairtrade Foundation will work closely with its business partners to support some of the most vulnerable flower and cocoa producers in Kenya and Ghana, partnering with MM Flowers, Mondelēz International, Co-op, M&S, Tesco, Coventry University, FNET, Women Working Worldwide and Partner Africa.
Louisa Cox, Director of Impact at the Fairtrade Foundation, said: 'We are excited that the Fairtrade Foundation has been awarded two out of the eight grants available: these will go a long way to helping some of those hardest hit by the COVID-19 pandemic, and who supply us with some of our favourite products. This demonstrates the strength of our projects and partnerships, and our innovative approach that involves working hand-in-hand with businesses to ensure resilient supply chains.
'It is significant that our commercial partners Mondelēz International, Co-op, M&S and Tesco have donated over £700,000 of the £2m matched funds given by businesses for the VSCF. This is a noteworthy, welcome contribution and one that highlights our partners' commitment to helping farmers and workers hardest hit by the devastating impacts of COVID-19. We are encouraged by the UK governments' approach to work closely with businesses and leverage private sector investment to solve these global issues.
'We are proud to be partnering with MM Flowers and Mondelēz International, who Fairtrade will work alongside for our VSCF flowers and cocoa projects respectively. We're equally delighted to be partnering with retailers Co-op, M&S and Tesco, as well as Coventry University, FNET, Women Working Worldwide and Partner Africa on building resilience in flower supply chains.
'Through our work with more than 1.7 million farmers and workers and their supply chain partners, the Fairtrade Foundation has seen the many challenges producers must overcome to survive and thrive in these times of crisis.
'With this DFID funding, and with the valued support of Fairtrade Africa to reach those producers, we will intensify our efforts to protect the livelihoods of poor and vulnerable cocoa and flower producers in Ghana and Kenya at this precarious time, and ensure that these industries are fairer and more resilient.'
Funding for flowers
East African flower sales have been hit hard since the onset of the pandemic. The Kenya Flower Council estimates that it will take a year for the sector to recover: the sector employs over an estimated 2 million people directly and indirectly, mostly women. Flower workers are vulnerable to a number of factors. These include food insecurity, lack of PPE, poor access to hygiene, lack of transport and job insecurity – all exacerbated by low or no wages and non-existent savings.
Fairtrade Foundation has designed a programme to support workers in the current crisis to meet their immediate needs, but also to promote a more sustainable flower sector and bolster longer-term resilience.
Fairtrade and partners have been awarded £200,000 DFID funding, which, together with £75,000 of cash match funding from Co-op, M&S and Tesco, and almost £70,000 of in kind funding, will help to grow resilience in flower supply chains in Kenya.
Cathryn Higgs, Head of Policy at Co-op, said: 'People are at the heart of everything we do and now, more than ever, we must support the most vulnerable members of society. We are committed to actively supporting our supply chain from a raft of new challenges they face from the onset of the Covid-19 crisis as set out in our Global Wellbeing Charter. We are proud to be supporting DFID's Vulnerable Supply Chain Facility and partnering with the Fairtrade Foundation and the Ethical Trading Initiative on projects that will have a positive impact on the lives of many and help build resilient supply chains.'
Hazel Culley, Senior Sustainability Manager at Marks and Spencer, said: 'At M&S, we're committed to supporting the people working in our supply chain, as they help us to deliver quality products for our customers. We're proud to play our part and help make a difference to the lives of Kenyan flower producers – now and in the future – through this collaborative project.'
Tania Moodley, Responsible Sourcing Manager at Tesco, said: 'We are proud to be partnering with DFID and Fairtrade in this initiative aimed at improving the lives of vulnerable workers impacted by the pandemic, making a positive difference in the communities we source from and ultimately helping build sustainable flower supply chains that benefit all involved.'
For this project, a partnership has come together to build on existing work and relationships. This consortium represents the entire supply chain, from commercial partner, to NGOs and certification bodies, as well as education and industry forums. Fairtrade and MM Flowers will co-manage this project and work closely with Co-op, M&S and Tesco in advisory roles, as well as FNet, Coventry University, Women Working Worldwide and Partner Africa as delivery partners.
The project will help to safeguard flower producers against the impacts of COVID-19, including through running a communications campaign, offering health packages and kitchen garden equipment.
As part of this, research will be done to understand the potential benefits of supporting fairly traded goods through value chains that benefit all involved in them.
The project will also provide seed funding for nutrition gardens and income diversification, alongside promoting best practice for sustainability and fair purchasing practices in flowers. MM Flowers will lead the work with non-Fairtrade flower farms.
Collaborating on cocoa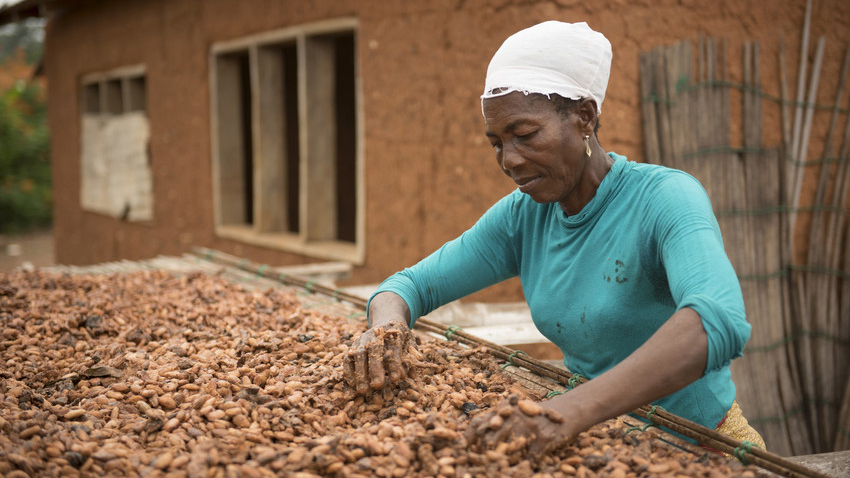 Partnering with Mondelēz International, the Fairtrade Foundation will implement the Cadbury Farmer Resilience Fund to support cocoa producers in Ghana and help them build resilience to the impacts of the pandemic.
This is being assisted by a £500,000 grant from DFID, while Mondelēz International Cocoa Life programme has provided match funding worth £640,000.
Cathy Pieters, Director of Cocoa Life at Mondelēz International, said: 'With Cocoa Life, we invest in building a more resilient cocoa supply chain. Cocoa is the essence of our chocolate and vital to our business which is why, with our partners such as the Fairtrade Foundation, we work hand-in-hand with the men and women who make their living from cocoa, focusing on where we can make a lasting difference: turning cocoa into a business of choice, creating inclusive and empowered communities and educating on forest conservation and restoration.
'The pandemic has impacted the already vulnerable cocoa farming families and we are grateful that, as part of our partnership with the Fairtrade Foundation, we have been granted access to the Vulnerable Supply Chains Facility established by DFID as this allows us to help Ghanaian cocoa farmers diversify their sources of income and increase their resilience.'
This project will see cocoa unions able to apply for funding, via a flexible grant facility, so they can diversify their income, and secure their produce through the next harvest. This will include start-up capital to invest in food security and income diversification, as well as ensuring climate resilience for cocoa communities and strengthening the governance of cocoa unions.
Elsewhere, farmers will be supported to grow climate smart crops, to help them adapt to the changing weather patterns.
A parallel project will see the roll-out of communication tools to help farmers stay safe in the current pandemic.
The partnership will work with nine unions, including those from non-Fairtrade supply chains whose membership totals 22,499 farmers.
Notes to Editors
For more information, images and farmer stories, please contact: Tomilola.ajayi@fairtrade.org.uk
Banner image: Haya Gorassa who works at the Panda Flower Farm in Kenya