Following the temporary revision of the Fairtrade Standards in March to allow for more flexibility in the use of Fairtrade Premium funds, Oserian Development Company Limited, a Fairtrade certified flower producer in Naivasha, chose to begin manufacturing masks for its workers, their dependents and members of the community. Taking place in the farm's social hall, manufacturing is driven by a group of 36 tailors. Out of these, 22 are employees of the flower producer who developed tailoring skills through short courses funded through the company's Fairtrade Premium. All tailors are screened for COVID-19 symptoms at the farm's health centre. Prior to the start of the operation, they received training to ensure production of high-quality masks meeting the Ministry of Health's standards.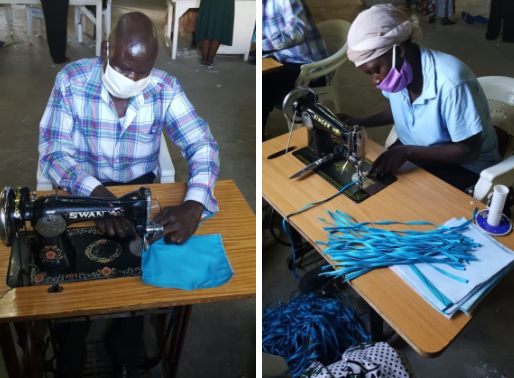 Workers at Oserian Development Company stitching masks

'We appreciate Fairtrade for being flexible. We are now able to make decisions faster especially now in the management of COVID-19. This will also go a long way in cushioning workers who may lose their income along the way due to the decline of the flower market,' said Julius Kigamba, Oserian Development Company Ltd.
Similarly, in India, producers are coming together to support with the nation's PPE shortage. While the cotton supply chain remains disrupted and the sector likely to face an economic downturn in the coming months, Fairtrade producers in India have been focussing on providing relief measures and awareness programs to look after the welfare of its farmers, public and private communities. Chetna Organic Agriculture Producer Company Limited, in partnership with a newly setup Fairtrade garment factory in Krishnagiri, has manufactured PPE masks for distribution to government hospitals.
Find out more about the decline in the flower market caused by COVID-19
Find out more about how Fairtrade is responding to COVID-19
Article by Fairtrade Africa