Fairtrade bananas are favourites with UK shoppers and it is the fruit everyone finds the most a-ppeeling.
Over the past 20 years, as a nation we have munched enough Fairtrade bananas to stretch around the earth 100 times. And to reach to the moon and back six times.
On Banana Lovers Day today, Fairtrade is celebrating the UK's love affair with bananas and a strong performance with nearly a quarter of bananas sold in the UK certified as Fairtrade.
Fairtrade is committed to raising incomes and living standards for producers in the global south.
Waitrose, a major UK outlet for Fairtrade bananas, is running a pilot project on two plantations in the Dominican Republic, focused on raising workers' incomes, improving productivity and efficiency, creating a better working environment, and introducing better planning and training.
Amy Morris, Waitrose's Sustainability Coordinator, said: 'Back in 2007 we committed to sourcing 100% of our bananas as Fairtrade. Since then we've seen the difference Fairtrade makes to the lives of farmers and workers within our banana supply chain and we continue to work closely with the Fairtrade Foundation to do what we can to support.'
To bring about positive change for the workers and improve working practices on the plantations, the agreed changes will be introduced and monitored. These include better supervision and knowledge-sharing, especially at harvest times, pest control and soil improvement, and management training.
'We are in the process of reviewing findings from phase 1 and understanding producer needs following COVID, before defining phase 2,' Ms Morris said.
Fairtrade provides a guaranteed minimum payment for farmers and workers, and an additional Premium payment. Since 2000, this has generated £104million in Premium payments for farmers and workers, who use that money to provide healthcare, education, and other essentials for their communities.
Fairtrade is unique. For a start, farmers and workers own 50% of the organisation and can decide for themselves what they spend their income on. Banana producers are mainly based in Latin and South America and the Caribbean.
Even the pandemic hasn't dimmed the popularity of the yellow fruit. Fairtrade bananas have almost a quarter of the market share in the UK and sales fell less than those of their non-certified counterpart during lockdown.
UK consumers have helped to drive this improvement in the quality of life of banana farmers.
Farmer Alfonso Contreras, said: 'Working with Fairtrade has changed the standard of living for pretty much everybody. I am very grateful to the people that buy Fairtrade, and that they continue blessing us with their support.'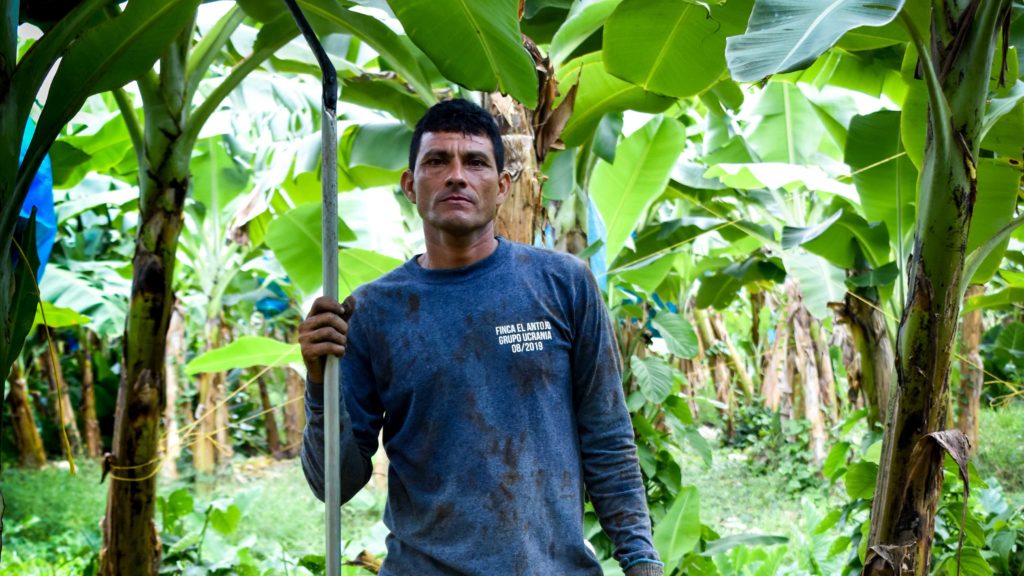 Watch the story of Fairtrade bananas in Panama
For further information or picture requests, please contact media@fairtrade.org.uk
Notes for Editors
About Fairtrade
The international Fairtrade system exists to end poverty through trade. The Fairtrade Foundation is an independent certification body and NGO which licenses the use of the FAIRTRADE Mark on more than 5,000 products which meet its rigorous social, economic and environmental standards. This independent label signifies to consumers that farmers and workers across 73 developing countries are getting a better deal from trade.
Today, more than 1.6 million people who work hard to produce coffee, tea, cocoa, bananas, wines, flowers, cotton, gold and many other products benefit from Fairtrade, which campaigns for as well as enables a fairer system of global trade.
Beyond certification, the Fairtrade Foundation is deepening its impact by delivering specialist programmes to help disadvantaged communities boost productivity in the face of challenges such as climate change.