Fairtrade farmers and representatives have gathered in Glasgow to observe the COP26 climate summit. Here, they present their take on the talks, and shed some light on the situation so far.
11 november: 'I am a farmer, a leader, a fighter. I fight climate change,' Says Fairtrade coffee farmer Jenipher
Writing in the Independent, Ban Ki-Moon today argued that food and farming are both a driver and a solution to the climate crisis: 'Unless we change how we currently produce, process, transport, consume and discard food, we will not make any headway on climate change mitigation and adaption, the defining issue of our time.'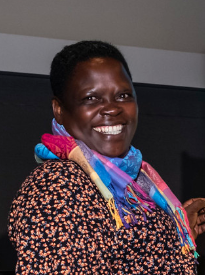 As the stewards of their land, Fairtrade farmers want to farm in the most sustainable way possible. In a video, cupping soil in her hands and watching it slip through them, Jenipher Wettaka, (pictured) says she makes her living from the soil: it feeds her family, it educates her children but it is all slipping away for many. Across the world, people like her whose farms are part of their history, whose survival is at stake, fear too for their communities – their lives and futures under threat as ever increasingly mudslides, hurricanes, and floods hit their lands, leaving destruction in their wake.
Jenipher, who comes from a long line of coffee producers and has been growing coffee in the Mt Elgon region of Uganda for 30 years, gave a powerful speech today at a COP26 event in Glasgow. She describes the steps her community have taken to learn new farming approaches including agroforestry, and in the process how nature has protected them, saying: 'Trees are our friends, they are our guardians, they provide, they protect, they keep us safe from climate change. But we must guard them too, we must conserve them, protect them.'
She talked about her community's 'fight' with climate change, describing rains that come 'faster, quicker, without warning, causing great harm to our coffee', creating an environment for locusts and coffee borers and diseases such as the coffee leaf rust to thrive. After becoming Fairtrade certified, learning to follow strict environmental criteria and farm organically, their community were able to access support from the Welsh government. With funding for reforestation and agroforestry, the community planted trees that provided food, shelter and helped to protect the soil. 'The trees protect us against deadly landslides and help to nurture coffee from extreme weather. Had we not had protection from the trees, from the hailstorm that landed last year we would've lost our crops.'
Now, she says the land is healthier and the quality of their coffee has increased, meaning they get a better price. 'This is good for the farmers and our co-operatives: when we get more money for our hard work, we are better prepared to respond to climate change' she adds.
Today Jenipher leads over 3,000 farmers as the first woman to hold the position of vice chair of her co-operative. She says: 'Fairtrade has empowered me in more ways than I could ever have imagined. Because of Fairtrade I have not only benefitted personally, I have empowered other women how to learn, how to plant trees, teaching them about climate change and the power of Fairtrade.'
Announcing a new brand of coffee, her namesake Jenipher's Coffi, she says: 'When you buy Fairtrade you are not contributing to deforestation. If you are asking yourself today what can I do to help – buy only Fairtrade.'
Watch Jenipher speaking at the event Wales and Uganda – collective communities action | #COP26 – YouTube
---
10 November: 'another way forward is possible' – fairtrade's Mary Kinyua reflects on draft COP agreement
Responding to the publication of the first draft of the COP26 agreement, Fairtrade's Head of Delegation at COP Mary Kinyua, who is a flower producer from Kenya, said:
'I'm here in Glasgow to represent 1.8 million Fairtrade farmers and workers who are following the climate talks and calling for critical action from our world leaders. As we near the final corner, it's vital that governments don't lose this opportunity to make sure COP26 delivers.
'While it contains some elements of progress, the current draft of the COP26 negotiation outcome, which we've seen today, suffers from an overwhelming lack of commitment. Right now, commitments from governments remain far short of what scientists say is needed to keep warming below dangerous levels.
'Unless this changes we are on course for a 2.4C rise, which would be devastating for Fairtrade farmers and workers like myself, and devastating for humanity. The time for government posturing has passed: we desperately need to see a clear, ambitious plan for cuts that give us a fighting chance of averting climate catastrophe.
'As Fairtrade farmers and workers, we are encouraged to see that the draft agreement reminds richer countries of the critical need to mobilise finance for low-income countries on the sharp end of the climate crisis. But merely providing $100bn a year by 2023 is not soon enough: this money needs to reach climate vulnerable communities and it needs to reach them now – including our fellow farmers in Africa, Asia, Latin America and the Caribbean who grow much of the world's food supplies. Another way forward is possible. Fairtrade farmers and the businesses they work with are already investing in transforming their farms and supply chains for a zero-carbon future. We call on governments to be brave too, and deliver on their promises in the hours and days remaining.'
---
9 november: 'THE FUNDS HAVE TO REACH US' – Fairtrade farmer rachel describes SUGAR producers' plight
Scientists have warned that the planet is heading for dangerous global heating of 2.4C by the end of the century, in a bleak wake-up call today, further highlighting that the optimistic climate pledges and announcements made last week really need to be met as a matter of urgency.
Fairtrade sugar farmer Rachel Banda, whose community in southern Malawi depends on agriculture, is here at COP26 to tell world leaders why the situation is so urgent for her fellow farmers who are struggling to grow the crop they survive on, due to hotter temperatures and wetter conditions.
We at Fairtrade are also reiterating producers' demands this week, for world leaders to keep their promises which have still not been met, and to support communities dealing with rising temperatures and increasing severe weather events that are threatening their lives. While further funding announced by the government today – specifically for women – is welcome, we need to start delivering on existing financial pledges.
Fairtrade's campaigns have highlighted that women and girls are disproportionately impacted by poverty, and as we've previously pointed out, people from low-income countries are the most vulnerable to climate change. So it is vital that women themselves are involved in discussions on advancing gender equality.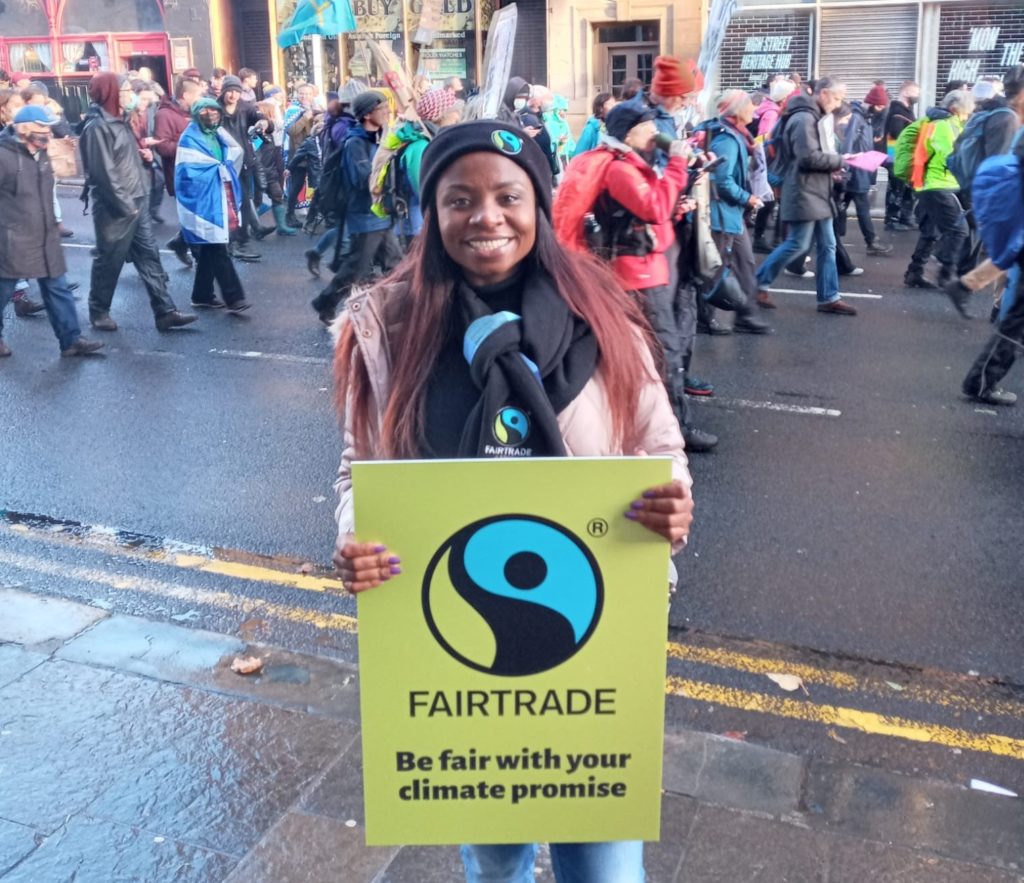 Rachel Banda (pictured) is a sugar farmer from a small producer organisation, Phata Cooperative, where she also works as Safety, Health and Environmental Officer. She has been talking to people at the conference to share her experiences and concerns about how her agricultural community will survive if they are not supported with climate finance.
She says: 'I am here in Glasgow, at COP26, to talk about climate change. Of course it is a global issue, but from the farmers' perspective it is a big deal for us because our livelihoods depend on agricultural activities. We are 1,056 farmers and our lives really depend on this co-operative, so whenever we are hit by the effects of climate change our lives go down, poverty keeps on increasing; whenever our yields are low earning a living becomes really hard.'
In her community in southern Malawi, which is one of the world's poorest countries, living conditions are worsening as farmers, some of whom don't even have electricity, have to deal with much hotter temperatures of around 42C. Her role involves supporting farmers with climate change mitigation and adaptation measures: however, this is becoming more challenging as efforts to plant vegetables in addition to their main cash crop, sugarcane, are failing because the rainy seasons have changed. She says: 'It is a good area for agriculture but we are disrupted by the effects of climate change, very heavy rains and floods. We don't know when to expect rain and it is very short so we try to plant crops like maize, corn, onions, but to no avail as most of the time they are destroyed.
'So that's why I am here to raise the voices of farmers. World leaders should be honest with their emissions because they are affecting us, show action, walk the talk and honour their pledge to help us farmers. We are the ones that feel the worst effects of climate change. Think about the conditions we live in: the funds have to reach us, it will really help us to adapt and to start small businesses so we can boost our incomes.'
Check out our InstaLive stories from Saturday 6 November to see Rachel as she joined over 100,000 of people at the Day of Action, in Glasgow, to stand with others for climate justice. Rachel encouraged people to support the Fairtrade farmers' campaign, Be Fair With Your Climate Promise. She was encouraged by how many people she met who want to hear about the realities facing her and other farmers who are part of the Fairtrade delegation. 'To voice our plight gives us hope for the future', she adds.
---
5 NOVEMBER: ACT NOW AS A MATTER OF CLIMATE JUSTICE, SAYS COCOA FARMER benjamin
Benjamin Franklin Koume, a cocoa farmer from Côte D'Ivoire, is at the COP26 summit to represent the concerns of 1.1million producers across Africa and the Middle East, as Fairtrade Africa vice-chair board member.
As week one comes to a close and thousands take to the streets for youth strikes and marches, farmer Benjamin Franklin Koume says immediate action on the climate crisis is a matter of justice. We spoke to him to find out more.
Why have you travelled here to the COP26 summit?
'I am here in Glasgow to bring the voice of farmers to world leaders. I want to explain the negative impacts of climate change on our lives and livelihoods. When we get a price for our products that isn't a fair price then our work is threatened further. We have come to ask for justice: climate justice and trade justice.
The profession we have chosen is to feed the whole world and we are proud of that, but we are hindered in that aim by climate change.
We want to tell world leaders to act now. To fulfil their promises. They must keep their promises to us the farmers and we expect decisions to be made – that's what has motivated us to come here. I want to ask the politicians to go beyond their promises. How is the money going to be shared with the farmers?
We want our world leaders to deliver on their commitments and recognise that we are part of the solution. They must bring us in to deciding how the money should be spent. We are here and we are ready. We have the structures to assure and guarantee that the funds will be spent in the right way.
We know what to do about stopping deforestation. And if they do not act, there will be a catastrophe.
When I got the flight from Africa the service was full. There was produce from around the world and it was with pleasure I ate that food. Do you all want that to stop? In these big ceremonies they have a coffee break, a chocolate break, they have breakfast. Without food, what will you call your breaks?
If they don't act, there won't be anything to eat.
How is climate change affecting you?
'It has changed the order of things. In agricultural production there is a period for planting, then a period of nurturing when we need rain, and finally the harvest. Today there is no more rain. We don't know when to plant. If we carry on planting when we have always done before, when there is no rain and it is so hot, whatever we try to grow is destroyed. Then there is nothing to harvest.
'That has been happening now for years and production has massively decreased. Because of that, our incomes have massively decreased. What is more, the little that we can sell isn't paid at the price it should be paid. For example, take cocoa. Cocoa farmers only earn 3% of the price of a chocolate bar.
As a person responsible for farmers, it is really sad. It is because of that that I have brought my voice to the world. Being a farmer shouldn't be a route to poverty. My feeling is that poverty is a reason for the destruction of nature. It drives deforestation. When I am hungry I can't think. I will do what I have to do to eat, to support my family.
When you look at the damage being caused to forests, it makes your heart beat faster, your blood boil. Address the issue of poverty then we can address the issue of deforestation.'
What do you think of the first week of the summit?
'It has been an enriching experience. I was sceptical because there are so many people and institutions here, I wondered if the voice of the little farmer would be heard. But the experience on the panel event of Fairtrade convinced me. It gave me the courage to express myself. It was an amazing experience to know the farmers aren't alone.'
What are your hopes for next week?
'I have some good hopes. Regarding what I have seen, I know that things are changing. The petition and the letter we have signed, there are nearly 30,000 people who have seen it, signed it and taken action. That encourages me. My hopes are that when so many people care, the world leaders have no choice but to respond.
It's a battle we will not give up or leave it until we see it through to the end. I know we will win because we are in the right.'
Sign the petition: Be Fair with Your Climate Promise.
---
4 november: is guilt-free chocolate possible?
On Tuesday 2 November as he formally confirmed the deforestation deal announced at COP26 Prime Minister Boris Johnson quipped about being able to enjoy 'guilt-free chocolate' in the future but at both the Fairtrade events held at the summit, it was pointed out that won't be achieved and the sector can't be sustainable as long as farmers fail to earn a living income. PM Boris Johnson that they would receive higher prices 'in return for protecting their forests'.
In an event later that afternoon and the following evening cocoa farmers Benjamin Franklin Kouamé and Bismark Kpabitey and other panellists, together showed that deforestation is a problem in cocoa because of the chronic poverty that causes it. Fairtrade has long campaigned for higher incomes for cocoa farmers who live on less than £1 per day. As Benjamin said: 'When someone is hungry, and doesn't have Fairtrade, you can't respect rules or laws. Even if it is in a protected area you will cut trees down to protect your life but that is a bad thing because to destroy a forest is to destroy yourself.' Ultimately several speakers made the point that if we want to protect forests we have to ensure farmers can still put food on the table.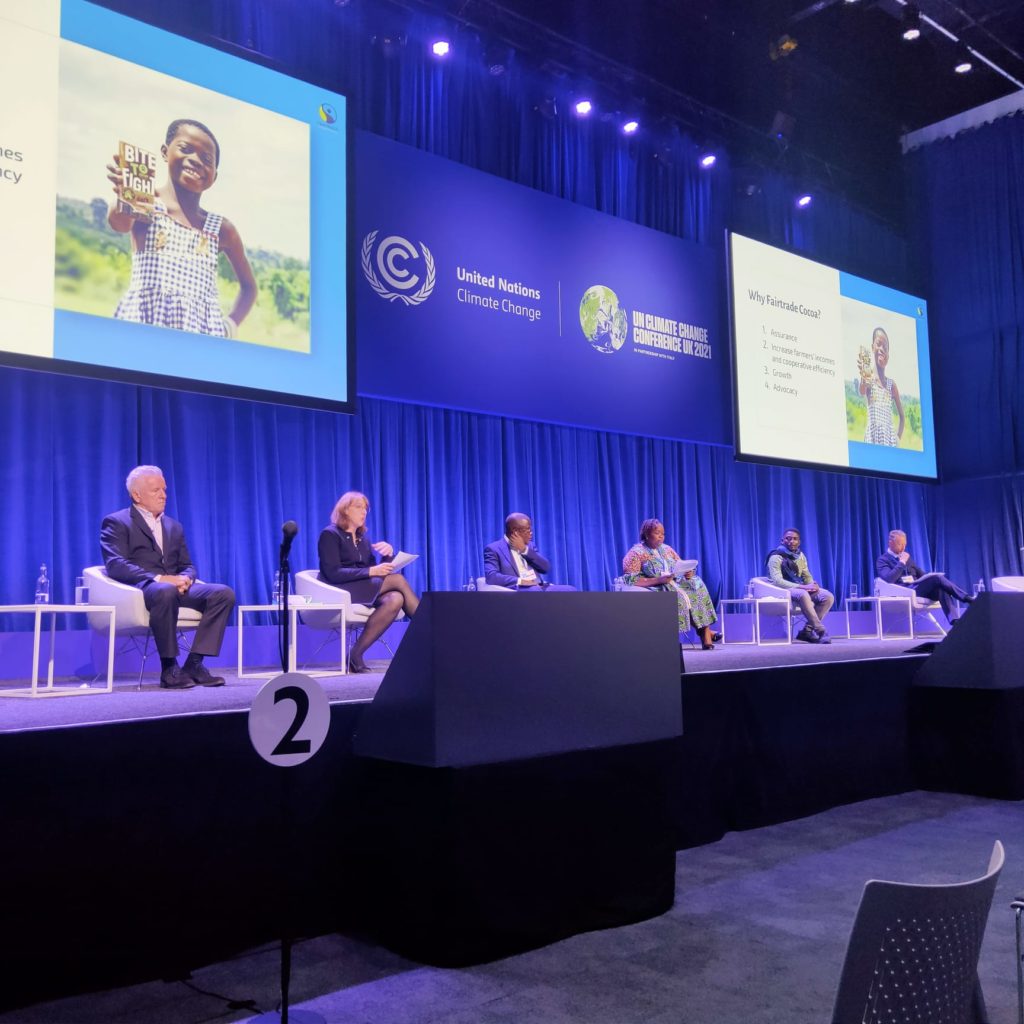 They outlined how challenging it is to be a cocoa farmer today, how many years you have to wait before trees yield crops, and how much work goes into farming, which can all be for nothing when crops are wiped out by plant diseases or unpredictable weather, as no rains for months are followed by floods. People clear virgin forests because the soil is healthier and the conditions are perfect for cocoa to bear productive beans, thereby ensuring the farmer a good crop.
But though farmers are on the frontline of climate crisis, they are far from victims as Melissa Duncan, Executive Director, Fairtrade International, pointed out. They are integral in developing solutions and when businesses invest in communities and commit to sourcing under Fairtrade terms farmers they can strengthen their supply chains.
Bismark Kpabitey, who has benefitted from an agroforestry initiative being run by his co-operative, says that he still has hope and that dynamic farming is the answer. Between harvests, he says cocoa farmers are further impoverished, but by planting lots of different crops and trees you not only create a climate that imitates the forest where cocoa thrives, it also enables a steady flow of income. He says many young people chose to migrate to cities rather than work in cocoa because of the slow return on investment, but with crop rotating and intercropping he is harvesting all year round and able to make a living from that. Finally, each event heard inspiring contributions from businesses supporting Fairtrade farmers, with Cheryl Pinto, Global Values Led Sourcing Manager at Ben & Jerry's and Steve Murrells, CEO of Co-op Group.
Chair of both events, Mary Kinyua, who is Fairtrade International's representative to the COP26 President's Civil Society and Youth Council, repeatedly argued, if we want to achieve climate justice, someone must pay the price. Summing up at Wednesday's event, she said: 'If we want to have guilt-free chocolate we have to tackle the issues of sustainability in cocoa and to do that a lot of money is required. The $100 billion pledged has to be delivered. There is more we can do as consumers every day. It also means directly consulting the farmers, they have the expertise, they are the ones living with the problem. In the north it is a white paper but in the Global South people are living with the problem every day and they need help adapting to climate change.'
She urged the public to look for Fairtrade products and support the cause by signing the petition.
Watch Fairtrade Farmers: Our Food and the Fight for Climate Justice | #COP26 – YouTube.
Watch Putting farmers first for fair resilience in cocoa – a debate with industry, farmers and activists – YouTube.
2 November: a fair cop?
Fairtrade welcomes the commitment today (2 November) by COP26 leaders to the Glasgow Leaders' Declaration on Forest and Land use, which includes a commitment to additional funding to support forest protection and indigenous communities.
Deforestation is one of the key issues of our time, leading to increased carbon emissions and environmental degradation in producer communities. To be at the forefront of the battle against climate change, finance needs to be targeted towards farmers and workers in low-income countries who produce the food we consume here in the UK, including cocoa and coffee. Without investment in these communities, farmers and workers will be unable to tackle the worst impacts of the crisis.
Tim Aldred, Head of Policy at the Fairtrade Foundation said:
'Tackling deforestation is key to the future of our planet and we applaud this initiative. It's vital the money goes to those who need it most and who are already seeing the impacts of the changing climate. Many of the farmers and workers who grow our food are already on extremely low incomes. For example, cocoa farmers in West Africa can earn on average only 73p a day.
'Cutting down trees or feeding ones family is not a fair choice. That's why this funding needs to go direct to the producers to support them to earn a decent livelihood and enable them to mitigate and adapt to the worst impacts of the crisis, including by being able to afford more environmentally friendly farming methods. It is not fair to expect producers to shoulder the burden of the climate crisis. Only by working together with businesses and those on the ground who are experiencing the worst of the challenges we will all soon face can we succeed.
'It is also critical that countries signing up today deliver on their promise and are held accountable for their progress. We have seen too many empty promises on climate and it is now the time for action.'
Fairtrade is hosting a panel event at COP26 in the Blue Zone on 3 November to discuss deforestation and other challenges faced by cocoa farmers linked to the climate crisis, in an event with panellists including UK retailer the Co-operative, Fairtrade farmer representatives and the Government of Ghana Cocoa board.
ENDS
Fairtrade farmers, experts and senior leaders will be available for interview in Glasgow throughout COP26. Email media@fairtrade.org.uk for information.
---
Notes to editors
The following events at COP26 will feature Fairtrade speakers (all times in BST):
31 October: Pathways to Paris, 18.30, Theatre Royal Glasgow Centre
Speakers include Malawian Fairtrade sugar farmer and youth representative Rachel Banda.
2 November, Fairtrade Farmers, Our food and the fight for climate justice, 16:30 – 18:00, Tower Base North, Green Zone. Press photo call: 16:00
A live, interactive panel discussion with Fairtrade farmer representatives and business leaders, who will discuss what further action is needed from citizens, business and governments to scale-up global efforts to adapt to and mitigate the effects of climate change. Farmers will also highlight their efforts to support their communities to transition to more climate-friendly farming methods.
Speakers: Benjamin Franklin Kouamé, Ghanaian Cocoa Farmer and Fairtrade Africa board member; Andres Gonzales, Sugar Farmer from Paraguay and board member of the Latin American and Caribbean Network of Fairtrade Producers and Workers (CLAC); Muniraju Shivanna, Indian Sugar Farmer and board member of the Fairtrade Network of Asian & Pacific Producers (NAPP); Cheryl Pinto, Global Values Led Sourcing Manager at Ben & Jerry's. Chaired by Mary Kinyua of Oserian Flowers, Kenya, who is Fairtrade International's representative to the COP26 President's Civil Society and Youth Council.
Register now to access Fairtrade event remotely.
3 November: Meet and greet with Fairtrade farmers at the Fairtrade Green Zone exhibition stand: 10:00 and 15:00. (Fairtrade representatives will be at the stand from 09:00-18:00.)
3 November: Putting farmers first for fair resilience in cocoa: a debate with farmers, industry, and science, 18:30-19:45. Lomond Auditorium (Blue Zone)
Cocoa farmers in Côte d'Ivoire are amongst the poorest in the world, so farmer-focused investment is needed to meet deforestation and resilience challenges. Farmers and businesses will debate the new trends transforming the cocoa industry with a fair and just transition. Speakers: Mary Kinyua, Fairtrade International; Bismark Kpabitey Ghanaian Cocoa Farmer, Kuapa Kokoo Farmers Union; Steve Murrells, CEO Co-op Group; Tony Simons, Executive Director, Alliance CIFOR-ICRAF.
11 November: Youth and decision-makers discuss nature, energy, water and sustainability in the global economy, 11:30, European Pavilion (Blue Zone)
Co-hosted by the European Economic and Social Council and the Fair Trade Advocacy Office, the COP26 Side event will feature Fairtrade Sugar Farmer Rachel Banda speaking on behalf of Fairtrade about the importance of climate change from the perspective of youth.
Find more information on COP26 side events
11 November: A Fair Race to Net-Zero: Scaling fair, inclusive and gender-focused voluntary carbon markets, 16:45-18:00, Clyde Auditorium (Blue Zone)
Panel event run by FairClimateFund (Netherlands) to discuss the issues relating to carbon projects, carbon finance for adaptation in low-income countries, carbon markets as a mechanism to reduce emissions and the alignment of the SDGs with the voluntary carbon market. Featuring Juan Pablo Solís, Fairtrade International's Senior Advisor for Climate and Environment, alongside speakers from FairClimateFund and WOCAN.