Ramón Vargas is a banana farmer at a banana co-operative that is investing in improving production processes and a new irrigation system for farms in the co-operative.
About Ramón Vargas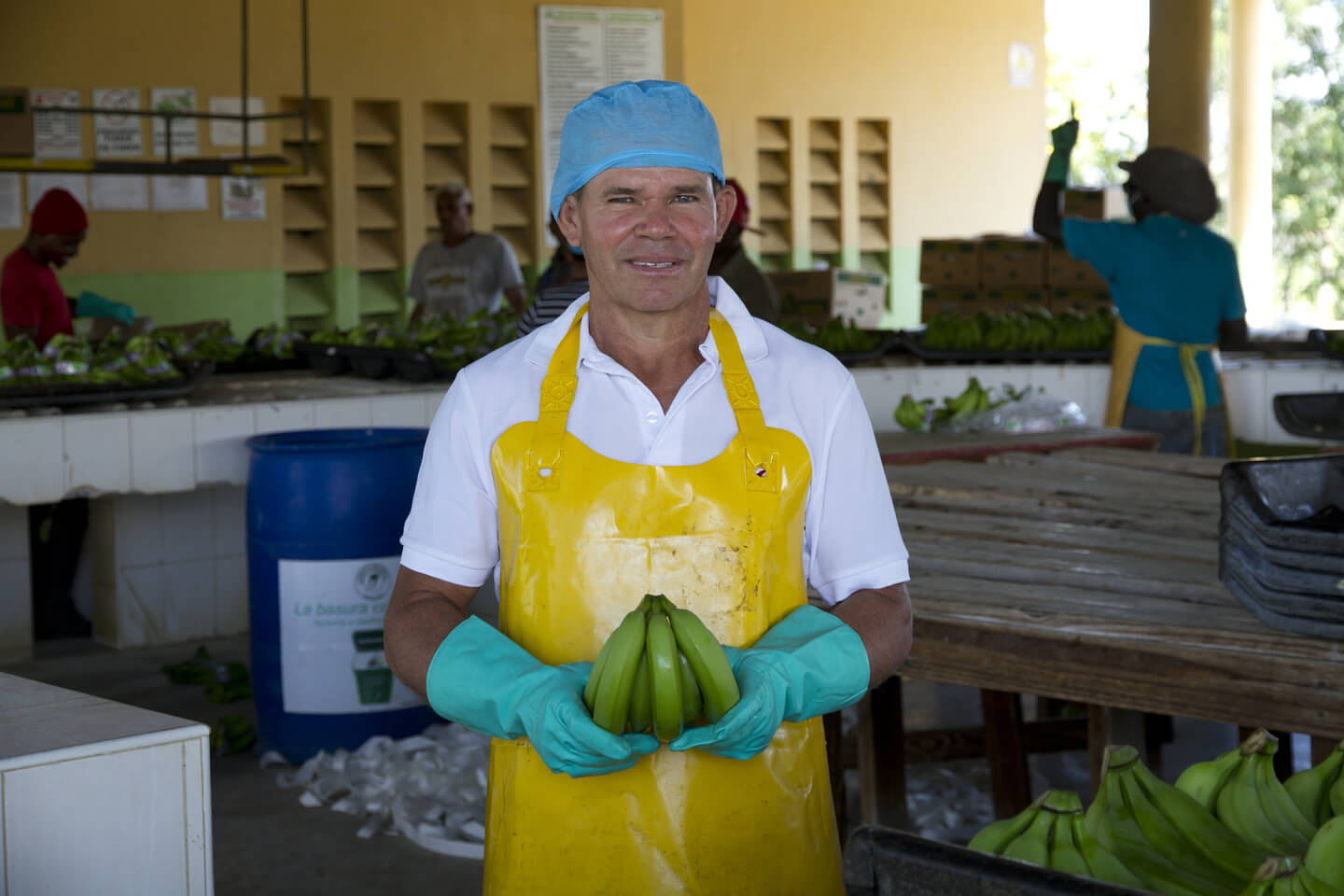 This is Ramón Vargas, a small-scale banana farmer from the Mao region of the Dominican Republic.
'Before Fairtrade, I was living in poverty,' says Ramón, but since joining the Fairtrade-certified co-operative, Ramón has been able to develop his farm – and drastically improve his life.
Ramón says Fairtrade has also helped the community by providing health insurance for farmers and their families.
Being part of this system means I've been able to make my banana business profitable. This is because Fairtrade enables me to sell all my fruit at a fair price, throughout the whole year.

Ramón Vargas
About Las Mercedes
Las Mercedes is creating more stable and sustainable farming by choosing to invest some of their Fairtrade Premium in an annual fund which farmers can use for maintenance and improving their production processes.
Financing work this way means they can avoid private bank loans, and the high interest rates that come with them. This helps the co-operative stay sustainable and gives farmers stability in their jobs.
Another Fairtrade Premium project, benefiting 22 farms in the co-operative, was a new irrigation system. Better, faster access to irrigation means lower costs for farmers, as well as higher yields and more income for Ramón and his colleagues.
They have also been able to build live barriers (plant-based fences like windbreaks) on their farms to help prevent soil erosion.
Fairtrade partnership
Banana farmers are building strong, secure businesses, with support from Fairtrade.
All Fairtrade farmers like Ramón receive the Fairtrade Minimum Price for their bananas, an amount that covers the average costs of sustainably producing their crop.
This acts as a safety net when market prices drop. They also receive the Fairtrade Premium. This additional sum of money is to invest in social, economic and environmental projects to improve businesses and communities.