Kuapa Kokoo is located in Kumasi, at the centre of the cocoa growing region in the West of Ghana.
Introduction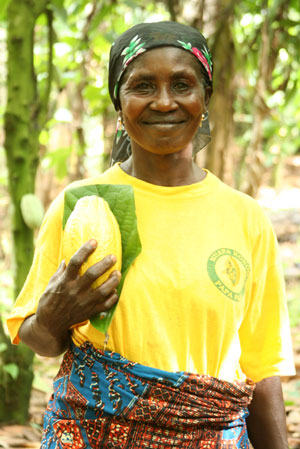 Cocoa production has a major role in Ghana's economy. The quality of cocoa beans from Ghana is ranked number one in the world and, with an average annual production of 707,000 tonnes in 2006-2012, the country is the world's second largest cocoa producer after Côte d'Ivoire. Almost all cocoa production is destined for export, making cocoa Ghana's second most important export commodity after gold.
Cocoa production is a major employer in Ghana, employing 3.2 million farmers and workers out of a total population of 25.3 million. Almost all cocoa grown in the country is produced by around 865,000 smallholder farmers.
About Kuapa Kokoo
Kuapa Kokoo, which means 'good cocoa farmer' in Twi, is a cocoa-growing co-operative set up in 1993 by a number of leading cocoa farmers who recognized the opportunity to organise farmers and found a company to market their own cocoa. The co-operative is also co-owner of the Divine Chocolate Company in the UK which markets chocolate products made from cocoa grown by Kuapa Kokoo.
In 2013, the organization had 87,907 members, of which 32% are women. Members of Kuapa Kokoo are predominantly small-holders highly reliant on cocoa income and living in remote and deprived parts of the country. In particular, most of the cocoa-growing villages do not have access to healthcare, clean drinking water, or electricity.
Moreover, the majority of members have low levels of education – between 43%-60% are illiterate, and 27% received no education at all).
Production and sales
Members of Kuapa Kokoo grow high quality cocoa on farms averaging 6.8 hectares, three quarters of which allocated to cocoa. Farms are typically family-run, but larger farms sometimes employ seasonal labour.
Annual cocoa production has increased in recent years, from 19,139 tonnes in 2000, to 48,283 tonnes in 2013. This production represents 5.5% of Ghana's total production of 879,348 in 2012/2013.
Fairtrade
Kuapa Kokoo was Fairtrade certified in 1995. In 2012/2013, Fairtrade sales accounted for 24,026 tonnes of cocoa, corresponding to around 50% of the annual production. For these sales receives the Fairtrade Premium of USD 200 per tonne to invest in a variety of things, including cash payments to individual farmers, but also community projects and organisational strengthening.
Kuapa Kokoo's partnership with Fairtrade is helping develop a strong, democratic institutional framework at all levels of the organization. With the additional income from Fairtrade Premiums, the co-operative has been able to improve the livelihoods of its members. The projects undertaken by Kuapa Kokoo have helped the farmers, especially the women, empower themselves, build confidence and independence, and ensure a sense of community participation and ownership.
Fairtrade Premium projects
Health
Provision of pump wells and drilling of 348 bore holes for drinking water.
Construction of six KVIPs (Kumasi ventilated improved pit latrines) in communities such as Bipoa, Twifo Wamaso, and Abenabena Nyamebekyere.
Provision of mosquito nets to improve health.
Mobile health services (clinics) to 17 districts, serving 200+ societies. Medical personnel dispatched to the societies to attend to the medical needs of the farmers and other members in the community.
Education
Construction/refurbishment of eight schools, and a block of six classrooms.
Construction of a three-classroom block and a teacher bungalow at Anakum. The school will serve Anakum and other communities nearby where children travel long distances to access school facilities.
Implementation, in collaboration with Trading Vision, a UK based NGO, of the Fairtrade Education Programme in three schools in Ghana and several others in the UK, linking them through internet for cultural exchange.
Farmer support
Introduction of seminars and workshops to help famers develop alternative means of livelihood during the off-season and engage in other income generating activities. In particular, these activities aim at empowering women and include soap making using the potash produced from burnt cocoa husks, tie-dye textiles, palm nut production and palm oil extraction, corn milling, and snail farming for local and export markets.
Employment of Development Officers to advise farmers on good agricultural practices, set up training programmes in management and leadership skills, and organise HIV/AIDS workshops.
Provision of new equipment including scales that reduce farmers' dependency on the scales of middlemen and machines for cracking palm kernels, which greatly reduce the workload of women.
Purchase of two mobile cinema vans for a farmers' education programme.
Direct payment to farmers in the form of an end-of-year bonus.
Provision of agro-chemical inputs on credit to members through Kuapa Kokoo credit union (KKCU) and its partner CNFA. The Input Credit Scheme by KKCU provides various types of agrochemicals and training to members.
Construction of warehousing at Tema port and three other warehouses at Goaso, Sefwi Bekwai and Juaso to provide safe and ample space for cocoa storage .
Community
Investment in 51 corn mills, one gari processor, as well as oil palm extraction machines and processors, nut crackers, and cutlasses for several communities.
Construction of two day-cares centres.