In 2016, the Fairtrade-Mondelēz International partnership evolved from certification of the Cadbury Dairy Milk brand to collaboration with Cocoa Life, Mondelēz International's global cocoa sustainability programme, to support farming communities.
Since then, we work together to create measurable value for cocoa farmers, their communities and wider society by combining our organisations' strengths. We stand as equal partners in the belief that the impact of joint working exceeds what could be accomplished alone.
The partnership with Cocoa Life works with the seven cocoa farming unions in Ghana which originally supplied Fairtrade cocoa to Cadbury. Through the partnership, Cocoa Life aims to offer cocoa farmers in Ghana guaranteed high-volume purchases, clear terms of trade, and loyalty payments, which together with programme investments, are to deliver value per farmer at least equivalent to that previously delivered by Fairtrade Premiums. At the outset of the partnership Mondelēz International committed to rolling out Cocoa Life across all Cadbury brands rather than just Dairy Milk, allowing for significant volumes growth. We are now able to work across a much larger amount of cocoa than was previously certified, and ensure benefits across those cocoa volumes that are of an equivalent value to what farmers had previously received under certification.
Annual Partnership Statements
From the outset, Fairtrade has insisted that no farmer should be worse-off than they were before the start of the partnership and that farmers needed to be empowered to take their own decisions. Fairtrade and Cocoa Life agreed on principles that would help assess progress towards achieving our partnership objective – to build resilient livelihoods and economic growth for cocoa farming communities. We also agreed that Fairtrade would publish a transparent report annually that would assess progress.
The latest 2017-8 Annual Partnership Statement lays out progress achieved and introduces a rigorous measurement framework, as well as proposing recommendations for the next year and beyond. The assessment looks at how the partnership has driven farmer benefits, scale, empowerment and transparency.
In 2018 – 19, cocoa farmers selling to Cocoa Life have seen an average net gain of 152% per farmer across the 7 unions. This comes in addition to the Cocoa Life Ghana programme budget invested in farmers. Volumes have increased by 59% and loyalty payments have increased by 20%. However not all societies within the unions have been part of the Cocoa Life programme and so are not selling cocoa to Cocoa Life, meaning that these benefits have not yet reached all members. From 2020, Cocoa Life has committed that all farmers within the unions will sell to Cocoa Life and benefit from programmes and improved terms of trade.
Climate change and resilience programme
Our joint programme on climate change and resilience and organisational strengthening, two priorities articulated by the cocoa unions in Ghana, is now at the inception phase. By next year, we will have learned lessons from the implementation of programmes, included farmer representation in decision-making bodies, and all farmers in the cocoa unions will have benefitted from the payments and programmes in place, as well as benefitting from improved terms of trade.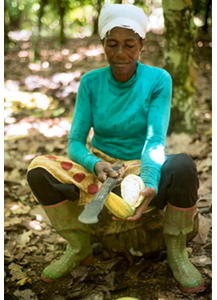 Cocoa Sustainable Livelihoods Landscape studies
The Partnership's joint 'Cocoa Sustainable Livelihoods Landscape Study', is a first of its kind report published in May 2020. It shows how the organisations are building an understanding of the drivers of resilient livelihoods for cocoa farmers, and tackling the root causes of the challenges farmers face.
The report clearly shows that cocoa industry sustainability programmes set up to support cocoa farmers in West Africa must work more closely together to tackle farmer poverty – to help ensure that such initiatives are co-ordinated, that farmers are not left out and that farmer's priorities are reflected.
The report's key recommendations for the cocoa sector are as follows:
Take a whole industry view to ensuring sustainable livelihoods for farmers, and address an overlap in sustainability programmes.
Companies must mitigate farmer uncertainty through contractual security. The gains that productivity increases bring to farmer livelihoods are quickly undermined by uncertainty over who they will sell their cocoa to.
The sector should leave no one behind. Initiatives must tailor approaches to reach the needs of different groups of farmers and move beyond those famers ready to professionalise, to youth, sharecroppers and labourers.
'Today, Cocoa Life and Fairtrade work together to ensure cocoa is sourced in a way that's right for farmers, communities, and the land. We operate on a shared value approach, seeking to create measurable value for cocoa farmers, their communities and wider society by bringing our skills together. We stand as equal partners in the belief that the impact of joint working exceeds what could be accomplished alone.'

Louisa Cox, Director of Impact at the Fairtrade Foundation