Pratibha Vasudha is promoted by Pratibha Syntex Ltd. one of the largest textiles manufacturers in the world. Vasudha translates to 'Mother Earth' – this represents Pratibha's commitment to helping people and the environment.
Annual production capacity: 150,000 bales (of which 80,000 are sustainably sourced) from 32,000 farmers in Rajasthan and Madhya Pradesh.
Number of Pratibha farmers: 1,524 members – around 10% are women.
About Pratibha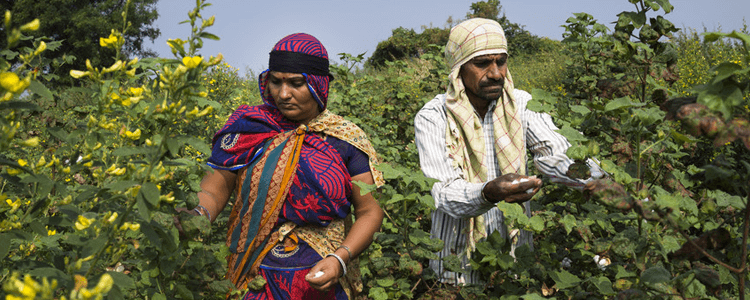 Pratibha has started the process of converting from Contract Production to a Small Producer Organization (SPO). This has been accomplished through capacity building and education initiatives to train the farmer members to become more democratically organised. It also employs specialists to train and educate farmers on waste management, recycling, pest management, health care and better farming practices.
Pratibha Syntex quality checks the cotton and weighs this in front of the farmer at the local ginning site. Payment is made in cash on the same day. Farmers may also receive a bonus from Pratibha based on total annual sales to promote Fairtrade and organic farming. The cotton is processed at a spinning mill into yarn, fabric and garments.
Fairtrade Premium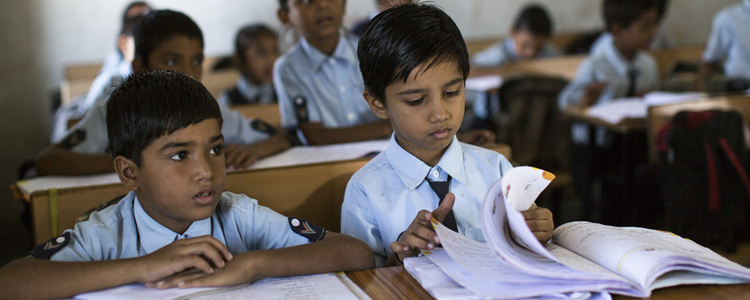 The Fairtrade Premium is an additional sum of money which goes into a communal fund for workers and farmers to use – as they see fit – to improve their social, economic and environmental conditions. 
Pratibha has a strong focus on women's empowerment and holds various training activities to encourage women to become stakeholders in the decision-making process. They wish to increase female representation in the executive committee by 15%. Pratibha has also established a skills development centre where women learn additional craft skills – like tailoring and stitching – to supplement their income, and is making efforts to enrol all girls from the community in the local schools.
In 2009, the Vasudha Vidya Vihar school was built for the children of the farmers. Today, over 450 students attend the school, which offers education until the 12th grade. Farmers pay a nominal tuition fee and Fairtrade farmers get a 10% subsidy on the fee and an additional discount on sibling enrolment.
Good quality seed material is provided annually to farmer members in order to maintain genetic purity and prevent GMO contamination at the farm level. The co-operative also benefits from a TRAID funded seed multiplication programme. Other field-based initiatives include the installation of drip irrigation for 125 farmers (covering 125 acres), conserving 35 – 40% water, the distribution of saplings to promote agroforestry and reduce soil erosion, and reduced use of fertilisers and pesticides through the use and sale of organic manure at cost price.
Pratibha has put some of the Premium towards the construction of infrastructure and demo farms to teach other farmers about organic farming and best agricultural practices.
The Fairtrade Premium has also contributed towards supporting education projects, subsidies for farm inputs, medical camps and health check-ups, and to invest in income diversification initiatives.
Where to buy Fairtrade cotton
Buying clothes made with Fairtrade cotton means that you are supporting cotton farmers around the world.