Rwenzori Farmers Marketing Co-operative Society Ltd is located in Western Uganda, near the foothills of the Rwenzori mountains (meaning 'Mountains of the moon'). It was certified in 2014 and is the first Fairtrade certified cotton producer organisation in East Africa.
Annual production capacity: increasing year on year
Number of farmers: 406 farmers; 173 women and 233 men
About Rwenzori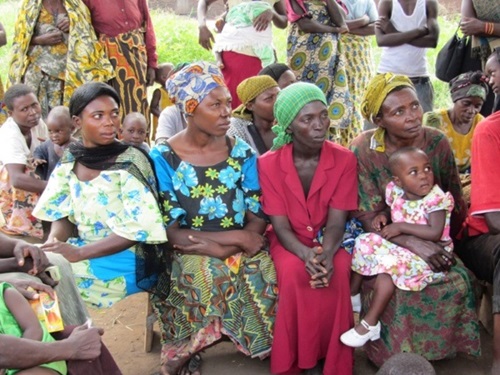 The co-operative grew out of an association of parents with children in school, supported by TJX Europe, through Save the Children. Education remains a main priority for the co-op.
The co-op grows rain fed cotton once per year. As such, the yield and prices secured for one year influence the decision on how much to grow the following year. Unlike in most cotton co-ops, Rwenzori contract out the ginning but maintain ownership of the cotton. This allows the farmers to increase their income by 20-25%.
Farmers are continuously trained in best practice. There are at least three farmers per geographical zone within the co-op who are trained in handling pesticides, use protective equipment, and several are also First Aid trained.
Fairtrade Premium
The Fairtrade Premium is an additional sum of money which goes into a communal fund for workers and farmers to use – as they see fit – to improve their social, economic and environmental conditions.
The co-op has struggled to find buyers for their Fairtrade cotton other than their existing partnership with TJX Europe. Fortunately, through meeting the contracted volumes for TJX Europe, Rwenzori co-op members were able to settle their existing trade loans, and have now begun to see a small profit.
The Premium that was collected after the 2015/2016 harvest was used towards the initial building of new premises, training of farmers and education including day centres for children whose mothers work in the cotton gardens.
Future goals
The co-op is seeking further commercial partnerships and Fairtrade contracts so that they can be secure in the knowledge that they can sell the cotton they produce as Fairtrade, and obtain the additional Premium money.
They are intending to use the Premium towards access to clean drinking water, environmental protection measures and continued education for the children.
Where to buy Fairtrade cotton
Buying clothes made with Fairtrade cotton means that you are supporting low paid cotton farmers around the world.