How much of your product needs to be Fairtrade to get certification?
Single ingredient products
For products such as bananas and coffee, which contain a single ingredient, this must be 100% Fairtrade.
Composite products
For products that contain both Fairtrade and non-Fairtrade ingredients, we have composition rules to reassure consumers about the level of Fairtrade ingredients within a particular product. You will need to submit your recipe to us showing the percentage levels of each ingredient in your product applications.
Key points
Wherever ingredients can be Fairtrade, they should be sourced as Fairtrade.
Food composites must consist of at least 20% Fairtrade ingredients.
Where products contain more than 50% liquid or dairy, the liquid or dairy component should be removed from the percentage calculation.
For example: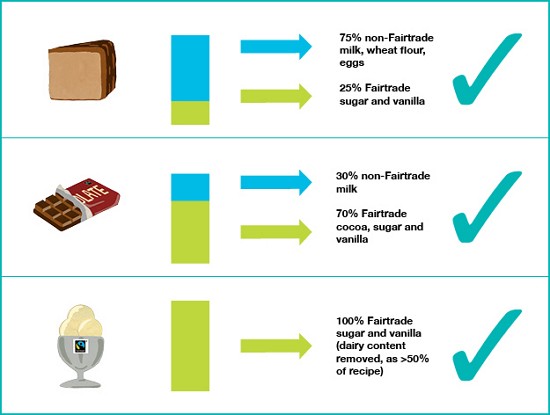 Where there are challenges with the availability of specific ingredients, we may be able to grant an exception. Please contact us for more information on this.
Full details of composite product requirements can be found in the Fairtrade Trader Standard.