Join the network of campaigners who make Fairtrade happen across the UK in their communities.
Fairtrade supporters across the country have joined together to make their town, city, village, island, borough, county, zone, district or region a Fairtrade Town and to make a commitment to supporting Fairtrade and using licensed products with the FAIRTRADE Mark.
Over 600 communities across the UK have achieved Fairtrade status since Garstang became the first Fairtrade Town in the the world in 2001.
In 2019, Fairtrade Campaigners reached over 1.5 million people at 16,000 local events. Find out more about the impact of Fairtrade communities in the 2019 Fairtrade Communities: Your Impact report.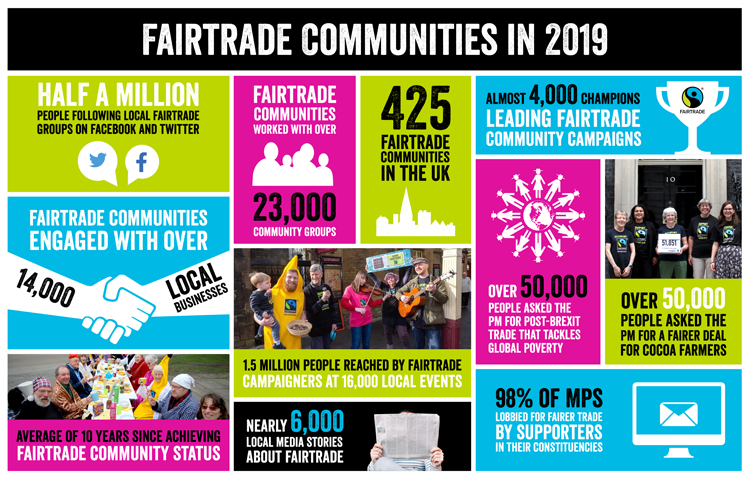 See below to find out more about Fairtrade Towns, how to apply for Fairtrade status and top tips from other towns who have run great campaigns.
If you are trying to find a Fairtrade group near you, have a look at our Fairtrade communities map to find the nearest one to your area. Many groups have websites and social media profiles which you'll find on the map but if you need support please get in touch at communities@fairtrade.org.uk.
If you'd like to receive monthly updates on the latest Fairtrade Town news, campaigns and resources please sign up to our monthly updates.