The Fairtrade APPG was reformed in June 2021. The All-Party Parliamentary Group (APPG) for Fairtrade promotes Fairtrade in Parliament and supports MPs to engage with Fairtrade in their constituencies.
The All-Party Parliamentary Group (APPG) for Fairtrade was formed in late 2015 and is currently co-chaired by Holly Lynch MP (Labour) and Jason McCartney MP (Conservative). The group has more than 150 MPs and Peers on its mailing list and the Fairtrade Foundation acts as secretariat.
The APPG for Fairtrade held its inaugural meeting on 21 June 2021 during which it elected new and returning officers. The APPG currently has the following officers:
Holly Lynch MP, Labour (co-chair)
Jason McCartney, Conservative (co-chair)
Huw Merriman MP, Conservative (vice-chair)
Anne McLaughlin MP, Scottish National Party (vice-chair)
APPG Statement – 19 October 2021
Members of the APPG for Fairtrade are shocked and saddened to hear of the tragic murder of Sir David Amess. On behalf the entire APPG and the Fairtrade Foundation, we would like to extend our sincere condolences to Sir David's family and friends. Our thoughts are with you at this sad time.
Sir David was a long time Fairtrade supporter and has been a key ally in raising the awareness of Fairtrade in Parliament. Among the many ways in which Sir David showed his support for Fairtrade, we were delighted to welcome him to various Parliamentary events in support of Fairtrade Fortnight, both in parliament and in his constituency.
As Members of Parliament, we work hard to represent our constituency and stand up for what we believe is right in Parliament. We stand united in our condemnation of hate and violence.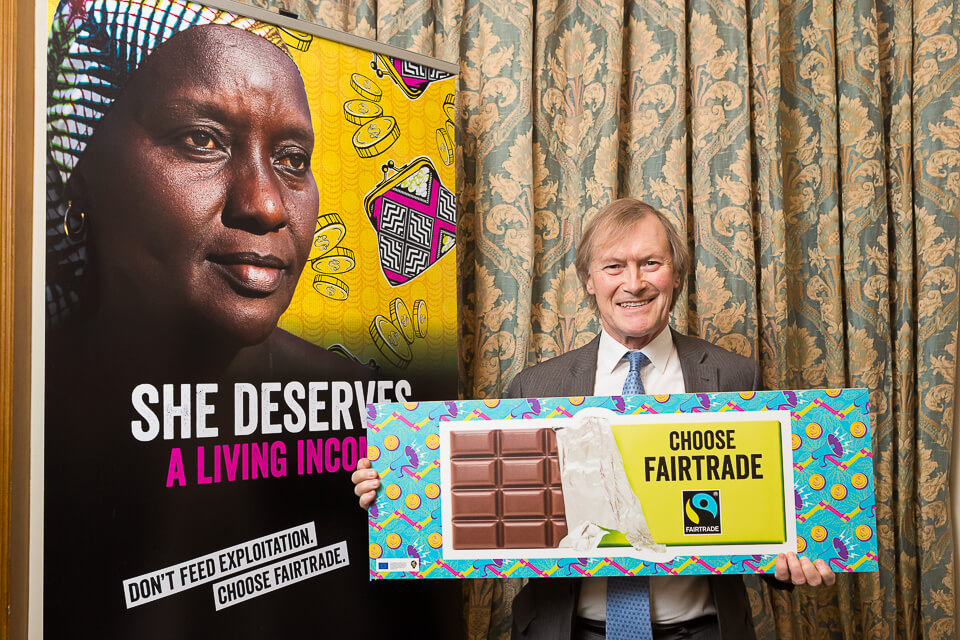 How to get involved if you're a Member of Parliament or the House of Lords
Contact us by emailing appg@fairtrade.org.uk or alice.lucas@fairtrade.org.uk we'll give you the details of any upcoming Parliamentary events and any Fairtrade activity in your area.
Follow us on Twitter @FairtradeAPPG for the latest news.
Read our quick and easy guide on how to engage with campaigners in your constituency.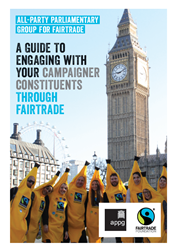 APPG activities in 2018/19
Fairtrade Fortnight 2019
This year's Fairtrade Fortnight was celebrated with an event in the Churchill Room which brought together parliamentarians with Fairtrade supporters, producers and commercial partners. The Fairtrade Foundation's new campaign, 'She Deserves a Living Income' was profiled with its focus on cocoa supply chains, and guests heard from DFID Minister Lord Bates, Shadow Secretary for International Development, Dan Carden MP, and from Will Quince MP, who was then co-Chair of the APPG. Awa Traoré, who manages CAYAT, a cocoa co-operative in Côte d'Ivoire also spoke at the event, alongside Sarah Wakefield from the Co-op, and pupils from Admiral Nelson Secondary School in Portsmouth. The event was attended by 79 parliamentarians and the APPG intends to follow up on the event theme with further events this year.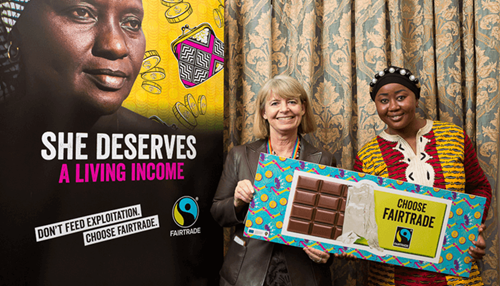 Harriett Baldwin (MP), DFID and Foreign Office Minister, with Awa Traoré, Director of CAYAT co-operative, at the Fairtrade Fortnight 2019 Parliamentary Reception.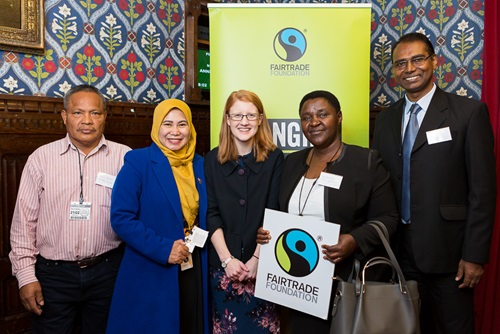 Holly Lynch (MP) with Fairtrade producers Marcial Quintero, Mahyana Sari, Ketra Kyosiimire and Father John Joseph during Fairtrade Fortnight 2018.
Fairtrade APPG AGM and Roundtable on Brexit, September 2018
The following MPs were elected as Officers at the 2018 AGM:
Holly Lynch MP (Lab), co-Chair
Will Quince MP (Con), co-Chair (Will has subsequently stepped down due to his Ministerial promotion)
Tracy Brabin MP (Lab), Vice-Chair
Stephen Doughty MP (Lab), Vice-Chair
Kirstene Hair MP (Con), Vice-Chair
Gareth Snell MP (Lab), Vice-Chair
The APPG also facilitated a roundtable discussion on Fairtrade and Brexit, and welcomed external contributions from Traidcraft and JZ Flowers.

APPG meeting with Darío Soto Abril, CEO of Fairtrade International, July 2018
The APPG hosted a meeting with the CEO of Fairtrade International who reflected on the global context affecting Fairtrade, including the challenges of climate change and the need for living incomes and wages for producers and workers.
Dario also shared stories of Fairtrade from a Latin American context and took part in a Q&A with APPG members.
Official documents