By Becky Forecast, Supply Chain Manager, Impact
It's been 10 years since Fairtrade gold first started to shine in the UK market, presenting a new sourcing model that sought to improve conditions for those working in the artisanal and small-scale mining sector.
Leading gold ethical sourcing solution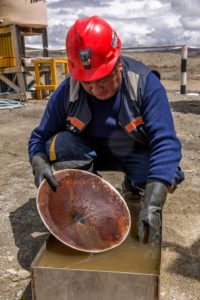 Since then, jewellery brands and goldsmiths have joined the movement, sourcing gold from Fairtrade certified mines in Peru and supporting miners' livelihoods, to combat poverty and protect the environment. As well as receiving the Fairtrade Minimum Price safety net for their gold, the mining organisations also receive a Fairtrade Premium that they can choose to invest to benefit their lives and their communities. In 2020 alone, global sales of Fairtrade gold generated $700,000 in Fairtrade Premium.
Selling on Fairtrade terms helps us absorb shocks and to move forwards.

Pedro Cori, president of CECOMSAP
CECOMSAP is a collection of 10 small-scale mines based in South Peru.
Fairtrade gold equals slow fashion
At Fairtrade we are always looking for ways to drive more impact to miners and we also recognise there is a greater demand from businesses for sustainable solutions and a growing trend for slow consumerism. So, as we celebrate 10 years of businesses and consumers choosing gold with heart, we launched an innovative and flexible new sourcing model to enable more brands and companies to integrate Fairtrade gold within their businesses.
Under the Gold Sourcing Programme (GSP) businesses make a commitment to sourcing Fairtrade gold, but have flexibility to mix this with gold from other origins to use across their business. Over time, businesses can grow their Fairtrade commitments and invest in increasing the sustainability of their supply chains.
Luxe jewellery brand Maria Black launches for Christmas
The first jewellery brand to join GSP, Maria Black launches its new IMPACT alloy range this month, comprising 30% Fairtrade gold and 70% recycled gold. Announcing their commitment, Jesper Nykjaer Jeppesen, Maria Black CEO, said 'Fairtrade is widely recognised for improving conditions for artisanal and small-scale miners, tackling unfair pay, dangerous working conditions, and environmental protection. At Maria Black, we are working towards responsible, high-impact sourcing and call on the industry to follow our example and transform artisanal and small-scale gold mining, and sourcing Fairtrade gold is the best place to start.'
'We are proud to be working closely with Fairtrade to launch our IMPACT gold alloy, ahead of Christmas. At Maria Black, we acknowledge the challenges and reality of the jewellery industry, and we are working to make social and environmental improvements within our supply chain.'
Fairtrade gold in mobile phones
Fairphone uses Fairtrade gold alongside other sustainably sourced materials in their phones. For their latest smartphone, Fairphone have partnered with supplier Hirose, to integrate more Fairtrade gold into their sourcing.
Read more about Fairphone sourcing Fairtrade gold in their blog
We hope these exciting partnerships will inspire more consumers and businesses to choose Fairtrade gold – join us and let your business shine!
Find out more gold@fairtrade.org.uk