by Katy O'Brien
Sprinkle, slice and spread your way to a fairer world with these eight delicious sweet and savoury Fairtrade combinations to fill your pancakes this Pancake Day.
1. vegan BANANA AND CHOCOLATE PANCAKES
These epic vegan pancakes from cooking duo SO VEGAN use the best Fairtrade ingredients that ensure the farmers receive fair pay and the additional Fairtrade Premium. Sweet!
Vegan banana and chocolate pancake recipe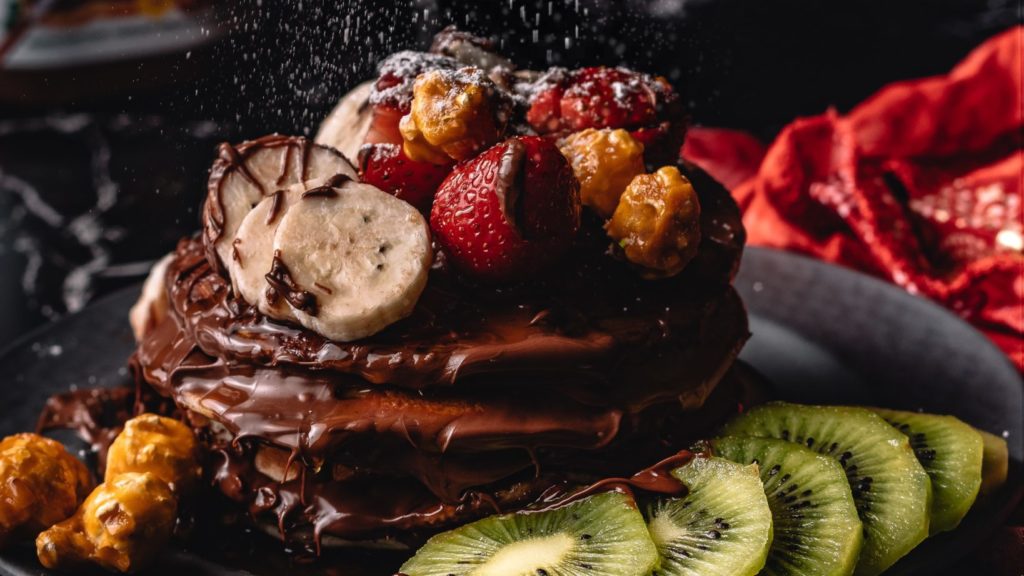 2. Banana, honey and cinnamon
A match made in pancake heaven! Slice Fairtrade banana along the middle of your pancake and drizzle a little Fairtrade honey over the top, roll it up, zigzag a little more honey and finish with a sprinkling of Fairtrade cinnamon. If you're feeling indulgent, serve with cream in a pancake stack.
Fairtrade bananas are widely available. Co-op, Waitrose, Sainsbury's and Ocado sell only Fairtrade bananas.
Mexican blossom Fairtrade Honey is available from Traidcraft.
Barts Fairtrade ground cinnamon is available in Waitrose.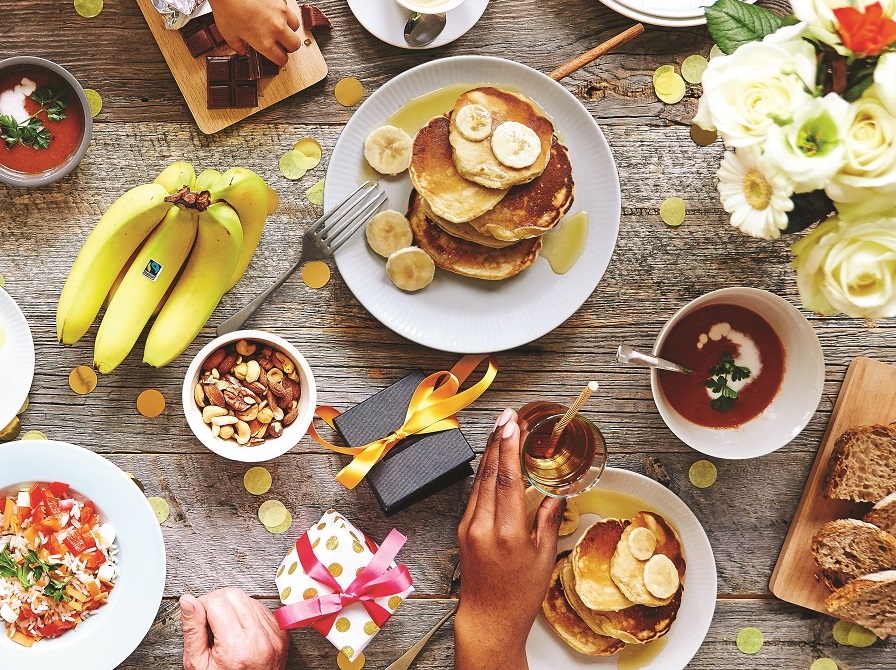 3. Peanut butter and jam
A controversial combination – Do you love it or hate it? If you love it, make sure the peanut butter and jam are Fairtrade and you'll spread the love all the way back to the farmers who grew the peanuts, sugar and fruit. Spread a layer of each over the pancake. Add sliced Fairtrade banana (optional), then roll it up and enjoy!
A selection of Fairtrade jams are available in M&S and Sainsbury's. Check for the FAIRTRADE Mark.
Fairtrade bananas are widely available as detailed above.
4. Vanilla ice cream and Honey
Put a scoop vanilla ice cream in the centre of the pancake as soon as it's out of the pan so it melts a little, then drizzle over honey (add sliced strawberries and Fairtrade banana if you like). Fold the edges of the pancake into the middle before slicing like a cake and devouring! Perfect for those with a sweet tooth. (Optional – top with toasted sesame seeds or Propercorn Fairtrade popcorn.)
5. Vegan chocolate spread and banana
For another dairy-free option, use plant-based milk in your favouite pancake recipe and cook it in oil rather than butter then thinly spread the chocolate over half of the pancake and put a line of sliced Fairtrade banana down the middle. Roll up and enjoy! Also delicious with raspberries, strawberries, chopped Fairtrade nuts and Fairtrade dairy-free ice cream.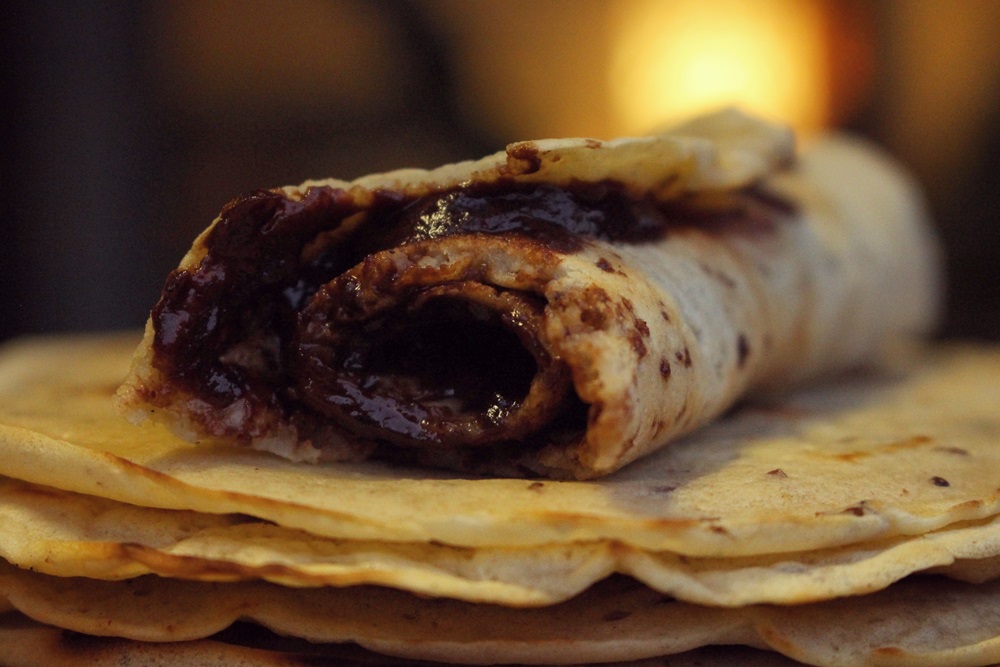 6. Dark chocolate ice cream and caramelised almonds
Chop the almonds while the pancake is cooking. As soon as the pancake is out of the pan, put Fairtrade dark chocolate ice cream along the middle, sprinkle generously with chopped nuts, add raspberries or sliced Fairtrade banana if you like, then roll up, drizzle with Fairtrade honey (optional) and sprinkle the remaining nuts on top.
7. Dried fruit and very dark chocolate
While the pancake is cooking, chop the dried fruit and grate or chop the dark chocolate. While still in the pan, sprinkle the chocolate over the pancake and allow it to melt slightly. Remove from the pan, sprinkle with dried fruit then roll it up, dust the top with Fairtrade icing sugar and eat while still warm.
There are lots of amazing very dark chocolate options. Try Divine 85%, Green & Black's 85% or Waitrose No.1 Ecuador Dark Chocolate 90%. M&S have a single origin 100% cocoa Fairtrade bar for a very, very dark chocolate for serious fans of the dark side.
Tropical Wholefoods dried Fairtrade apricot, mango and pineapple are available to buy online: Tropical Wholefoods from Ethical Superstore
Tate & Lyle Fairtrade icing sugar is widely available
8. Olive oil, honey & balsamic vinegar with smoked cheese and pear
The savoury pancake option. Thinly slice the pear and smoked cheese while the pancake cooks. When it's ready, add a thin layer of pear and cheese along the middle of the pancake – season with salt and pepper and drizzle with honey. Fold in the edges of the pancake and zigzag a little rich balsamic vinegar and Fairtrade olive oil along the top. (Optional – add crispy bacon.)
Happy pancake day! Share your photos and recipes on social using the hashtag #ChooseFairtrade.
Photo credits: Anthony DELANOIX and Iva Rajović via Unsplash
You might also like