The race to tackle climate change has reached a critical point and it's the marginalised farmers on the front line who are often living in poverty themselves who are being hardest hit by the climate crisis. Now is the moment for all of us to take action to do what we can.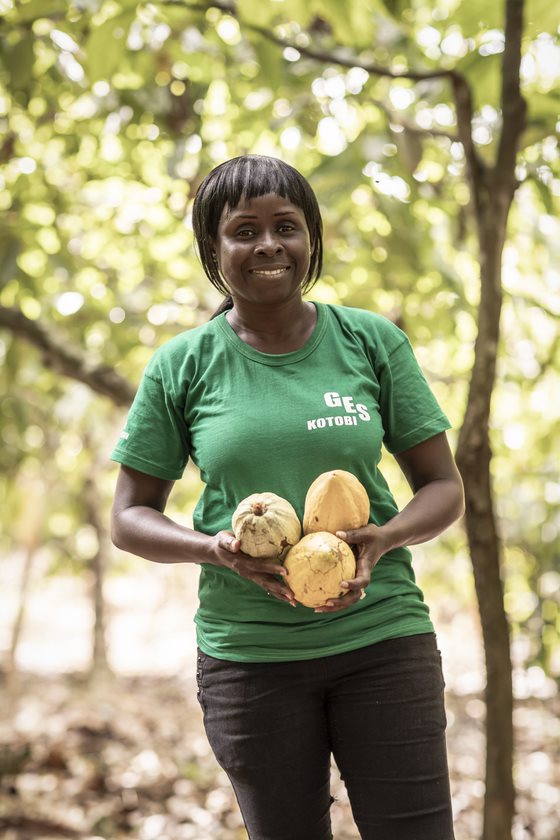 From uncertain rainfall patterns resulting in droughts or floods, devastating landslides weakening already poor infrastructure, changing seasons creating smaller harvests and therefore smaller income; farmers are dealing with the consequences of climate change every day.
Edith, a Fairtrade cocoa farmer in Côte d'Ivoire, tells us how they are feeling the impact of climate change and how Fairtrade is enabling them to adapt and become more resilient:
'Climate change affects the yield and quality of our cocoa trees. In dry seasons and during droughts, the beans shrink, and if you prune when there is no rain, the trees can die. But when there is too much rain, we can't tend to our farm properly or prune, which is necessary to fight pests caused by climate change. Thanks to Fairtrade's farm school, we've been trained in good agricultural practices and agroforestry. We've learned how to plant cocoa seedlings, dig and prepare the soil properly and inter crop with fruit trees for shade.'
Fairtrade and Ben & Jerry's, our partner and fellow Climate Coalition member, know that the effects of climate change are not felt equally.
On average one person in the UK produces 5.81 tonnes of CO2 a year and in Côte d'Ivoire one person produces 0.33 tonnes – that means that it takes 17 people, like Edith, in Côte d'Ivoire to have the same carbon footprint as one person in the UK! Yet we can see it's the marginalised communities and farmers who are being hit first and worst by climate change.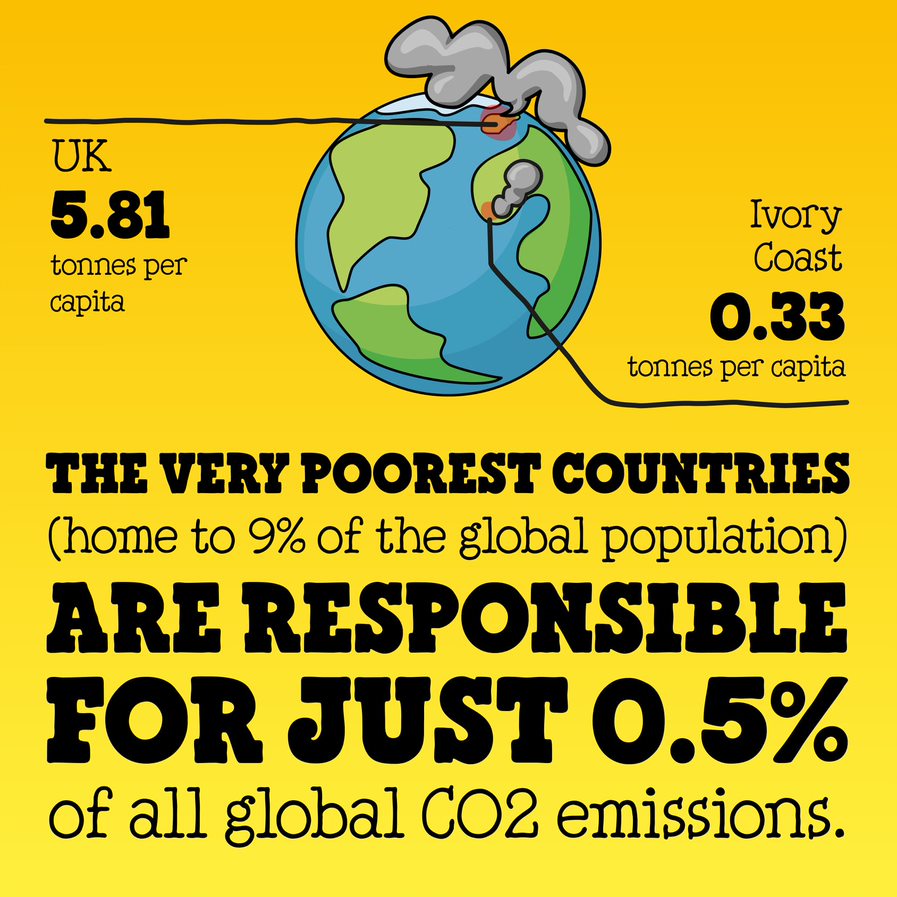 However, a better, more just and resilient world is possible, and the good news is we have a unique opportunity to choose the world we want for everyone. It's easy to forget, when flummoxed by the facts, figures and footage, that small lifestyle changes can have a global impact, and that – by integrating just a snippet of sustainability into our daily lives – we can collectively secure a greener, healthier and fairer future for the planet.
Here are five choices you can make today:
1. Choose to make your voice heard
Join The Climate Coalition, Fairtrade, Ben & Jerry's and thousands of others in asking our government to put people and planet at the heart of plans to rebuild a strong economy.
Without fairer prices, farmers and workers who are already fighting the impacts of climate change are unable to adapt and invest in making their farms sustainable. We know that when many voices call in unison, they can be a powerful force for change. You too can call for a cleaner, greener, fairer future for all.
Tell our Prime Minister that you want ambitious action on climate justice by adding your name to the declaration now (make sure to accept cookies to access the declaration form.)
2. Choose to buy Fairtrade
Here at Fairtrade, we work on many levels to strengthen environmental and climate protection; by choosing Fairtrade certified products you are supporting bio-diversity, environmentally friendly farming and supporting farmers to adapt to and mitigate the effects of climate change.
Fairtrade Standards have environmental protection, social and economic justice at their core. By choosing Fairtrade, you're fighting for all three. The Fairtrade Standards require small producers to take steps to:
Adapt to climate change
Reduce greenhouse gases and increase carbon sequestration
Avoid deforestation and protect forests
Tackle soil erosion and increase soil fertility
Reduce water wastage
Find out more about the Fairtrade Standards
In addition, producers in the Fairtrade system receive the Fairtrade Premium, which is a regular amount of extra money that they decide how and where to invest. This can be used for initiatives to tackle climate change, for example COOCAFE, a coffee producing co-operative in Costa- Rica have used their Premium to part fund a foundation committed to reforestation, water recycling and other environmental initiatives.
Find out how Fairtrade co-operatives have use part of their Premium to fund environmental initiatives
Find out where to buy Fairtrade products
Ben & Jerry's are scooping up support in their latest campaign, focusing on the challenges of climate justice to Save Our Swirled NOW! So if it's a sweet treat you fancy, as part of the campaign they have recently launched a new look for their Fairtrade sourced coconutterly caramel flavour with swirls of caramel cookies and chocolatey chunks. Save Our Swirled Now is a flavour you can't resist and a demand for climate justice you can't ignore.
3. Choose organic, responsibly produced fashion
If you're thinking about updating your virtual office wardrobe to reflect the changing season there are many ways in which you can do this sustainably. Charity shops or second hand clothes apps, such as Depop, are an ethical, budget friendly, way of refreshing your look and giving clothes a second lease of life.
Since the start of the coronavirus crisis, many of the pandemic's hardships have fallen on the most vulnerable members of the fashion supply chain: the cotton farmers and workers. Research shows that clothes are among the items most at risk of being produced through modern slavery in an industry where women make up 80% of the global workforce.
Shopping more ethically – buying less and buying better – is more important than ever. That means if you are buying new, choosing sustainable fabrics made in safer factories, with better eco-credentials and fairer employee wages. Fairtrade helps businesses to source Fairtrade Cotton; providing traceability of where their cotton comes from and also transparency within their supply chains. Furthermore, through tools like the Fairtrade Minimum Price and the additional Fairtrade Premium, and stronger, more democratic organisations, Fairtrade has sought to provide cotton farmers with an alternative route to trade and higher, more stable incomes.
Find out more about Fairtrade cotton and where to buy Fairtrade cotton products
4. Choose a flexitarian diet
A record breaking 400,000 of us pledged to undertake for this year's Veganuary campaign, and it looks like the plant-based trend is here to stay: sales of vegetarian and vegan fast food are up by as much as 13.5% on last year, and global demand for plant-based protein is forecast to reach £4 billion by 2021.
The success of the campaign largely came off the back of last year's climate protests, and growing awareness of the link between intensive livestock farming and the Earth's warming climate. Cutting back on meat, experts advise, is the single most effective thing that an individual can do to protect the planet's future health. The meat industry only accounts for 18% of the world's calories, yet a staggering 14.5% of greenhouse gas emissions, and 83% of agricultural land.
If going cold turkey on the turkey is a stretch too far, why not opt for a flexitarian diet, basing the bulk of your meals around plant-based ingredients, but enjoying the occasional meat-based dish from time to time?
5. Choose to give
There are many ways in which you can give back that also have a positive impact on climate change and our environment. You could choose to share your skills by volunteering with a charity, such as Friends of the Earth, Greenpeace or use websites such as Environment Job to find a variety of volunteering opportunities across the UK.
If volunteering isn't for you, or you do other volunteering already, another way to give back could be by donating to your favourite charity, whether it's a one off donation or regular giving, everything helps. At Fairtrade, once you become a regular donor you get a Live Fair box which contains everything you need to live a little fairer, while helping hardworking farmers to build a sustainable livelihood. With Christmas coming soon this could be a great present idea for a gift that keeps on giving.
Find out more about the Live Fair box
Finally, given that the average UK household throws away £700 worth of perfectly edible, carbon intensive food per year, another way you could give back is by sharing unwanted food. There are number of schemes and apps that make food sharing as easy as scraping your plate. Our favourites include: Olio – a mobile app that encourages neighbours to connect and share unwanted food; Karma – another app, this time with a focus on discounting unsold food from restaurants, cafes and grocery stores; and Fareshare – a volunteer led scheme that connects businesses with food banks.
We hope you are feeling inspired and if you would like to find out more about Fairtrade and climate, visit our page Fairtrade and Climate Justice.
Read more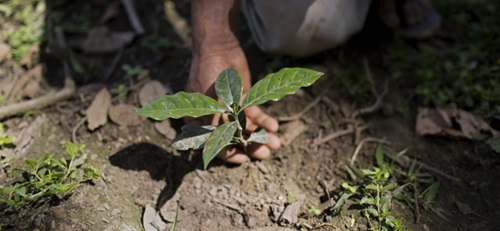 Climate crisis: Fairtrade farmers speak out
23 June, 2019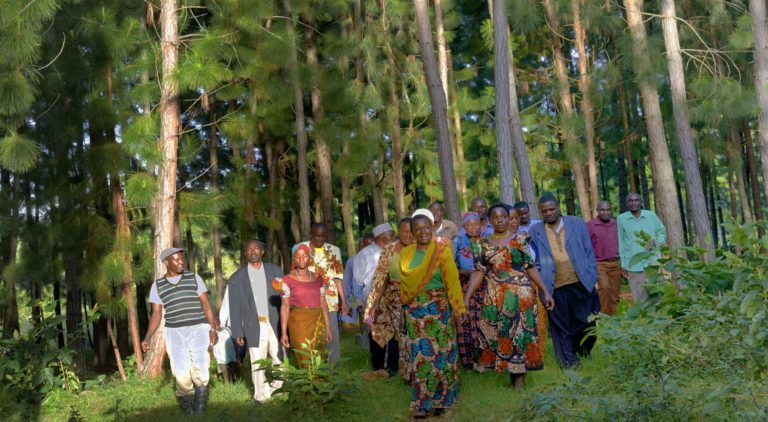 Fairtrade and environmental justice
5 October, 2020