This September, Fairtrade campaigners across the UK are joining in with a national week of positive action on climate change.
We asked nine campaigners to share their plans for Great Big Green Week. This is just a taster of the many ways Fairtrade campaigners are backing farmers' demands for climate justice – and of the ways for you to get involved.
Sally Reith, Fairtrade Leighton Linslade
'We are working with our local Town Council to raise awareness of Fairtrade ahead of the COP 26 UN Climate Summit in November. We're inviting our local community to share their message of hope and support for Fairtrade on our Facebook page. Then, we'll share these with politicians at COP 26.
'In partnership with Leighton Linslade Town Council, Fairtrade Leighton Linslade will be present with a stall at the town market on Saturday 25 September.
'Pop along to share your message for political leaders coming to COP26 in November. Or submit a photo of your message to our Facebook page and we'll collate all messages together.' – Sally Reith, Fairtrade Leighton Linslade.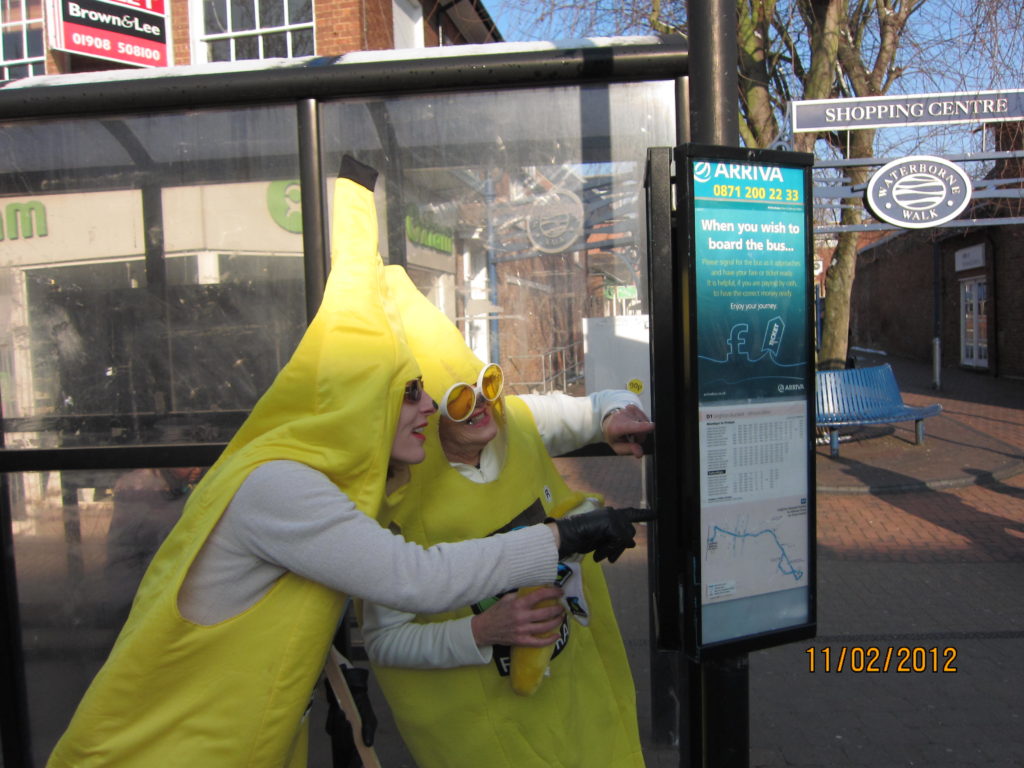 How to get involved
Visit Fairtrade Leighton Linslade town market stall on 25 September, or check out Fairtrade Leighton's Facebook page.
Kathy Barton, Lancaster Great Big Green Week
'All sorts of local groups – from Extinction Rebellion to the local library – are getting involved and running really interesting initiatives.
'To pick just a few, there's a 'Food and Climate' session running on Wednesday 24 September with Food Futures, a Tearfund Sunday session on September 19 focusing on climate change in Mali and open days on Saturday 18 and Sunday 19 at Claver Hill Community Food Growing Project, featuring a bee keeping display.
'And of course there will be a Fairtrade Saturday September 25 10:30am-4pm.
'Lancaster, Morecambe, and District Fairtrade are also joining a Craft Aid and Green Fair at Cornerstone, Sulyard St. Lancaster. The excellent Fairtrade Foundation short film Guardians of the Rainforest will be showing every 30 minutes. In the film, Fairtrade cocoa farmers in Sierra Leone, who use innovative forest-friendly farming techniques, tell their story.' – Kathy Barton, Coordinator of Lancaster's Great Big Green Week celebrations.
How to get involved
Find out more about how to join the Lancaster Great Big Green Week on the Great Big Green Week website.
You can find out more about the Craft Aid and Green Fair, which will include showings of Guardians of the Rainforest, on Great Big Green Week event listings.
Judith Negus, abergavveny United reform church
'The Food Festival is a two day festival with workshops, guest speakers, demonstrations and visiting and local traders. Our Church will be open to the public during the festival weekend with various exhibitions, organ recitals and Fairtrade refreshments.
'We are also a Fairtrade Church. So this year, we chose climate change and its effect on the incomes of food producers as a theme for our contribution to the festival, using information from the Fairtrade Foundation and Christian Aid. There will also be a stall run by local Soroptomists in aid of charity, a spoon carver and a stall displaying Fairtrade products.
'The United Reformed Church is situated on Castle Street in the town centre.' – Philip Negus, Representative of Abergavveny United Reform Church at Abergavveny Food Festival.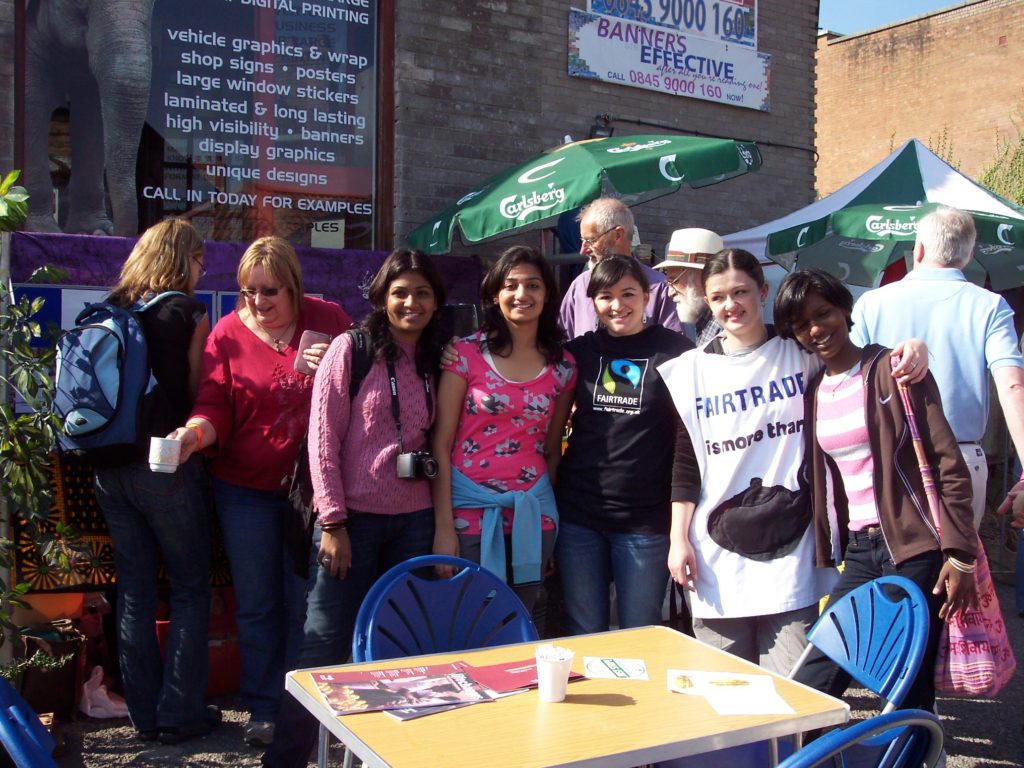 How to get involved
Visit the Abergavveny Food Festival website for more information on the festival, which takes place on 18 and 19 September.
ross isdale, Scottish Fair trade forum
'At the Scottish Fair Trade Forum, we've just started an exciting import initiative with six Fairtrade coffee growing co-operatives in Rwanda and Uganda.
'So, ahead of the COP 26 climate summit in Glasgow, we're giving you a chance to hear directly from coffee farmers representing our co-operative partners.
'At this free online event, open to everyone, we'll hear about the disastrous impacts of the climate emergency, which coffee farming communities face every day. And we'll hear what they think needs to change.
'During Great Big Green Week and Scotland's Climate Fringe Week, it's vital we listen to the voices of those living with the reality of climate change and respect their expertise.' – Ross Isdale, Development Manager, Scottish Fair Trade Forum.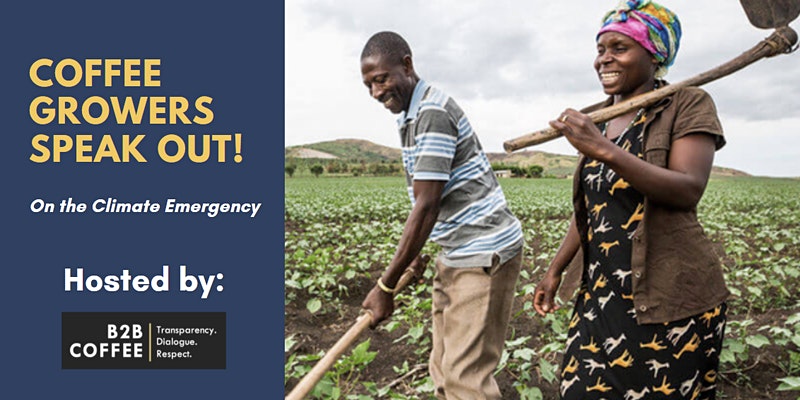 How to get involved
Register now for the Scottish Fair Trade Forum event on Eventbrite.
Sue tuckwell, North Somerset Fairtrade group
'During a nature walk to celebrate Great Big Green Week, our Fairtrade group will share information available at certain sites about how farmers and workers are affected by the climate crisis. We'll also describe what they are doing to adapt to the changing climate to secure their futures.
'Throughout the day we'll be linking up with other local groups to highlight how we can work together for a more sustainable future. There will be things like tree planting, litter picking, wildflower gardening, green hairdressing initiatives, a repair shop, school eco-groups and so on.' – Sue Tuckwell, North Somerset Fairtrade Group.
how to get involved
Visit the Great Big Green Week website to find out more about the events Sue is organising in the North Somerset village of Pill.
Joanna Pollard, Chair of the National Campaigner Committee
'During Great Big Green Week I'm organising a fashion show with a twist – the culmination of an upcycling project involving dozens of fair trade supporters around the UK: How Green Is Your T-Shirt.
'The aim is to highlight the fact that the fashion industry has a carbon footprint bigger than France, Germany and the UK combined, and how we can reuse and recycle our clothes to reduce our own impact.' – Joanna Pollard, Chair of the National Campaigner Committee.
To find out more and get involved go to the Fairtrade Yorkshire website
How to get involved
The event will be live streamed on the World Fair Trade Organisation Facebook page.
Tony allchurch Fairtrade Jersey at Kindness Festival
'Taking place in St. Aubin Jersey on the 1 September, the Kindness Festival was a little early for Great Big Green Week but at Fairtrade Jersey we really got in to the spirt of the campaign. The Kindness Festival is a free festival, where 26 different charities and community groups share their work with the public.
'We were there, promoting Fairtrade with a focus on 'People and Planet before Profit'. We put up displays and sold Fairtrade products, with a special emphasis on how climate change affects the farmers and workers who grow and produce these products.
'We also ran a special competition called 'Footprints,' challenging visitors to compare the carbon footprints of producers in the global south and consumers in the north, highlighting that we have a real responsibility to support communities already suffering the effects of climate change.
'And of course SuperHero BananaMan – pictured here – was on stand-by to get some selfies with friends of Fairtrade!' – Tony Allchurch, Fairtrade Jersey.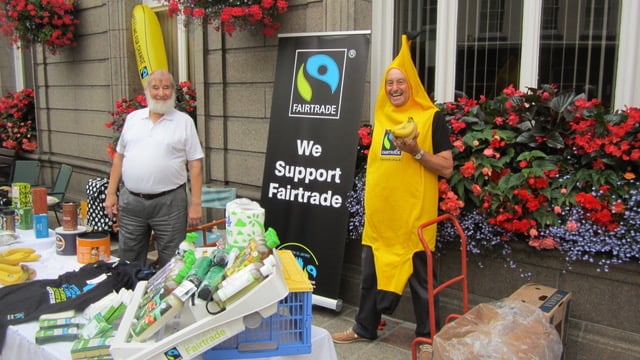 How to get involved
The Kindness Festival is over for this year, but Fairtrade Jersey's great work continues!
Check out Fairtrade Jersey's Facebook page for all the latest.
Just trading scotland and fairtrade national campaigner committee
'Just Trading Scotland (JTS) and Fairtrade National Campaigner Committee (NCC) are thrilled to be hosting three cooking demos during Great Big Green Week, also known as Climate Fringe Week in Scotland, with the legend that is Sandy Docherty.
'Sandy took part in The Great British Bake Off 2015 and is a firm supporter of Fairtrade. She will be cooking with Just Trading Scotland's organic pulses.
'We want to invite you to attend, you can either cookalong with Sandy or just tune in and watch her create her magic. You can register for just one of the cookalongs or all three, we would love to see you there.
'All events will start at 7pm and last for approximately one hour. See all the details of what you can cook, and how you can sign-up, below.'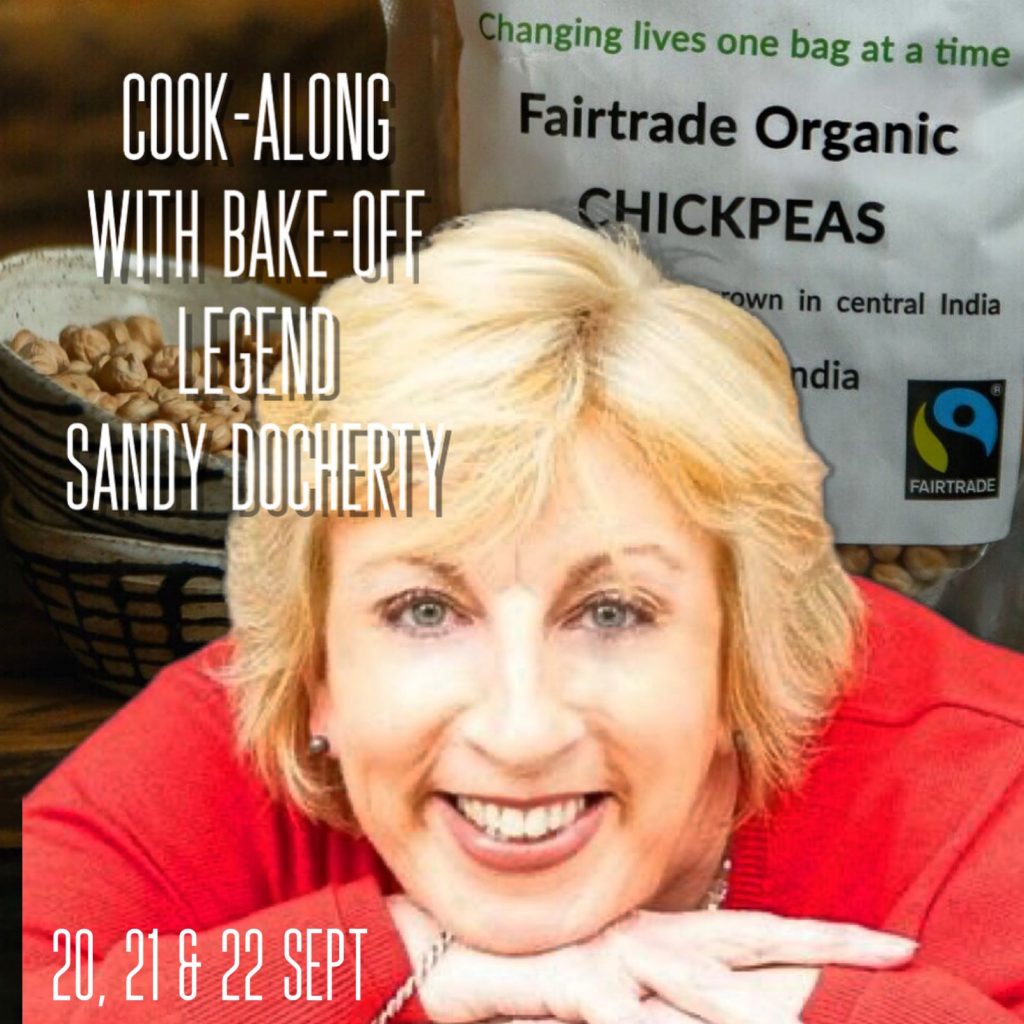 How to get involved
Monday 20th Sept – Cheese and Lentil Slice. Register on Eventbrite
Tuesday 21st Sept – Chickpea Rissoles. Register on Eventbrite
Wednesday 22nd Sept – Very Handy Pie Filling (Using Toor Dal). Register on Eventbrite
Feeling inspired?
You can still join the fun! Visit our Great Big Green Week campaign page for tips on running an event and finding events near you.
Explore hundreds of events taking place all over the UK. Join in and spread the word on why fairer trade is a critical part in winning climate justice!
Read more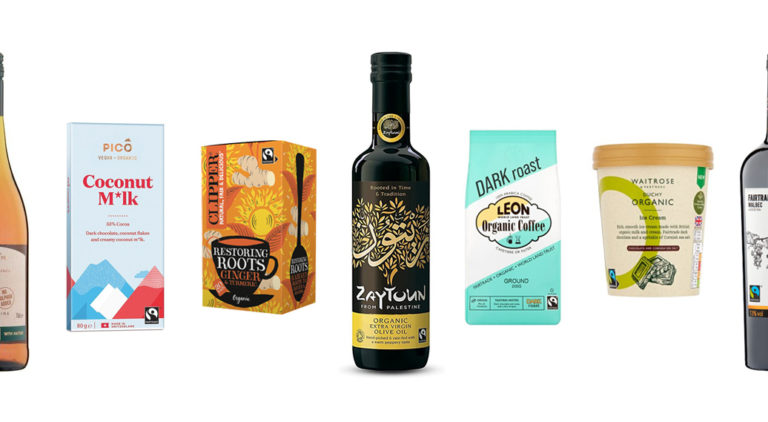 12 Organic and Fairtrade products to try
2 September, 2021