With financial assistance from the Fairtrade Premium funds, the garden was created by the APAS (Asociacion dos Produtores do Alto da Serra) Coffee Co-operative in the southern state of Minas Gerais, and currently benefits approximately 170 girls, boys, and teenagers.
APAS was founded in 2006 in a region known for its natural beauty, pleasant climate, fertile soils, and altitudes between 950 and 1,500 meters – favorable to the production of specialty coffees. But what makes this co-op unique goes way beyond its location. The region stands out especially for its residents, rural producers who believe in the region's potential, and who continue to be innovative in their practices.
APAS was born to further satisfy the needs of its producers and offer quality coffee, guided by the principles and values of Fairtrade. Currently, the co-op has 69 members, 40 of whom are small coffee producers.
The garden initiative has been carried out to benefit the Ferreira State School and the CEMEI Maria Madalena Ferreira municipal nursery since 2013. A small-scale producer Edgar Azevedo, who has been in charge of the plot where the garden is for over 25 years, is pushing efforts to help others and is supporting the project voluntarily.
Although Mr. Azevedo is not part of APAS as he doesn't grow and produce coffee, his plot has been integrated and welcomed by the co-op, who provide all the technical support, the plants, seeds, and equipment necessary for production, with the initiative financed by Fairtrade Premium funds. Today, the garden has a great capacity for organic production, growing a wide range of vegetables and fruit without the aid of pesticides. Through collaborative work practices and solidarity, they are greatly benefitting their community.
Maurício Alves Hervaz, President of APAS, says:
'This has been the result of a great association, which together has not only improved (the production), but also made school food much more nutritious and tastier.'
Despite schools and companies being closed due to the pandemic, APAS and Mr. Azevedo have continued the initiative for the wellbeing of their families and the community. Together, they have been making donations of fresh produce to the retirement facility in their town, which cares for 38 people, all of whom were especially overjoyed by the donated fruit.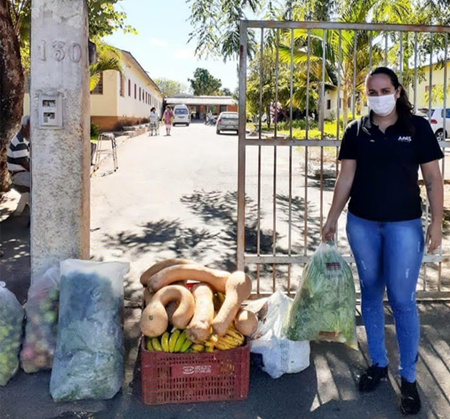 But their work did not stop with that donation. This collaborative farming effort plans to soon bring food to the Casa da Criança institutions (a home that houses children and adolescents); Reviva, which supports the most vulnerable families in their community; and the Municipal Hospital.
With Fairtrade, producers have the financial means to help achieve food sovereignty for their entire community.
Find out more about how Fairtrade is responding to COVID-19