Find out how Fairtrade is responding to the COVID-19 crisis.
Last updated on 13th October 2020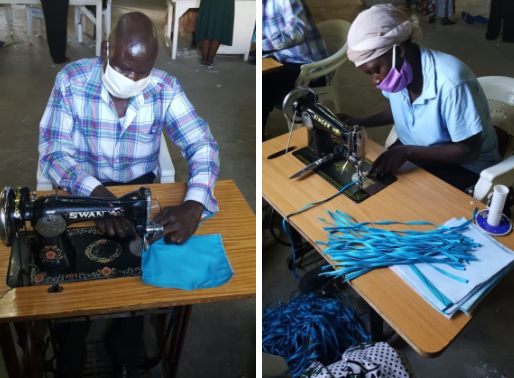 Oserian flower workers sew masks
Across the globe, each one of us has been affected by the COVID-19 pandemic. This crisis is a global humanitarian challenge. Now, more than ever, we must support one another, especially the most vulnerable members of society.
Impact on Farmers and Workers in the Global South
Fairtrade continues to work to advocate and support small-scale farmers and workers in developing countries. The farmers and workers Fairtrade serves are some of the most vulnerable and the least prepared for a pandemic.
We are gathering updates from around the world about how COVID-19 is affecting producer organisations, family farmers, and workers. Below is an overview of the latest information.

CLAC: Get the latest updates from Fairtrade certified farmers and workers across Latin America and the Caribbean:
Open this Google Document for updates from CLAC

Fairtrade Africa: Get the latest updates from Fairtrade certified farmers and workers across the African continent.
Open this Google Document for latest updates from Fairtrade Africa

NAPP: Get the latest updates from Fairtrade certified farmers and workers across Asia and the Pacific.
Open this Google Document for the latest news from NAPP
What we are doing to support farmers and workers
Fairtrade is working with the Producer Networks on an ongoing basis to take action to support producers and workers in the Global South.
Flexibility in Fairtrade Premium use
Fairtrade International announced increased flexibility in its Standards to enable producer organisations to take immediate action to protect the health and livelihoods of farmers, workers and their communities in response to the COVID-19 pandemic. This means producer organisations are free to spend Fairtrade Premium funds more flexibly to minimise the spread of disease, such as by purchasing and distributing face masks or other personal protective equipment, or by implementing hygiene campaigns.
Read about the new procedures introduced on the Fairtrade International website
Changes in audit procedures
Fairtrade's independent certifier, FLOCERT, has amended their audit procedures to help minimise physical interactions. All physical audits have been paused until April 22, 2020, which includes existing certified producers as well as new applicants.
Read about the changes in audit procedures on the FLOCERT website
Update on Key Fairtrade Product Sectors
Coffee

Although through retail sales Fairtrade coffee sales have remained strong, global coffee prices are highly volatile right now, due to uncertainty in the commodities markets. This puts producers in extreme uncertainty and threatens their livelihoods. In several high-volume producing regions, such as Honduras and Peru, movement has been severely restricted, which will impact the harvesting, transport and milling of coffees.
Bananas

Demand for bananas has remained strong thus far. Farms are taking necessary measures for increased sanitisation, equipment, barriers between workers, and providing extra transport for workers. Activities on banana farms continue, but with reduced staff to lower the risk of virus transmission. However, we expect production costs for the banana producers will increase as they take additional sanitary measures to protect against the virus.
Tea

There has been a sharp decline in demand and price for tea from certain origins. Some of the major tea buying auctions have been suspended or postponed. The three-week lockdown in India disrupted the first-flush harvest and is preventing the essential maintenance of tea bushes. African tea origins have also been adversely affected by the drop in market demand and port restrictions. Tea workers, who often live in poverty, are especially vulnerable.
Cocoa

Harvests are taking place in Central/South America and the Caribbean, but are impacted by movement restrictions and logistical challenges. For the Ivory Coast, a new Fairtrade Minimum Price of US$212.14/mt was announced this week for deliveries from April 1- September 30, 2020. Producers are working to ensure that all committed quantities can be exported, although there are some delays expected at ports in Ghana.
Flowers

According to the Kenya Flower Council, an estimated $300,000 a day is being lost to the industry as a result of COVID-19, with 50 tonnes of flowers being dumped daily. Tens of thousands of workers on Fairtrade certified flower farms have lost their jobs, with no local work alternatives, and there is growing concern about the long-term financial stability of flower farms if shipments do not resume soon.
Textiles and Cotton

In India, the ginning of last season's cotton crop is almost complete. However, units have started working with fewer workers due to the rise in the number of cases. In Kyrgyzstan, the cotton cropping season has finished. A decrease in temperature and heavy rains during April is likely to impact the cotton yield, however, experts have been well skilled and ready to train farmers.
Latest stories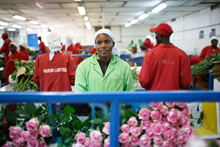 Read the latest COVID-19 related stories on the Fairtrade blog