The UK's first and largest 100% Fairtrade hot drinks brand, pushing the boundaries of ethical business.
Cafédirect's Fairtrade Story

Cafédirect is the leading Fairtrade hot drinks brand in the UK. Launched three years before the Fairtrade mark, they pioneered its introduction in the UK and were the first coffee brand to carry the certification.
Since the beginning, Cafédirect have used business as a force for good to improve livelihoods and build communities.
In addition to the Fairtrade social premiums they pay for the crops, they reinvest at least one third of our profits to grower businesses and communities. To date, they have invested over 50% of their profits back into the 40 producer organisations they support across 14 countries!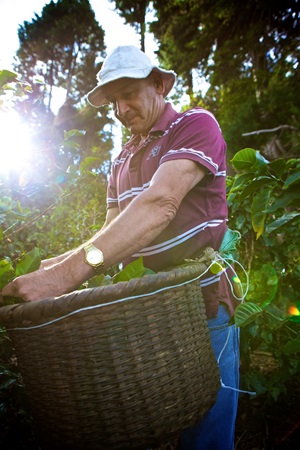 They believe it's the growers on the ground who are in the best position to decide how these funds can best help their communities. As a result, since 2009, the development projects have been managed by the Cafédirect Producers Foundation (CPF), a registered charity led by growers for growers.
The producers are at the very heart of Cafédirect and influence everything they do. They hold two out of eight seats on our Board, contributing to the decisions that govern the business, while 89% of Cafédirect producer partners own shares in the company, making them direct beneficiaries of the success of the business.
The other big focus of the company's activity is their environmental impact. From 2013, Cafédirect no longer have separate environmental and social strategies, but are weaving them into their overall business strategy. This reflects the progress they have made so far in integrating sustainability into their business model and represents a significant step towards the full integration they aspire to.
See how Cafédirect supports Fairtrade
Cafédirect Coffee
Explore a world of taste with our range of 100% Fairtrade coffees. From a rich, chocolatey Peruvian coffee to the smooth, bright notes of Colombia, there is a taste to suit everyone.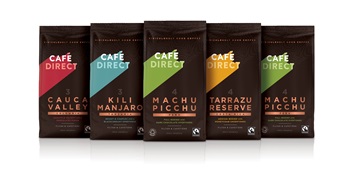 Visit Cafédirect's website for their full range of coffee
Cafédirect Tea
It takes an expert to grow excellent tea, so we work with smallholder growers who nurture tea and really care about growing leaves that make our bright, refreshing brew taste as good as it does.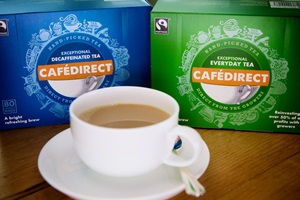 Visit the Cafédirect website to see their full range of Fairtrade tea
Cafédirect Hot Chocolate
We've scoured the world for the finest ingredients to bring you delicious hot chocolates that you can make using milk or hot water.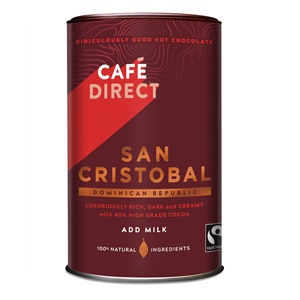 Visit their website for the full Cafédirect chocolate range