Waitrose & Partners is a long-standing partner of Fairtrade, helping to provide stability to producers in the global south since 1994, when it became one of the first retailers to stock Fairtrade products.
This case study demonstrates the huge impact of Waitrose & Partners' sourcing commitments, which benefit Fairtrade farmers and workers, and how we've worked together to amplify their voices.
Waitrose & Partners has the largest range of Fairtrade products of any UK supermarket. In addition to stocking many Fairtrade brands, all of their own label tea, coffee, bananas and sugar are Fairtrade, and they recently completed the conversion all of cocoa in their confectionery to Fairtrade. Annually, Waitrose & Partners' sourcing generates approximately £2.5 million in Fairtrade Premium through own-label sales alone and the impact this has on farmers and producers in their supply chain deserves to be celebrated.
In 2019, we worked with Waitrose & Partners, and their suppliers, to convert all of the cocoa in their confectionery to Fairtrade. We hope that sharing the process, the impact that it has made to producers and the positive coverage that it generated, will inspire you to think about your own business. What commitments could your business make, and what impact could you have on your producers and on your business positioning?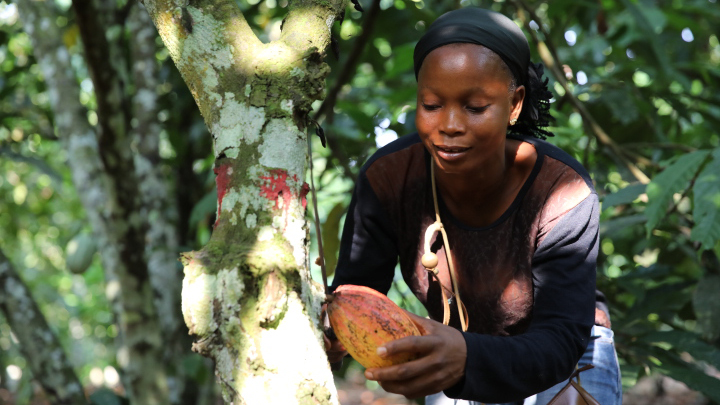 Waitrose and Partners' cocoa commitment
Waitrose & Partners already had a significant Fairtrade cocoa commitment, with all of their block chocolate having been Fairtrade for many years. In summer 2018, the company approached us to discuss extending this commitment. The majority of cocoa in the UK comes from West Africa, where farmers are among the poorest in the world and Waitrose & Partners wanted to extend their sourcing commitment to benefit even more cocoa farmers and their communities. We suggested converting the remainder of the cocoa in their confectionery range to Fairtrade, under the Fairtrade Sourced Ingredient (FSI) Cocoa Mark.
The FSI Mark is a flexible and transparent way to highlight specific Fairtrade ingredients in a product. Find out more about the Fairtrade MARK.
The Fairtrade Foundation worked closely with the Waitrose & Partners category team to identify the products in scope and the relevant supply chains. We then worked together throughout 2018 to consult suppliers, getting input on the conversion and holding a supplier event to explain the process. The event, which took place in early 2019, saw Waitrose & Partners and the Fairtrade Foundation share with suppliers the impact that Fairtrade is driving in cocoa, as well as the operational aspects of certification. Many suppliers had never previously worked with Fairtrade Foundation and benefitted greatly from the opportunity to pose questions directly to our team. The joint hosting of the event also demonstrated to suppliers the close relationship between Waitrose & Partners and the Fairtrade Foundation, and how important sustainability is to us. We produced process guidance documents for Waitrose & Partners' suppliers, and our Business Engagement team were on hand to resolve any queries that came up throughout the process. Working together to include suppliers at each step of the process enabled a quick roll out of the project and although Waitrose & Partners had announced their intention to convert all of their confectionery lines by the end of 2019, the majority were actually converted by September, allowing cocoa farmers and their communities to benefit even sooner. Waitrose & Partners continued to grow its own label confectionery range in 2020 – particularly the premium Waitrose No.1 range – and its commitment to Fairtrade sourcing has provided customers with the assurance that not only are they purchasing the highest quality of chocolate, but also supporting Fairtrade cocoa producers and their communities.
Through risk assessments we identified cocoa as a commodity where we wanted to make further interventions in our supply chain. After researching a number of standards we chose Fairtrade as the way to deliver this. We value our long term relationships with our suppliers and worked together with Fairtrade to support our existing confectionery suppliers to convert to Fairtrade. Fairtrade supported both our suppliers and us throughout, meaning the process was as smooth as possible.

Amy Morris, Partner & Sustainability Coordinator, John Lewis Partnership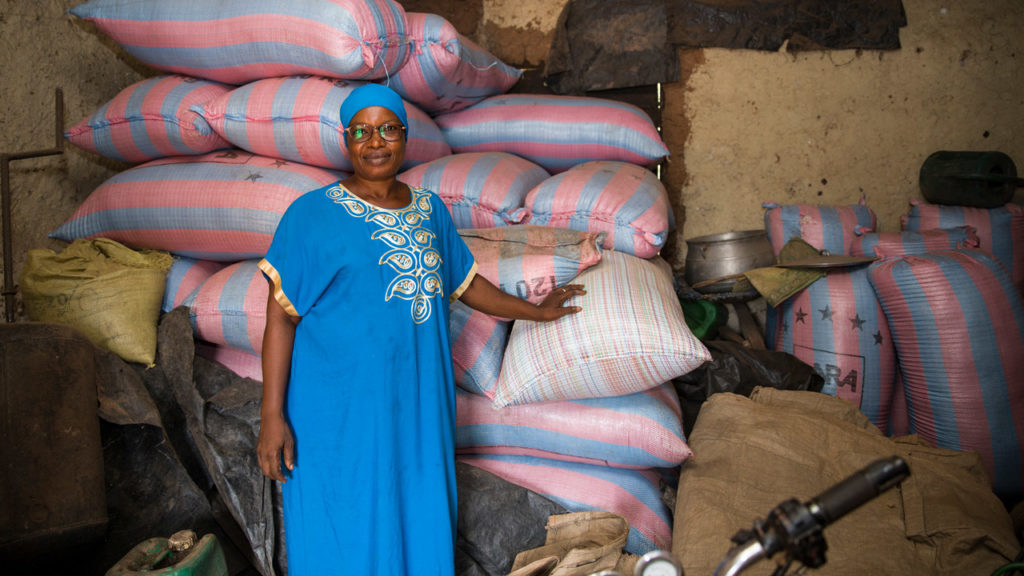 Find out more about Fairtrade's impact in cocoa
Communicating about the partnership
As a long-standing partner, Waitrose & Partners have supported many Fairtrade Fortnight campaigns. Fairtrade Fortnight is our annual awareness raising campaign that takes place each year at the end of February and is an opportunity for us to raise the voices of farmers and workers and for campaigners, businesses and consumers to show their support for people in low income countries who grow our food. We work together throughout the year to help promote Waitrose & Partners' Fairtrade commitments, which are especially important to their customers, 83% of whom care about Fairtrade. On top of regular communications together, the main event of the calendar is always Fairtrade Fortnight.
During Fairtrade Fortnight 2019, we worked with Waitrose & Partners to announce their intention to convert the cocoa in their confectionery range to Fairtrade. To support the announcement internally, our CEO Mike Gidney provided an interview to the in-house magazine for the John Lewis Partnership. We also hosted a lunch and learn session for Waitrose staff with a South American cocoa producer who explained the incredible impact that Fairtrade cocoa had in his community. To promote the cocoa conversion externally we worked together on a joint press release, and secured significant press coverage. In addition, Waitrose & Partners were one of the key sponsors of Fairtrade Foundation's hugely successful Pop-Up Hot Chocolate Salon in Shoreditch. Later in the year, we collaborated on a competition in the run up to Christmas across Fairtrade Foundation's digital channels to win a collection of Waitrose & Partners confectionery. The competition was a great success with a reach of nearly 200,000 and over 10,000 engagements.
We built on these successful activities for the 2020 Fairtrade Fortnight campaign. During the campaign, Waitrose & Partners sponsored the annual All Party Parliamentary Group event at the Houses of Parliament, where cocoa producers were given the opportunity to share their stories with 89 MPs and Waitrose & Partners provided an update on their Fairtrade commitments.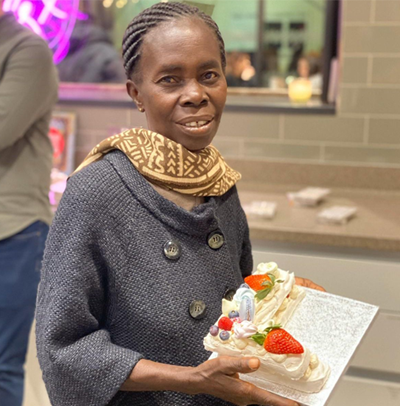 We hosted an engaging lunch & learn session for staff with Leocadie, a visiting Fairtrade Ivorian cocoa farmer. We worked together to spread Leocadie's story as widely as possible, culminating in a hugely successful event at the Waitrose Cookery School with inspirational influencers. The event included a meal highlighting the wide range of Fairtrade ingredients available from Waitrose & Partners, as well as an interactive demonstration with the Meringue Girls. Leocadie shared her inspirational story with the influencers in attendance, who were inspired to post about her story and the event, generating a huge reach of nearly 2 million. Not only this, but Leocadie joined the demonstration led by the sensational Meringue Girls, baking alongside guests and even trying chocolate herself for the very first time – happily, she loved the sweet taste! An interview with Leocadie, conducted at the event, was featured in Waitrose Weekend, which has a circulation of around 400,000.
Through working together to spread Leocadie's story, and the story of the impact that Fairtrade sourcing has on her community, we succeeded in promoting the benefits of Fairtrade sourcing more broadly.
If you would like to get involved with Fairtrade Fortnight, take a look at the latest activities.
The impact
Waitrose & Partners' significant Fairtrade commitments provide leadership in the grocery sector, demonstrating how business can be conducted both profitably and with integrity. Such a long-lasting partnership has a huge, positive ripple effect on communities. In 2019, in addition to ensuring that their farmers and producers received a fair price for their produce, Waitrose & Partners generated over £2.5 million of Fairtrade Premium through the sourcing of their own label products.
But don't take our word for it. The impact is best demonstrated by producers who benefit from selling their cocoa on Fairtrade terms, like Leocadie.
Leocadie is a member of Fairtrade co-operative Ecookim in Côte d'Ivoire. She has been a cocoa farmer since 1985 when she and her husband decided to farm cocoa. It was hard to make a profit from cocoa, and the price they received was low as they had to accept the price offered by local intermediaries. Leocadie was fortunate to inherit a farm, which provided her with her independence and some additional income. In 2015, representatives from Ecookim came to her village telling her and other producers about the benefits that they had experienced through Fairtrade and encouraging them to join. Upon joining Fairtrade, Leocadie received training on farming methods, which meant she was able to increase her annual yield. She also receives more for her cocoa through the Fairtrade Minimum Price, which has allowed her to put her children through school and university. Leocadie has also seen many other benefits of Fairtrade in her community from constructing school classrooms to building warehouses to store their cocoa securely. She says:
Fairtrade is a win-win relationship – it helps us to have good quality production, to invest and to have a good income… with Fairtrade we are autonomous. Our community has benefited from a hydraulic water pump, and classrooms at the primary school and high schools.

Cyr Leocadie Voho, Cocoa Farmer, Fairtrade co-operative Ecookim in Côte d'Ivoire
We hope that you've been inspired by the impact created by our long standing partnership with Waitrose & Partners. Should you wish to learn more about how your business could make an impact on the farmers and workers in your supply chain, please contact the Fairtrade Commercial team.
Waitrose & Partners bring so much to the Fairtrade movement, not only the vital action of sourcing on Fairtrade terms, and stocking many Fairtrade brands, but also using their incredible brand to support those who need their voice amplified: farmers and workers. Thank you for your partnership.

Catherine David, Head of Commercial Partnerships, Fairtrade Foundation
Next up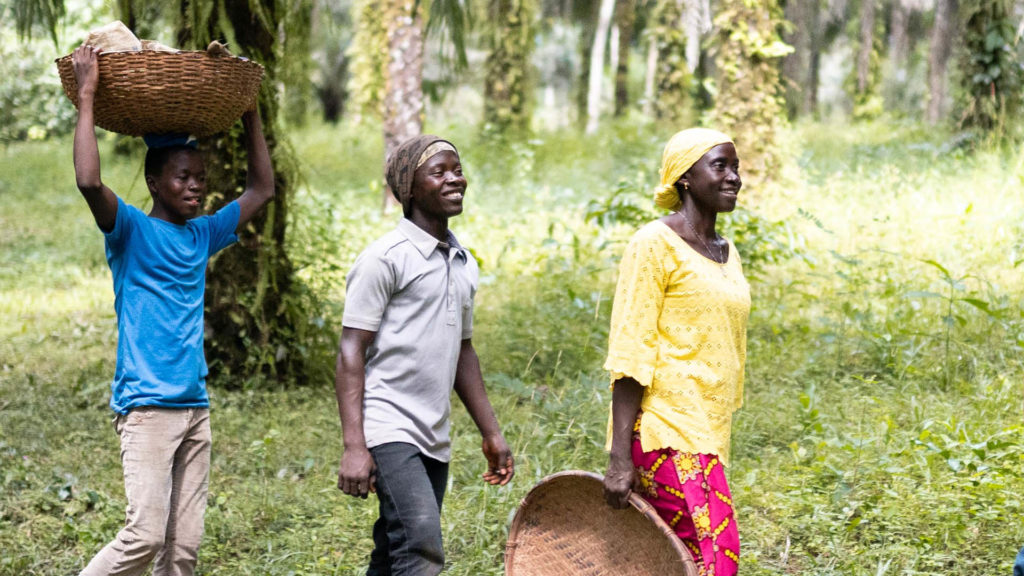 Divine: Empowering Farmers and Consumers
Get in touch