Fairtrade Fortnight 2022 will take place from February 21 to March 6. Keep an eye on this page for updates to find out how your business can get involved. 
During Fairtrade Fortnight 2022, we will highlight the continued challenges that climate change brings to farmers, workers and their communities around the world. Many of the farmers and workers that grow the world's food do not earn enough to live decent lives, invest in their community or build resilience against health and climate shocks.
Fairtrade fortnight and climate action
The failure to deliver enough progress at COP26 means we can't wait any longer for governments to get serious about climate action. Fairtrade Fortnight 2022 is a major moment for commercial partners, consumers, producers, campaigners and civil society to come together and further amplify the voices of Fairtrade producers on the frontline of the climate crisis.
Together we can highlight the important role of businesses and consumers in supporting farmers and workers around the world to build greater climate resilience through Fairtrade.
When is Fairtrade Fortnight?
Fairtrade Fortnight will run from Monday 21 February to Sunday 6 March 2022. 
your Campaign Toolkit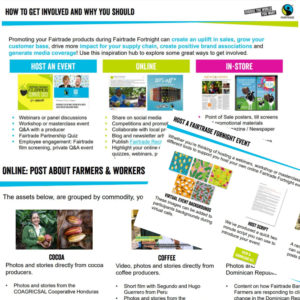 We've put together a Commercial Partners Campaign Toolkit just for you. In it we suggest ways for you to activate during Fairtrade Fortnight, and provide you with ready-to-use resources such as posters, till screens, graphics and information to help you get started in-store, and online.
The toolkit includes:
Refresher on the Fairtrade Fortnight Campaign
Inspiration for how you could activate this year
Discover the asset library
Learn how best to use this year's assets
View and download the assets
How can you get involved?
Here are some of the ways you can participate in Fairtrade Fortnight and share your own Fairtrade story with customers, clients and colleagues!
1.  TELL YOUR FAIRTRADE STORY
Tell your Fairtrade story online and in-store using the resources in our Commercial Partners Toolkit, which includes posters, illustrations and our Choose The World You Want brand film.
Download the resources and use them on your social media, in your newsletter, in-store and more. When posting online, remember to use the hashtag #FairtradeFortnight.
2. Hold a virtual event
Our Choose The World You Want online festival brings together businesses, customers, campaigners and farmers from across the world, through online events and storytelling. You can get involved with the festival too!
Whether you're considering hosting a product tasting, a demonstration, a virtual pub quiz or a panel discussion with a Fairtrade producer – let us know and we may include your event in our festival lineup.
Explore the Commercial Partners Toolkit to learn more about how to get involved and find the resources you need to support your event.
3. IN-STORE AND PRODUCT PROMOTIONS
The Commercial Partners Toolkit also contains a variety of assets to support in-store activities, such as till screens and posters. Tell us about any product launches, promotions or competitions you're planning so that we can promote them on our social media channels and the festival website.
We would love to hear about all of the different ways you plan to celebrate Fairtrade Fortnight. Please keep us informed by sending us an email to commercial@fairtrade.org.uk 
4. Sign up to our monthly newsletter for business: FAIR Comment
Stay up-to-date with the latest news about Fairtrade Fortnight, future campaigns and events, industry trends and developments, opinion pieces and more.