The world's wealthiest people caused the climate crisis – 50 percent of global emissions are the responsibility of the highest-earning 10 percent. But it's the communities our Fairtrade movement exists to support who are facing the worst realities of climate change right now.
Increasingly unpredictable and extreme weather is forcing farmers and workers, often already on scandalously low incomes due to deeply unfair global trade, into serious hardship.
Join us in challenging politicians in the countries most responsible for climate change to deliver a fair climate promise. Sign the petition to support Fairtrade farmers and workers demand for bold action at the COP 26 UN climate summit in Glasgow this November.
the journey to climate justice in 2021
This year, the UK is hosting a critical UN climate summit, known as COP 26, which will take place in November.
This gives us a brilliant chance to convince our politicians to listen to the farmers and workers we depend on. It's a chance for politicians to deliver a fair climate promise that works for them.
Wealthier nations like the UK are responsible for, and have benefited from, the global systems that have caused the climate crisis and the crisis of extreme global injustice. The wealthiest 10 percent are responsible for 50 percent of global emissions, while the lowest 50 percent by income are responsible for just 10 percent of global emissions.
So we need to tell our politicians it's time to own up to our responsibilities. This is the nation's chance to play its part in delivering a fair climate promise and a fairer future.
Our global Fairtrade community is challenging governments of the countries most responsible for the climate crisis to, at a minimum, deliver on an unfulfilled promise to fund a $100bn climate investment package for communities most affected by climate change.
And even more importantly, we're demanding that these politicians respect the expertise, needs and ambitions of farmers and workers. Communities on the front line of the climate crisis must take a leading role in deciding how any funds are spent.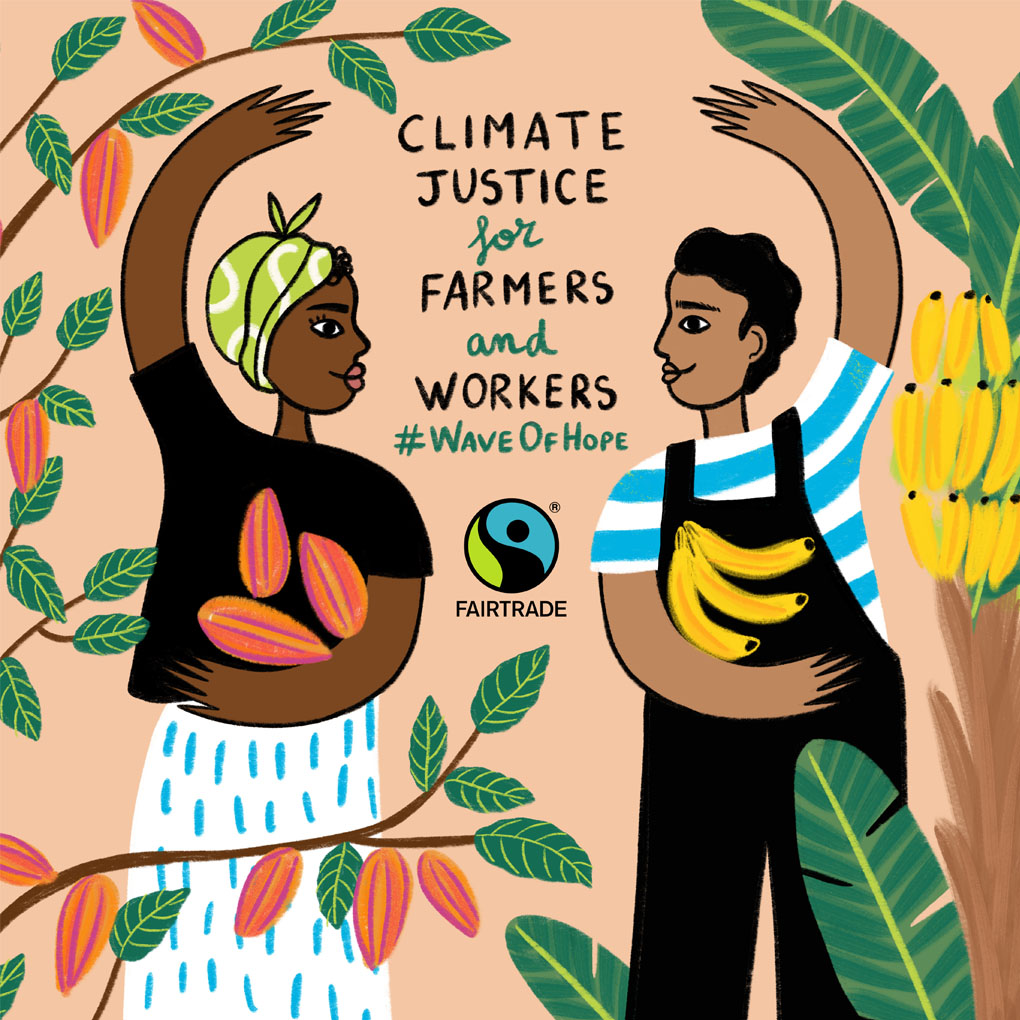 how you can get involved
From asking your MP to get involved to organising an event, you will find supporting resources on the Fairtrade and Climate Justice section on the Resources Library. To order our new Be fair with the climate promise campaign cards, place a free order using our online order form.
And don't forget, to sign-up to get our emails to make sure you don't miss any of it!
But for starters, here are five ways you can work for a fair climate promise.
1. Sign fairtrade farmers' petition
Tell politicians coming to Glasgow for the COP26 climate summit it's time to listen to Fairtrade farmers and workers.
1.8m Fairtrade producers have put their names to a letter calling on politicians to invest in the solutions to climate change they are
already pioneering.
Sign the petition to support Fairtrade farmers and workers' letter.
2. Sign the climate declaration
The Fairtrade Foundation is a proud member of the Climate Coalition, and we're backing their Climate Declaration, which challenges politicians coming to the UN climate summit COP 26 to 'leave no-one behind' as we build a fairer, greener and more sustainable future.
Along with over 100,000 individuals, dozens of Fairtrade community groups have put their names to the declaration. Join them today by signing to back the farmers and workers facing up to a climate crisis.
3. Join in with Great Big Green Week and climate fringe week
This September, Great Big Green Week, known as Climate Fringe Week in Scotland, will celebrate positive action on climate change. Fairtrade supporters and community groups are joining in, running events big and small all over the UK.
From information stands at local churches to fashion shows, the Fairtrade community has already come up with some great ideas to spread the word that we need to listen to the farmers and workers facing the climate crisis. Find out more about getting involved on our Great Big Green Week webpage.
4. watch and share the video on fairtrade and the climate crisis
Choosing Fairtrade, and choosing to campaign with our global Fairtrade community, is one way to stand with the people most threatened by the climate crisis. This short video explains why and how Fairtrade is part of the journey to climate justice.
5: Check out our Choose the world you want festival
Earlier this year we celebrated Fairtrade Fortnight with a special virtual festival, which focused on climate, Fairtrade and you.
Dozens of free events are still available to watch on demand, each one exploring the different ways we can tackle the climate crisis.
Relive the Choose the world you want festival
what the climate crisis means for farmers and workers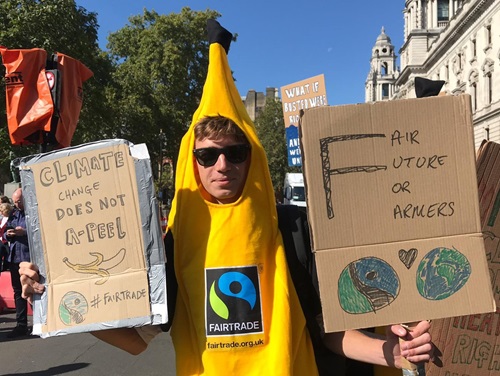 More and more Fairtrade farmers are speaking out about the impact of climate breakdown.
Fairtrade farmers are among the people who have contributed the least to climate crisis – but are already feeling the worst effects. 17 people from Côte d'Ivoire have the same carbon footprint as one person in the UK, but studies have shown that Africa is the continent most vulnerable to climate change.
Across Africa, Asia, Latin America, the Caribbean and Oceania, small-scale farmers are often experiencing the worst effects of climate breakdown. They're less likely to earn a living income due to exploitative global trade and more likely to rely directly on the land they farm for their livelihoods. Climate change is making it harder to farm the land productively, while rigged trade systems, which favour the powerful, leave farmers unable to earn enough to adapt to the rapidly changing climate.
Ebrottié Tanoh Florentin, a cocoa farmer in Côte d'Ivoire, talks about what climate change means for cocoa farming communities in West Africa.
'Climate change is a global issue. We, the farmers, have to deal with its consequences every day. For instance, this year we lacked food because of the heat. The production decreased this year too, so this affects the economy. People harvested less and received less money. So we all suffer from the negative consequences of the climate: it impacts the environment and our economy.'
Read three more stories of Fairtrade farmers taking on the climate crisis.
Learn more about fairtrade and climate justice
Why trade justice is necessary for climate justice
Too many farmers barely earn enough to make ends meet as it is, even without factoring in the effects of climate change. This is why we are fighting for farmers to earn a living income, so they have the power to effectively fight the crises affecting their communities and continue with their livelihoods sustainably.
Find out more about our campaign for living incomes.
Hear from Fairtrade farmers
From Guerrero family, who farm coffee in Peru, to Árelis Bueno, part of Las Mercedes Banana Producers in the Dominican Republic, climate change is an immediate threat to the livelihoods of of the people who grow the foods and goods we depend on.
Watch this selection of short videos featuring Fairtrade farmers and workers explaining the challenges the climate crisis poses them every day. And how Fairtrade means more power and more income to take on these challenges.
Fairtrade Standards help protect the environment
Fairtrade also supports farmers to combat climate change through technical advice from our expert Producer Networks and our environmentally friendly Fairtrade Standards.
Our Fairtrade Standards require small producers to take steps to:
Adapt to climate change
Reduce greenhouse gases and increase carbon sequestration
Avoid deforestation and protect forests
Tackle soil erosion and increase soil fertility
Reduce water wastage