Millions of people across the globe who provide us with our everyday essentials are on the front line of the climate emergency. And a deeply unfair global trading system means far too many are not earning enough to deal with the consequences of that climate crisis, which is posing an immediate threat to their livelihoods.
But crucially, together, we can still win a better future.
Fairtrade farmers and workers are fighting back demanding trade that will create a sustainable future for people and planet, and using sustainable farming techniques in line with our Fairtrade Standards.
They are already taking steps to tackle climate change. Will you join them? Add you name to the Climate Declaration to stand with farmers and show businesses and the government in this country we will not accept inaction.
Sign to join the Fairtrade fight against the climate crisis
Fairtrade is more than a Mark on a product. It's a call for change.
That's why the Fairtrade Foundation is part of the Climate Coalition, and backing the joint Climate Declaration, signed by over 100,000 people, calling for radical action to tackle the climate crisis and support for those feeling it's worst effects.
With the next UN Climate Summit taking place in Glasgow in November 2021, it's more important than ever that we all make sure producers' voices are heard in the UK and beyond. So please sign and share the Climate Declaration today.
How does fairtrade tackle climate crisis?
Choosing to back Fairtrade is one way we can stand with those vulnerable communities on the front line of the climate crisis. Please watch and share this short video to spread the word.
There's no trade justice without climate justice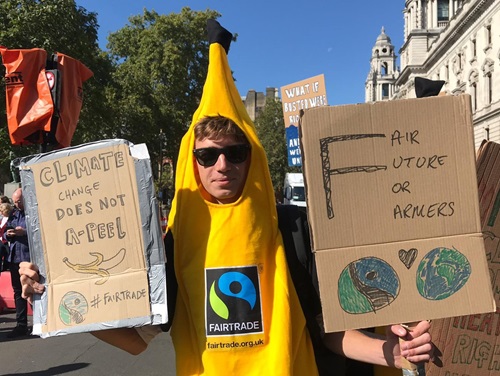 More and more Fairtrade farmers are speaking out about the impact of climate breakdown.
Fairtrade farmers are among the people who have contributed the least to climate crisis – but are already feeling the worst effects. 17 people from Cote d'Ivoire have the same carbon footprint as one person in the UK, but studies have shown that Africa is the continent most vulnerable to climate change.
But across Africa, Asia, Latin America, the Caribbean and Oceania, it is small-scale farmers who are often feeling the worst effects of climate breakdown. This is because they are less likely to earn a living income due to exploitative global trade and more likely to rely directly on the land they farm for their livelihoods. Climate change is making it harder to farm the land productively, while rigged trade systems which favour the powerful leave farmers unable to earn enough to adapt to the rapidly changing climate.
Ebrottié Tanoh Florentin, a cocoa farmer in Côte d'Ivoire, talks about what climate change means for cocoa farming communities in West Africa.
'Climate change is a global issue. We, the farmers, have to deal with its consequences every day. For instance, this year we lacked food because of the heat. The production decreased this year too, so this affects the economy. People harvested less and received less money. So we all suffer from the negative consequences of the climate: it impacts the environment and our economy.'
Read three more stories of Fairtrade farmers taking on the climate crisis.
Trade justice is also necessary for climate justice
Tackling climate change is at the heart of the fair trade movement, as it threatens the livelihoods of those we are working to protect.
Too many farmers barely earn enough to make ends meet as it is, even without factoring in the effects of climate change. This is why we are fighting for farmers to earn a Living Income, so they have the power to effectively fight the crises affecting their communities and continue with their livelihoods sustainably. Find out more about our campaign for Living Incomes.
The Guerrero family, who farm coffee in Peru, face the impacts of the climate crisis and explain in the video below how the Fairtrade Minimum Price and Premium are enabling them to take action.
You can read more about how Fairtrade farmers are choosing to use their Fairtrade Premiums to increase their resilience in the face of the climate crisis on our website.
Fairtrade Standards help protect the environment
Fairtrade also supports farmers to combat climate change through technical advice from our expert Producer Networks and our environmentally friendly Fairtrade Standards.
Our Fairtrade Standards require small producers to take steps to:
Adapt to climate change
Reduce greenhouse gases and increase carbon sequestration
Avoid deforestation and protect forests
Tackle soil erosion and increase soil fertility
Reduce water wastage
What can I do to help?
We can all do our bit to bring about a more just and sustainable world. We have some ideas below on how to get started:
1. Join the campaign
In 2021 our global Fairtrade community is coming together to take on the climate crisis. Get all the latest about how you can be part of it by signing up for our regular email updates.
There's also Fairtrade campaign groups all over the UK who are always eager to meet new campaigners keen to join the inseparable fights for trade justice and climate justice. Find your nearest group on our Fairtrade Communities map.
2. Find out more about Climate, Fairtrade and You
In 2021 our annual Fairtrade Fortnight campaign focused in on the urgent need for farmers and workers around the world to earn more to deal with the climate crisis they face every day.
Fairtrade Fortnight may now be over, but there's still dozens of informative, fun online events you can watch back ,and even guides and resources to help you run your own events showing how and why our global Fairtrade community can play a crucial role in taking on the climate crisis. Find out more on our campaign page.
3. Share our Fairtrade and Climate Change short video
Help spread the word that trade justice is a vital part of the solution to the climate crisis. Use the buttons below to share this video explaining why tackling the climate crisis is such a huge priority for our global Fairtrade Community.
4. Buy environmentally friendly products
It is important that as consumers we exercise our choice in climate friendly ways. That means that we ought to buy less, but also buy better. So, when you're out shopping look for the Fairtrade Mark and know that you're supporting farmers and workers to protect themselves against the climate crisis. Find more information on Fairtrade products.
5. Fundraise for Fairtrade
The Fairtrade Foundation is a charity and relies on donations to help us stand with farmers and workers around the world fighting for a better future. Can you help us raise more funds to make Fairtrade an even more powerful force for change?
Here's 8 great fundraising ideas to try out, and any donation you can make – big or small – is always hugely welcome.