Wells-Next-The-Sea Community Group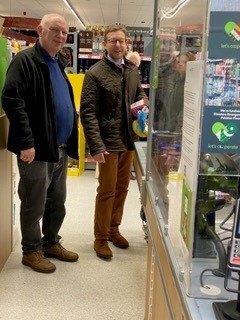 Fair Trade activists in Wells-Next-To-The-Sea organised a great event in Fairtrade Fortnight which combined tackling globally inequality through Fairtrade with addressing domestic food poverty.
The 'Fairtrade Shop for Food Bank' initiative used the group's own fundraised funds and a grant from the local Central England Co-Op to buy £300 worth of Fairtrade goods, to be donated to the local foodbank.
The town Co-op supermarket was so well stocked with Fairtrade goods they were able to spend the entire £300 on Fairtrade products.
The group also took the clever decision to invite along their local MP Duncan Baker to join for the shopping session. This gave members of Wells Action for Fair Trade a chance to tell their MP all about the importance of taking action to deliver fairer trade that works for all – tackling poverty globally and locally.
Our local MP Duncan Baker accepted our invitation to join us on our shopping trip…. We then took the food to the collection hub at The Old Cottage Hospital.

Cathy Gates, Wells Action for Fair Trade Community
By demonstrating the relevance of Fairtrade to their MP, and finding an innovative way to get quality time with their representative and take positive action in their local community, the group have pushed Fairtrade up the local political agenda. And that could be crucial when their MP is voting on important issues in the House of Commons.
We love hearing about the many ways campaigners convince their MPs to join the fight for fairer trade – we look forward to hearing more about anything you try out!