by Caroline Hillam
This year's Fairtrade Fortnight was a huge success. Thousands of campaigners across the country came together with speakers from around the world to campaign for fairer pay for farmers and combat climate change.
We wanted to showcase some of our amazing activists in the hope of inspiring future campaigns. This is just a selection of the hundreds of events that took place and the many ways Fairtrade campaigners are backing farmers' demands for climate justice, as well ideas for how you can get involved.
Fairtrade London walk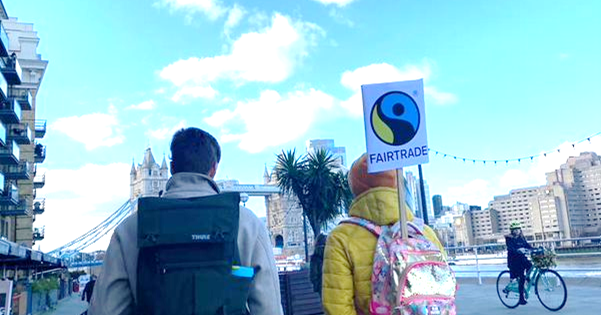 On 25th February, campaigners took to the streets of London for a three hour walk through some of the city's most historic areas.
They learned about London as a global trading centre, the history of some of Fairtrade's most popular products, such as coffee, tea, and sugar. They also learned about the transatlantic slave trade and the links to modern day inequalities that Fairtrade's supply chains are seeking to address.
Why we love this
Walking around your local area is not only a great way to raise visual awareness of Fairtrade within your community, but it is also a socially distanced way to campaign together and get your steps in!
How to get involved
Explore Fairtrade London's website for resources and upcoming events in your local London borough.
Visit Fairtrade London's website
If you want to put on your own walk but don't live in London, don't worry; use our map to find your local Fairtrade community.
Use the Fairtrade Communities Map
Arts University Bournemouth
On 4th March, the Arts University of Bournemouth put on a Willy Wonka inspired Chocolate Farm display to help educate people about cocoa supply chains and choosing Fairtrade chocolate.
Students came together to create their own interpretations of a cocoa farm and included facts about the cocoa industry.
People were invited to come along and add to the 'wish tree' to demonstrate how they want the world to look in the future. Wishes ranged from eradicating global poverty to combating climate change.
Other displays put on by the university students included informative tents about production chains including bananas, coffee and cotton.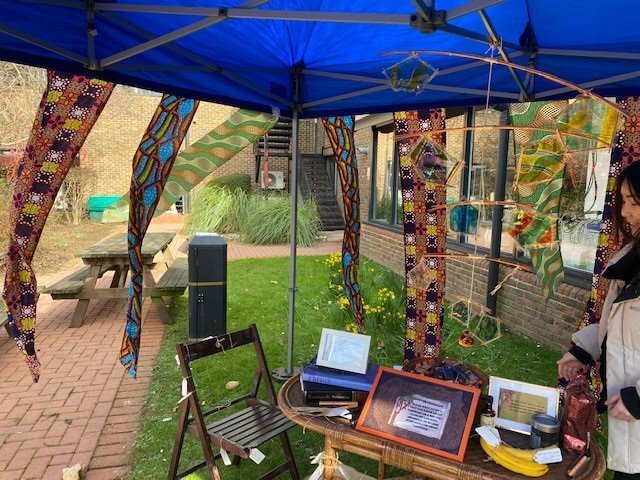 Why we love this
We love this because it's a creative way to show you care! You can create something visually beautiful while raising awareness at the same time. This is a great activity to do with your local community and fun for all ages.
How to get involved
To get your institution involved, visit the Fairtrade Universities and Colleges webpage
If you simply want to get involved with some creative ways to spread the message, explore our resources library where you can find inspiration for your next project.
Visit the Fairtrade Resources Library
Fair Fashion? A conversation on fashion, race and climate justice, Fair Trade Wales
On 2nd March experts came together to discuss fashion, race and climate justice alongside the Sub Sahara Africa Panel (SSAP). The panel included a fashion designer activist, an educator and campaigner, and Fairtrade's Senior Cotton and Textile lead.
The conversation centred around facts about the fashion industry's contribution towards global carbon emissions, and therefore climate change. The fashion industry's impact doesn't stop there, it also has a huge human impact and has often relied on the exploitation of workers, 80% of which are women of colour.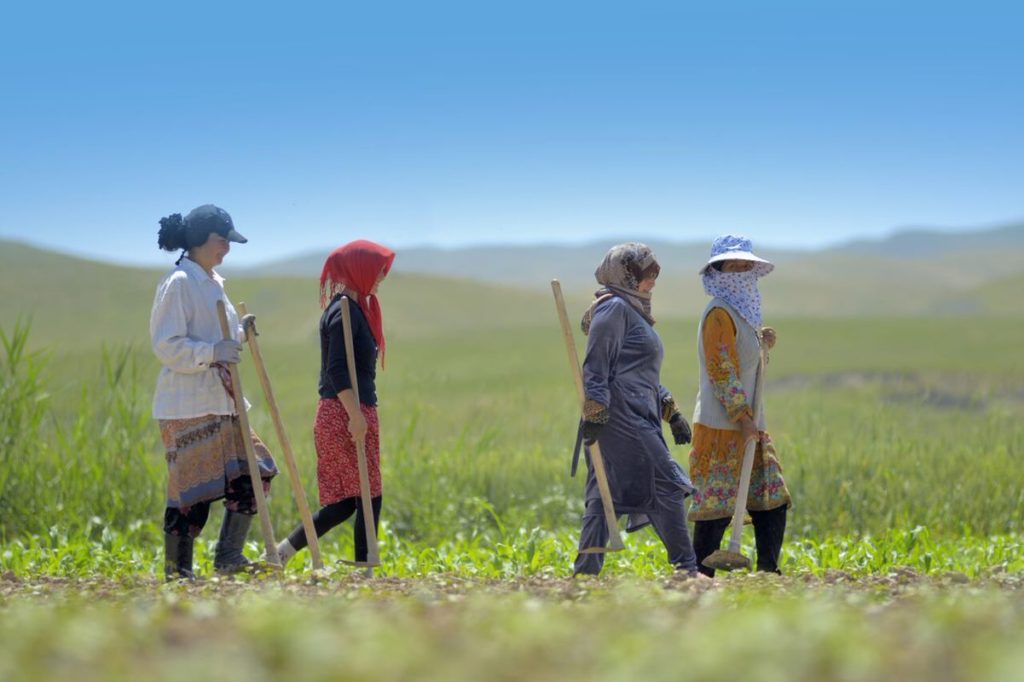 Why we love this
We love this because it delves into the deeper issues surrounding the relationship between race and fair pay, while also addressing fast fashion and the impact it has on the 350 million people working in the cotton sector, the majority of whom come from Central and West Asia and Africa.
How to get involved
Learn more about how Fairtrade works with cotton workers
Get inspired by watching more events from this year's Fairtrade Fortnight
Fairtrade trail, Reigate Fairtrade community
Fairtrade campaigners in Reigate organised a 'Fairtrade trail' tour around the town, showing off the great local businesses where we can buy and try Fairtrade.
They were even joined by the Mayor, who announced the winner of a competition to win a Fairtrade hamper.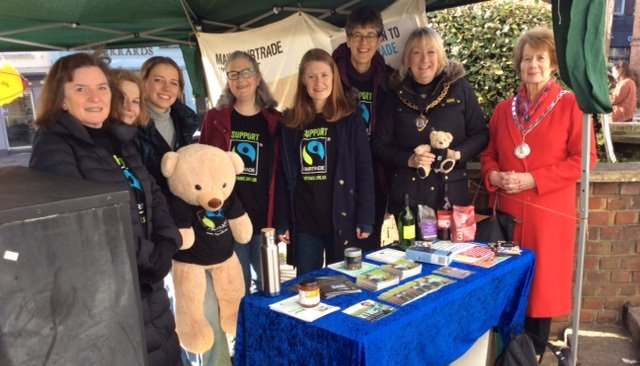 Why we love this
We love this because it not only helps you learn where you can source Fairtrade products locally, but it also shows support for the businesses who sell Fairtrade products.
How to get involved
Discover which businesses partner with Fairtrade and where to find Fairtrade products.
Visit the Buying Fairtrade webpage
Or if you're a business owner, learn how your business can get involved.
Visit the Fairtrade for Business webpage
Coffee ceremony, Harrow Fairtrade community
As part of Fairtrade Fortnight, on 22nd February visitors to Café Connect, part of Stanmore Baptist Church in London, were treated to a Fairtrade chocolate and coffee.
There was also a demonstration of traditional Sudanese coffee which was served in little glass cups from a traditional East African coffee pot called a Jabana, with dates and popcorn.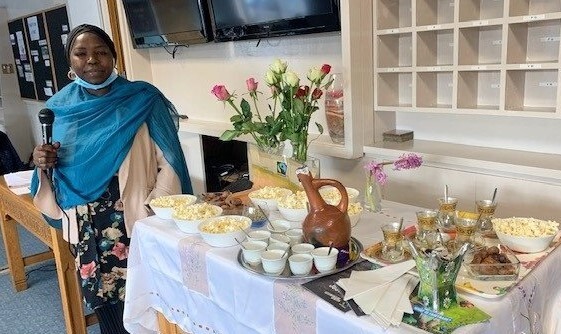 Why we love this
We love this since it's a fantastic opportunity to bring your community together while also learning about other cultures. Not to mention enjoying delicious Fairtrade coffee and chocolate at the same time – yum!
How to get involved
Learn how you can involve your faith group with Fairtrade campaigning
Hear from Fairtrade coffee farmers about their industry and experiences
Flying the Fairtrade flags, ReCreate Mossley
Mossley celebrated 10 years of Fairtrade status by literally flying the flags for Fairtrade Fortnight. These beautiful silk, batik flags were designed and created by the local community in creative workshops.
Since then, they've been brightening up the centre of the town, providing a talking point for the local community to find out more about the people behind our favourite products and choose a fairer deal for them through their consumer choices.
Why we love this
We love this because its celebrating shared history with campaigners and seeing how much of a difference people make over the years. It's a bold statement and a way to get your town talking about Fairtrade.
How to get involved
You too could celebrate milestones campaigning with Fairtrade by getting involved with some of our campaigns now.
Find out how together, our impact has improved the lives of so many people over the last 25 years.
Read about the history of Fairtrade
Vox pops, Brent Fairtrade community
Campaigners in Brent visited local shops to ask people in their area what Fairtrade meant to them.
'Vox Pops' are a short videos made up of interviews with public, literally meaning 'voice of the people'. These videos are a great way to find out how your community sees Fairtrade and an opportunity to give people more information about how Fairtrade works and what products are available to buy.
After being asked what Fairtrade means to them, one person said: 'From the source to the supermarket, it's produced in a way that's not exploitative. Everyone within that chain is being paid fairly and it's ethically sourced.'
Another said it means 'trade that does not damage the planet and it's fair for consumers and producers alike.'
This is just one example of how social movements and Fairtrade activists can harness the power of social media to influence the market.
Why we love this
We love this because it's involving the public in the conversation. This opens up discourse around what people know about Fairtrade already and creates the opportunity to educate about the importance of fair pay for farmers.
How to get involved
Film your own vox pops or community action and share it with the world!
Follow us on social media Facebook, Instagram, Twitter, YouTube
Remember to tag us or use the hashtags #Fairtrade or #ChooseFairtrade when you post so we can see all your creations.
Informing the communi-tree, Skipton Fairtrade & Water Street Primary School
Local children from Water Street Primary School wrote special messages directed to world leaders for Fairtrade Fortnight. The tree guards were decorated with messages urging MPs to deliver on promises made at COP26.
As a result, these messages will be shared with the local MP. What great campaign work from such young campaigners.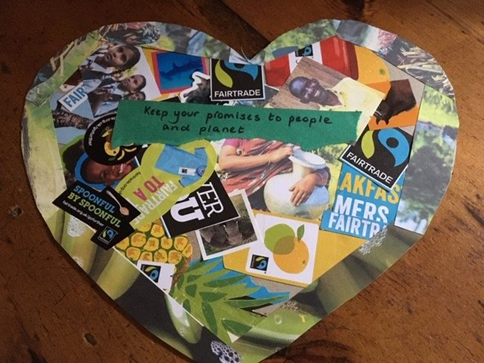 Why we love this
We love this because the new generation are game changers. Young people are at the forefront of fighting climate change because they are the ones it will affect the most.
How to get involved
Find out how to involve your school and include Fairtrade within the curriculum.
Find information and resources on Fairtrade Schools
The banana campaigner, Croydon Fairtrade community
Fairtrade Fortnight wouldn't be right without a dancing banana. And that's exactly what one brave campaigner in Croydon decided to take on to raise awareness.
https://twitter.com/AnnieSalte/status/1497131354936467470?s=20&t=CMICpKSQ1o08sLgpR0svjQ
Why we love this
We love this because campaigning can be silly! Don't be afraid to dress up, put your game face on and show the world how much you care about fighting global poverty and climate change, even if that is through interpretative dance!
Feeling inspired?
Campaigning doesn't stop at Fairtrade Fortnight! If you've been inspired to get started then explore our website for upcoming events and resources.
Spread the word on why fairer trade is a critical part in winning climate justice!
Join your local Fairtrade community
If you have any questions please contact us and our team will be happy to support you getting started.
Read more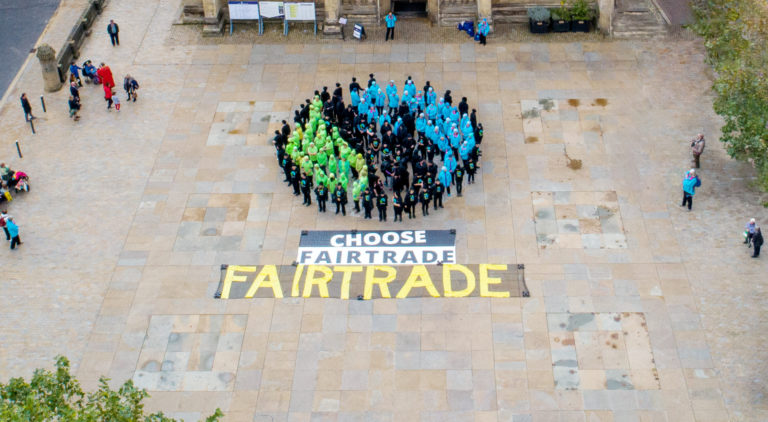 20 years of Fairtrade Communities: the power of collective action
22 November, 2021