The cut flower trade is now a major industry in both developing and developed countries, with global trade estimated to be worth more than $100 billion a year.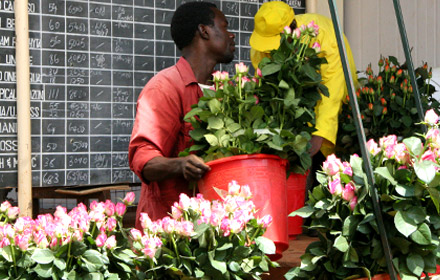 The Netherlands is a major exporter of cut flowers, accounting for 48.9% of trade followed by Colombia (14.9%), Ecuador (9.3%) and Kenya (7.5%). The major consumptions markets are Germany (19%), USA (17%), UK (16%) and the Netherlands (13%).
The industry is becoming increasingly important to the economies of developing counties, bringing in vital foreign exchange for investment in economic development. Most flowers are produced on commercial farms and provide employment opportunities and improved livelihoods for millions of workers. Kenya's flower industry provides vital income for up to two million people and is the country's second largest agricultural foreign exchange earner (after tea) at more than $500 million a year.
The flower industry employs a largely female workforce of poor, less educated and therefore vulnerable workers. It has long had a reputation for poor working conditions including low pay, over-crowded housing and repression of trade unions. Over the past years, conditions have vastly improved for workers in many countries, but there are still challenges.
How Fairtrade is making things better
Fairtrade aims to protect and benefit workers on flowers farms by working with certified farms to ensure decent working conditions for their employees and protecting workers' rights. These rights encompass economic, environmental and social dimensions of working conditions but also aim to amplify and strengthen the voice and choices of workers' themselves. A study by Fairtrade International with three certified flower plantations in Ecuador, provides useful insight into how workers view their own empowerment and how Fairtrade can support their goals. Read the study on flower plantations in Ecuador – pdf
Fairtrade works with 74 Fairtrade certified flower producer organisations in six countries, representing nearly 70,000 workers. Fairtrade sales generate an additional Fairtrade Premium for workers to invest in projects of their choice. In 2019, sales of over 934 million stems meant flower plantation workers received Premium payments of €8 million which they spent on education, housing improvements, finance and credit services, as well as supporting education in their communities by renovating school buildings and providing student bursaries. This video about Ravine Roses, a Fairtrade certified flower plantation in Kenya, shows the difference that Fairtrade Premium funds have made to worker empowerment and community development in the region.
In 2020, flower farms were severely affected by Covid-19, but Fairtrade provided a lifeline. Find out more about the impact of Covid-19 on flower farms – pdf.
We are also continuing to work with commercial partners and with the wider industry to explore how we can continue to build resilience and work towards living wages in the flower industry. You can read more about this work and our recommendations in our paper, 'Recommendations for building fairer and more sustainable and resilient flower supply chains in East Africa'. Read our recommendations for more sustainable flower supply chains – pdf.
Fairtrade Flowers are not only supporting flower workers, but they are also better for the environment. Fairtrade and the Migros-Genossenschafts Bund (MGB) in Switzerland commissioned a life-cycle analysis to understand the environmental impacts of cut roses from different origins. Researchers found that cut roses imported into the EU from Kenyan growers generated the lowest environmental impact. Greenhouse gas emissions were 5.5 times lower and production required 6.5 times less energy than that their Dutch counterparts. The reason for the considerable differences lie in how the greenhouses are heated. Farms in the Netherlands rely on natural gas, whereas farms in Kenya greatly benefit from year round moderate temperatures, sunlight and more consistent rainfall. Even when accounting for the negative impacts of air-freight transport, roses grown in Kenya still generated significantly lower emissions and used less energy.
Find out more about the environmental impacts of cut roses
Meet Rosemary, a Fairtrade flower worker
Find out where to buy Fairtrade flowers
Whatever the occasion, you can say it with Fairtrade flowers. With 69 shades available across UK retailers and online there is colour to suit everyone.
Find Fairtrade flowers near you
Our flowers
Bigot Flowers Ltd started growing roses in 2002. When they achieved Fairtrade certification in 2008, they made lots of positive changes.