21 February to 6 March 2022
Watch this space for upcoming information about Fairtrade Fortnight 2022. Read on to find out what we got up to during Fairtrade Fortnight 2021.
Fairtrade Fortnight 2021
Thanks for being part of this year's Fairtrade Fortnight. We came together in a show of support for the farmers behind our food on the front line of the climate crisis. If you missed anything or want to relive the fun, visit the festival website to find events available to watch again.
For two weeks each year at the end of February and start of March, thousands of individuals, companies and groups across the UK come together to share the stories of the people who grow our food and drinks. mine our gold and who grow the cotton in our clothes, people who are often exploited and underpaid.
In 2021, Fairtrade Fortnight felt very different. 2020 has been a hard year for everyone and we know that physically campaigning and meeting people will continue to be challenging in 2021 but we have also heard from so many of you that you want to continue to support Fairtrade through this time.
The COVID-19 pandemic has shown us more than ever how interconnected we are globally. This interconnection is at the very heart of the Fairtrade message and is where your role begins. You are part of the Fairtrade movement and you have the power to drive long-term change, not only with your shopping choices but with your support in spreading the message. We just have to do this a little differently in 2021!
CHOOSE THE WORLD YOU WANT THIS FAIRTRADE FORTNIGHT
In Fairtrade Fortnight 2021, we highlighted the growing challenges that climate change brings to farmers and workers in the communities Fairtrade works with. The facts are straightforward. Farmers and workers in countries such as Kenya, Ethiopia and Honduras, who have done the least to contribute to climate change, are disproportionately affected by it. They have told us that:
Climate change is one of their biggest challenges right now.
Low prices for their crops mean that they are struggling to fight back.
Only with more money will they feel equipped to meet their everyday needs and deal with the challenges they face from climate change.
The climate crisis is an immediate and ever-increasing threat and those in climate vulnerable countries are already seeing its impacts from droughts and crop disease to floods, heatwaves and shrinking harvests.
With the emergence of the global COVID pandemic, the challenges that farmers face now are bigger than ever before with falling commodity prices and widespread shocks reverberating along our global supply chains. Ongoing poverty in farming communities makes it increasingly hard to cope with the effects of climate change.
climate, Fairtrade and you
We need your help to put farmers'  voices at the heart of tackling the climate crisis and share the reality of their struggles. Our global trading system is balanced in favour of the powerful few. Trapped in this system, farmers already struggle to meet their immediate needs. More than ever, they need a fair price for their crops and their hard work. ​
Fairtrade works to raise the voices of farmers and workers and prioritise what they need to respond to the environmental crises unfolding in already vulnerable communities. This Fortnight, we asked you to 'Choose the World You Want' and use your voice to tell others about the challenges that farmers face from climate change.
We hosted an online festival bringing together schools, universities, businesses, supporters, campaigners and farmers from across the world to choose the world they want. Visit the festival website.
How can I get involved?
Watch On Demand some of the fascinating and fun events featuring all parts of our global Fairtrade community, including Fairtrade farmers and workers, other climate campaigners and of course the amazing grassroots network. Visit the festival website
Fairtrade Fortnight 2021 in Schools
Our 'Climate, Fairtrade and You' Education Packs have been produced for teachers and educators to discuss how the climate crisis affects farmers and workers overseas. Through assemblies (designed with social distancing in mind!), lesson plans and activities, young people will have the opportunity to discover how their choices can impact people around the world, but also the planet that we live on.
Visit the Fairtrade Schools site to download your Education Pack for Primary schools or Secondary schools. ​
HOW DOES FAIRTRADE SUPPORT FARMERS IN THE CLIMATE CRISIS?
Fairtrade is about social, economic and environmental justice. These are built into our standards and drive everything we do. A root cause of the inability to adapt to and mitigate climate change is poverty. More money in the hands of farmers is needed if they are to adapt and survive the climate crisis. Choosing Fairtrade fights for improvements in producers' livelihoods with collective strength through co-ops and their bargaining power, the protection of a Minimum Price and Fairtrade Premiums.
In 2019, Fairtrade also launched an ambitious new living incomes campaign to lead the way to a sustainable future for cocoa farmers. A living income would provide farmers with a decent standard of living – enough to cover all their cocoa farming costs and enough to cover their basic human rights, like a nutritious diet, children's education and healthcare. Only when they have met these basic needs can they start to meet the challenges of our changing climate.
Find out more about why choosing Fairtrade means choosing to fight climate change on our Climate Justice campaign page.
WHAT HAPPENED LAST YEAR?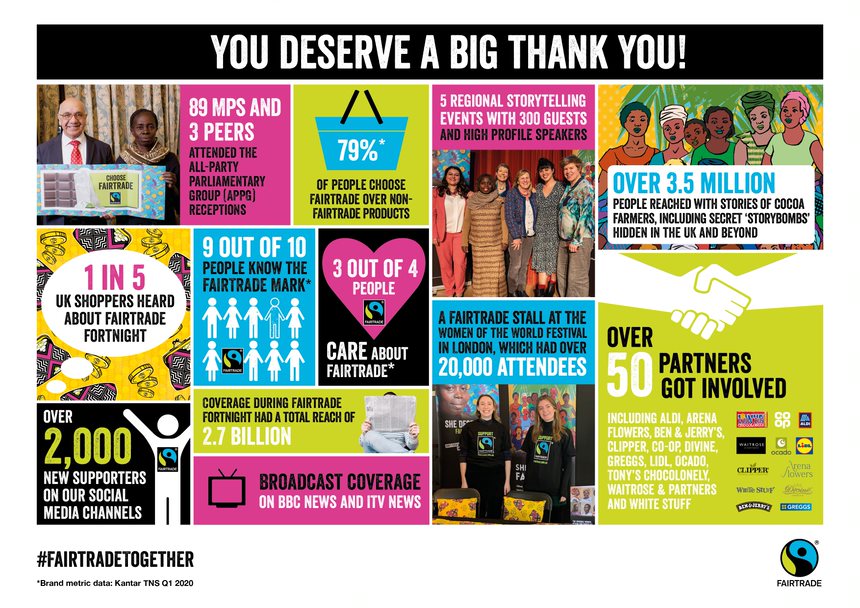 In 2019 and 2020 we asked our government and the chocolate industry to lead the way to achieving living incomes for cocoa farmers. After two years of our campaign with broad and vibrant action from Fairtrade supporters, and new commitments from businesses, we have seen an invaluable contribution to Fairtrade's journey. Here are some of the highlights:
Fairtrade supporters and staff handed in a 51,851 signature strong petition to 10 Downing Street and Secretary of State for International Development, Alok Sharma replied, praising the campaign and pledging to champion the Fairtrade movement.
Inspiring stories of Fairtrade cocoa farmers were seen and shared by millions online, in communities and at events across the UK.
Waitrose & John Lewis converted their confectionery range to contain 100 percent Fairtrade cocoa, and Lidl have launched their first own brand Fairtrade chocolate bar.
We are also excited to be working with our friends at Ben & Jerry's who have committed to paying a higher price, an additional $600,000 over the next year to their 5,000 cocoa farmers. This amount is on top of both the annual Fairtrade Premium of around $970,000 and the Ivorian government's minimum price for cocoa that all companies are required to pay. The extra money that farmers will now receive is an important part of Ben & Jerry's wider efforts to support farmers towards closing the living income gap.
We have set out to drive long-term structural change in the cocoa industry. But we know this will take years rather than a Fairtrade Fortnight or two. Our fight will continue.
Read more about our Fight for Living Incomes campaign
Read our full campaigner briefing from Fairtrade Fortnight 2019 (pdf)
*WIP estimation based on the Living Income Community of Practice
**This is the estimated daily income per household member based on a typical cocoa farming household
Read more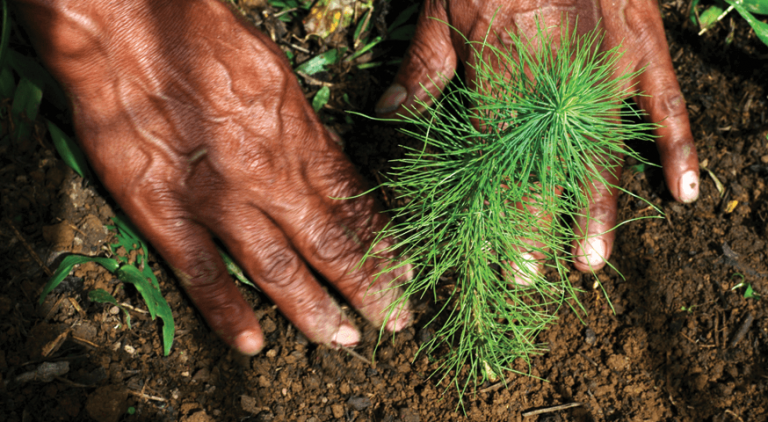 Fairtrade and climate justice
10 June, 2020