21 February to 6 March 2022
For two weeks each year at the end of February and start of March, thousands of individuals, companies and groups across the UK come together to share the stories of the people who grow our food and drinks. mine our gold and who grow the cotton in our clothes, people who are often exploited and underpaid.
Since last Fairtrade Fortnight we have seen the G7 and COP26 take place. Over 33,000 campaigners joined 1.8m Fairtrade farmers and workers in backing the Be Fair With Your Climate Promise challenge to world leaders at the UN COP26 summit. But frustration came as the wealthiest nations failed to recognise the urgent need to invest in farmer expertise by delaying their promised $100bn annual funding to the most climate vulnerable countries until 2023. That isn't good enough.

"A frustrating conclusion to a summit filled with hope." This was Mary Kinyua, Fairtrade flower farmer and Fairtrade chief representative's verdict.
Climate justice was never going to be won or lost at one conference in Glasgow. But where the COP26 agreement fell short, we need to increase the pressure for urgent action.
In 2022 our online Choose the World you Want Festival will return from 21 February to 6 March. Last year's festival saw campaigners, shoppers, students and businesses come together in a show of support for the farmers behind our food on the front line of the climate crisis. From online panels to bake-offs and coffee mornings over 100 events took place up and down the UK, shouting about the power of Fairtrade and what needs to happen next to ensure farmers and workers are put front and centre of conversations on how to tackle the climate crisis. The COVID-19 pandemic has shown us more than ever how interconnected we are globally. This interconnection is at the very heart of the Fairtrade message and is where your role begins. You are part of the Fairtrade movement, and you have the power to drive long-term change, not only with your shopping choices but with your support in spreading the message.
Can you help us get the message out even louder this Fairtrade Fortnight?
CHOOSE THE WORLD YOU WANT THIS FAIRTRADE FORTNIGHT
In Fairtrade Fortnight 2022 we need to shout louder than ever to make sure politicians turn their promises into action at COP27 in Cairo next year. The failure to deliver enough progress at COP26 makes it even more important that governments get serious next year. We also need businesses to support Fairtrade more than ever.
In Fortnight 2021 we heard about the determined, ambitious work of Fairtrade farmers taking on the climate crisis. The deep frustration is that politicians from the world's wealthiest nations at COP26 failed to match that ambition and determination.
As Fairtrade farmers return home from the UN summit to continue their work, we need our politicians and business leaders to work harder.
COP may be over, but we need to make sure climate justice remains a top priority. For politicians, for business leaders, and for all of us.
HOW CAN I GET INVOLVED?
Our 2022 festival will be online again as the UK continues to slowly open back up to physical events. However, if you want to and feel comfortable to run a local public event in person then please do! Any and all events, online and offline, are welcome from stalls to panels, bake offs to coffee mornings and quiz nights. If you would like a speaker from the Fairtrade Foundation to join your event, please tell us a little bit more about what you have planned.
Can you reach out to other local groups to share the Fairtrade message? Do you have another local environmental or social justice group in your community that you could present to or join up with this Fortnight?
In January 2022 you will be able to order new posters and an explainer leaflet on Fairtrade and the climate crisis to help spread the word
Fairtrade Foundation's festival events will open for registration in late January, stay tuned to see what will be happening!
You can also use our social media resources to spread the word online and add more voices. You will find posts and banners for your facebook, twitter and instagram. Check out our Digital and Social media guide if you need support.
Updated climate key messages and FAQs following COP26 will be available to support you by mid-December. An updated PowerPoint presentation on Fairtrade and climate will also be available by January. Head to our Climate Justice folder on the Resources Library to see the full range of materials already available to support you.
HOW DOES FAIRTRADE SUPPORT FARMERS IN THE CLIMATE CRISIS?
Fairtrade is about social, economic and environmental justice. These are built into our standards and drive everything we do. A root cause of the inability to adapt to and mitigate climate change is poverty. More money in the hands of farmers is needed if they are to adapt and survive the climate crisis. Choosing Fairtrade fights for improvements in producers' livelihoods with collective strength through co-ops and their bargaining power, the protection of a Minimum Price and Fairtrade Premiums.
In 2019, Fairtrade also launched an ambitious new living incomes campaign to lead the way to a sustainable future for cocoa farmers. A living income would provide farmers with a decent standard of living – enough to cover all their cocoa farming costs and enough to cover their basic human rights, like a nutritious diet, children's education and healthcare. Only when they have met these basic needs can they start to meet the challenges of our changing climate.
Find out more about why choosing Fairtrade means choosing to fight climate change on our Climate Justice campaign page.
Read more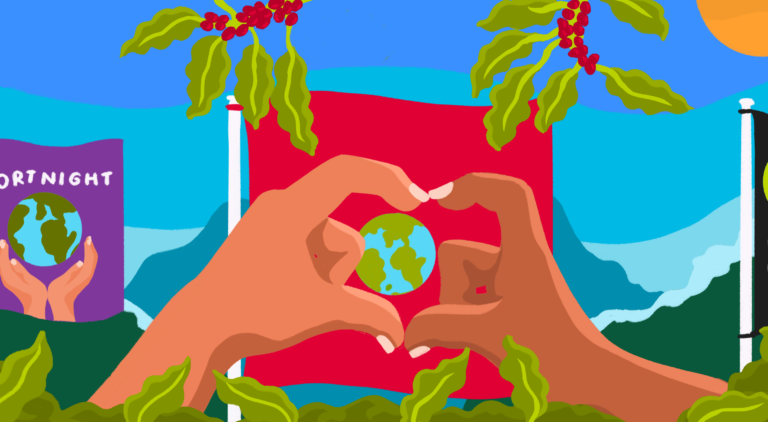 Choose The World You Want Festival
14 January, 2021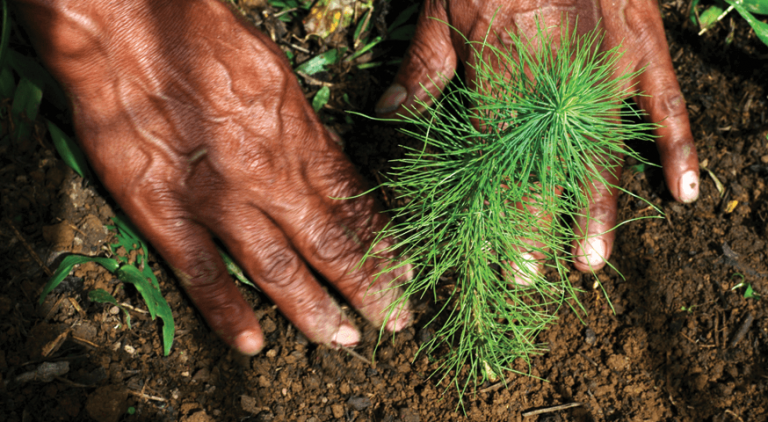 Fairtrade reaction to COP26 final communique
13 November, 2021